Arsenal Transfer Rumours: Why Yann M'Vila Should Be the No. 1 Priority
June 7, 2012

When it comes to diagnosing Arsenal's areas of need for next season, two main categories arise: a consistent, dependable goal scorer outside of Robin van Persie, and an improvement in the defensive unit.
The reasons for the former are as follows: out of the 92 goals Arsenal scored in all competitions last season, 36 came from Van Persie, or 39 percent worth.
Of the other teams that finished in the top four, Manchester United came the closest (and not really that close, at that) to rivaling Arsenal's dependence upon their captain.
Wayne Rooney deposited 34 goals in all competitions for United; he accounted for 26 percent of the 130 goals United scored in 2011-12.
Next came Manchester City, where Sergio Aguero tallied 30 strikes, or 24 percent of 125 total goals, followed by Tottenham Hotspur, where on-loan ex-Gunner Emmanuel Adebayor led the side with 18 goals, or roughly 20 percent of its total 91 goals.
Statistics never tell the whole story, but they come close where Arsenal are concerned. There is an over-dependence upon Van Persie in the attacking third that is exacerbated by the less-than-formidable options behind him on the depth chart. (Park-Chu Young and Marouane Chamakh scored just one league goal between them last season.)
When you consider that the Gunners run the considerable risk of losing their talismanic striker this summer, the worry grows more insistent.
Van Persie is one year out from the end of his current contract, which expires after the 2012-13 season. He has not tasted silverware since the 2005 FA Cup—his first season with the north London club—and at 28 years of age (he'll be 29 on Aug. 6), the proverbial window is growing ever-smaller.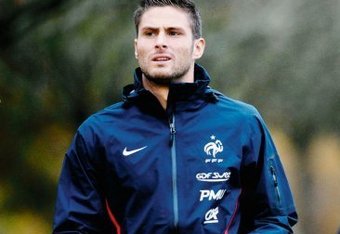 His next deal, which will compensate him handsomely given his current status as one of the greatest strikers in the world, will likely be his last at a hmajor club before he filters off to a lower-level league or retires.
Should Van Persie sign with another club, the need for another striker will become paramount—Olivier Giroud would be my first recommendation for the Gunners were that to happen.
No forward is in finer form than the Montpellier No. 17—Giroud is coming off a 21-goal campaign for the southern French side, in which he helped the club win its first-ever Ligue 1 title.
He has parlayed that production to the French national team, in whose colors Giroud has been exceptional since making his debut last November against the United States.
He scored against Germany in his full debut in Bremen at the end of February, and has contributed three assists in France's last three friendlies—each time coming off the bench as an impact substitute. (Two of those assists came against Iceland, and one, a delightfully deadened effort that led to Jeremy Menez's own debut goal for Les Bleus, occurred this past Tuesday against Estonia.)
Some have questioned Giroud's talent, others his ability to withstand the rigors of a Premier League season.
It's nothing new to the 25-year-old to have his merits questioned. Like current Arsenal starting central defender Laurent Koscielny, who was playing his football in France's Ligue 2 as recently as the 2008-09 season, Giroud was a late bloomer.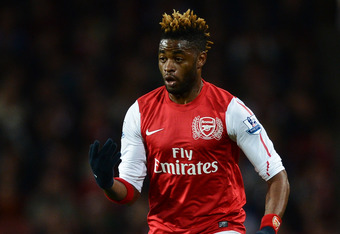 Laurence Griffiths/Getty Images
In that same '08-09 season, Giroud was playing for Ligue 2 side Tours. (In fact, Giroud didn't make the leap to Ligue 1 until the 2010-11 season, when he joined Montpellier.)
But like Koscielny, who was magnificent in defense for Arsenal this past season, Giroud has endured doubts against his potential and responded in turn by doing what he does best: scoring goals and contributing to his team's attack in a positive manner. He's done it at every level he's played at so far.
Should Van Persie leave, the Gunners won't find a better replacement.
But speaking of Koscielny gets me to my main point (finally) for this article. Arsenal's most pressing need at the moment is in the defensive portion of the pitch, not the attacking one.
Lukas Podolski, signed in late April, was a fine addition to the forward ranks—the German is proven at the international level, with almost 100 appearances for his country, and is coming off a Bundesliga campaign in which he tallied 18 goals with FC Cologne.
But as long as comparisons between Arsenal and the three other top-four finishers are in order, which they must be—a hard look must be taken at the Gunners' defense.
The 49 goals Arsenal conceded in 38 Premier League games this season was far and away the most among top-four finishers—only Tottenham came close with the 41 goals they let in. (Manchester United and Manchester City conceded 33 and 29 goals, respectively.)
In fact, Arsenal's tally was the seventh-highest among the top 10 finishers in the table, and those 49 goals came within three of West Bromwich Albion's 52—the highest of the lot.
With a title push on the cards for next season, steps must be taken to shore up the defense.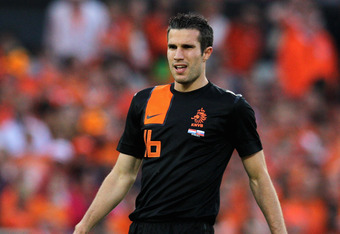 Dean Mouhtaropoulos/Getty Images
The back four, while not overly promising, does have talented individuals comprising it—Kieran Gibbs, Thomas Vermaelen, Koscielny and the injured Bacary Sagna have all started for their national teams in the past year—and adding another "talented" defender wouldn't alter the inefficiency often shown during this past injury-blighted year. (That first-choice back four only started playing together consistently in mid-February.)
The addition of Yann M'Vila, however, at the central defensive midfield position, might just do the trick.
Alex Song, who's held that defensive midfield role since Wenger opted for the 4-2-3-1 formation ahead of the 2009-10 season, has gradually morphed into a box-to-box mid with a sweet tooth for the attacking third.
The central midfield comprises three players, so were Song to bomb forward every now and again, it wouldn't be too big a problem. But that is not the case.
Vermaelen has maintained that he has an "understanding" with Song; i.e. when the Belgian defender launches forward in attack, Song hangs back and covers for him, but the on-field results say otherwise.
In Arsenal's final two games of the season, the defense was cut to pieces against Norwich City and West Bromwich Albion, who racked up five goals between them, mainly by way of withering counter attacks.
The defense was a shambles, and often because players such as Song or Vermaelen had headed forward in attack only to see possession lost.
Then the defense, shorn of one or two of its usual suspects, was subjected to lightning-fast dosages of pressure.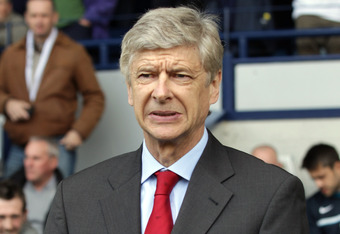 Ross Kinnaird/Getty Images
That makes the implementation of a central defensive midfielder who has the discipline to remain in that sentinel role becomes of utmost importance.
M'Vila fulfills that role with aplomb when on duty with France, where he has formed a terrific midfield partnership with the creatively inclined Yohan Cabaye.
While M'Vila takes care of the defensive chores, Cabaye is afforded room to roam in the attacking half of the field.
That central midfield pairing mirrors the one that Arsene Wenger has created with his 4-2-3-1 formation at Arsenal. Thus, it wouldn't be too difficult a transition for the 21-year-old M'Vila, were he to arrive at the club.
Currently with Rennes, M'Vila's quality is undeniable. He is more seasoned than Emmanuel Frimpong, and a stouter defender than Francis Coquelin, the two youngsters who would appear to be the closest competitors for Song's position.
(That being said, Coquelin's impressive distribution and attacking sense makes him a good option at a more offensively-inclined midfield position in the future.)
M'Vila's arrival allow Song to move alongside to the box-to-box central midfield role, which appears to suit the Cameroonian perfectly.
Were Vermaelen to continue his forward runs, Arsenal fans could rest assured that M'Vila would stick to his defensive duty and soak up the counters that ripped Arsenal to shreds near the end of this past season.
It's for that reason, along with his considerable potential from a long-term perspective, that M'Vila is the player Arsenal should be pursuing at this juncture.