NBA Trade Rumors: Hornets Have No Chance of Trading No. 10 Pick in 2012 Draft
June 7, 2012

Chris Graythen/Getty Images
The New Orleans Hornets were beyond lucky to land the No. 1 overall pick in the 2012 NBA draft, but they won't be lucky enough to find a taker for Emeka Okafor or Trevor Ariza.
According to Shaun Powell, New Orleans is entertaining offers for the No. 10 overall pick in the draft, but it comes that catch:
Hornets will entertain offers for 10th pick if someone also agrees to take Ariza or Okafor contracts.

— Shaun Powell (@Powell2daPeople) June 6, 2012
Ariza is on the books for another two years with upwards over $14 million remaining on his deal. Okafor, meanwhile, is making double that at nearly $28 million over the next two years.
The 26-year-old Ariza had a true breakout year in Houston three years ago but has seen his numbers decline since. Coach Monty Williams sat the former second-round pick in favor of younger players down the stretch—obviously, there is no true spot for him on this team.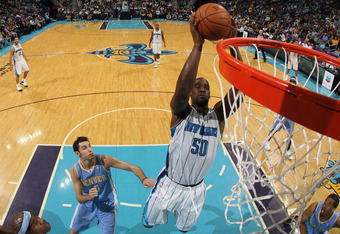 Chris Graythen/Getty Images
Okafor's play also continues to decline as he turned in the worst season of his NBA career while battling injuries. He's a key candidate to be amnestied should the Hornets fail to find a suitor.
In reality, there are no suitors for either of these players given the financial burden they carry. Ariza is still young and can be a serviceable role player, but not for $7 million per year.
And Okafor epitomizes an amnesty cut—he simply makes too much money and produces too little.
New Orleans has major needs at every position, but they're trying to get younger and save money at the same time. They can't do that with roughly $20 million hung up in two players they can't trust in each of the next two years.
The Hornets can go fishing all they want with the No. 10 pick, but unless a prize prospect falls on draft night and a team decides they can swallow Ariza's deal (nobody will take Okafor's deal), they'll be forced to pick at No. 10 (which really isn't that bad either).