2012 NBA Draft Combine Day 1 Results: Measurements, Highlights and Top Athletes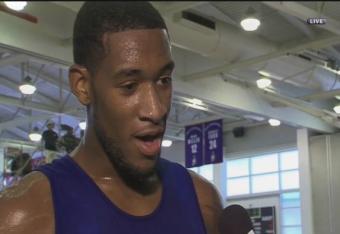 Perry Jones III was the star of Day 1 at the NBA draft combine.
Working out with the power forwards, he showed off his otherworldly athleticism and dispelled concerns about his intensity. No one has ever questioned his skills or physical gifts, and if Jones continues to produce like he did today, he could jump into the top five of the draft.
PJ3 was actually one of the few players considered to be a lottery pick that worked out. Both Anthony Davis, the projected No. 1 overall pick, and Bradley Beal, the consensus top guard in the draft, chose to sit out.
It's hard to blame these guys for not participating. Players like Davis and Beal can only hurt their stock, and having a bad showing leading up to the draft could be disastrous.
On the other hand, players with perceived physical deficiencies like Jared Sullinger can use these events to their benefit.
Let's take a closer look at the happenings of Day 1:
Measurements
The official measurements won't be released until tomorrow, but Jeff Goodman of CBS Sports gave us some unofficial measurements:
Bradley Beal measured 6-4 1/4 and 6-8 wingspan.

— Jeff Goodman (@GoodmanCBS) June 7, 2012
It is unclear whether that measurement is with or without shoes, but we should find that out tomorrow.
If the measurement is without shoes, that will mean he is about 6'6" in shoes, which represents good size for a 2-guard. If it is in shoes, then it reaffirms the concerns about his lack of height for his position.
He didn't work out, but here is an interview with the Florida star:
He showed maturity in this interview, and his NBA-ready frame is apparent. I'm still not convinced he will be able to get his own shot at the next level, at least not the way you would want a top-five pick to be able to.
Thomas Robinson just told me he measured 6-8 3/4 with shoes. 7-3 wingspan and 5 percent body fat. Official measurements released tomorrow.

— Jeff Goodman (@GoodmanCBS) June 7, 2012
That isn't the best news for Robinson. A power forward in that height range is a concern, even though he was so productive at Kansas. This could drop him out of the top five.
NBA general managers are likely split over the group of big men perceived to be inferior to Davis, and Robinson falls into that category. We will see what the word on him is going forward.
Jared Sullinger said he was measured at 6-9 with shoes. That's significant.

— Jeff Goodman (@GoodmanCBS) June 7, 2012
Sullinger's measurement is good news for the former Buckeye, but I'm not sure it will do too much for him. His athleticism is still subpar and it remains to be seen if weight is still an issue.
Austin Rivers said he was measured at 6-5 with shoes. Good size for NBA two-guard.

— Jeff Goodman (@GoodmanCBS) June 7, 2012
Whose measurements were more encouraging?
Rivers measuring 6'5" in shoes is all he could have hoped for. That is legit size for a 2-guard, and that alone could propel him into the top 10 of the draft.
Highlights
There weren't a ton of highlights on Day 1—drills don't typically provide those moments. Nevertheless, there were some noteworthy takeaways from the coverage.
Tony Wroten Jr. Is Not a Good Shooter
The versatile guard out of Washington showed why he shot only 16 percent from three-point range in college. His outside shooting was horrible on Day 1, and I think he has a long way to go before he is ready to contribute in the NBA.
Damian Lillard Is a Great Shooter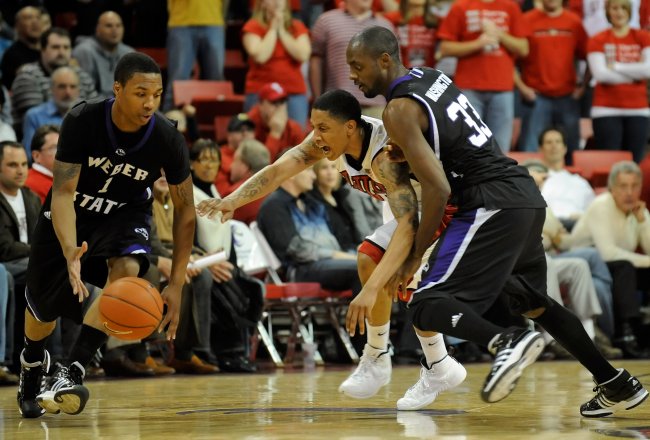 Ethan Miller/Getty Images
The Weber State star showed on Day 1 that he is the best point guard prospect in the draft. He was extremely accurate shooting the ball, as this tweet from Sam Amico of Fox Sports reports:
NBA scout at Chicago draft combine says Weber St PG Damian Lillard looked "absolutely fabulous" in workout.

— Sam Amico (@SamAmicoFSO) June 7, 2012
Very Limited Foreign Flavor
Tomas Satoransky was the only international player at the combine. He is a 6'6" point guard, but just from looking at him, it appears that he lacks the athleticism to succeed in the NBA.
Terrence Ross Is a Sleeper
Call me crazy, but I see some Latrell Sprewell in Ross. He is an exceptional athlete, and if you take a look at his stroke in this video, it's obvious that he can shoot it.
PJ3 Has Something to Prove
PJ3 showed great energy in his drills, but it's obvious to me that he is a 3, despite what some scouts might say. If a team tries to make him play in the post, he will be a bust.
Check him out in this video:
After his group worked out, PJ3 did this brief interview to address his critics and past issues:
Royce White Is a Beast on the Court
There is no question that former Iowa State star is talented, but he has some notable off-the-court issues. His ridiculous strength is on display in this video, where he seals off Terrence Jones in this one-on-one drill. He abuses Jones on the block shortly thereafter.
White addressed the concerns about his character in this interview with ESPN's Andy Katz:
He is clearly a bright kid, and here's hoping that he can handle his business off the court.
Which player would you take a chance on first?
Top Athletes
There were no actual athletic drills done today; that will take place on Day 2. Here are some of the players that could create eye-popping results:
Perry Jones III
This is where PJ3 can really shine. Just take a look at these highlights from his time at Baylor:
Austin Rivers
People don't realize how explosive this kid can be. He didn't show it much at Duke, but take a look at this display from high school. This was just one year ago, after all:
Terrence Ross
Ross may be the best pure athlete in the draft. He has a big-time vertical and solid body control. Check out the near reverse alley-oop in this video:
Andre Drummond
Right now, the only thing Drummond definitely has going in his favor is his athleticism. Here is a look:
Jeffery Taylor
Taylor is another impressive athlete. I'm interested in seeing what his standing vertical is. Pairing that with his NBA-ready body could improve his draft stock. Check out Taylor in action:
Stay tuned for coverage of Day 2 tomorrow.
This article is
What is the duplicate article?
Why is this article offensive?
Where is this article plagiarized from?
Why is this article poorly edited?