Boston Red Sox: Why Jarrod Saltalamacchia Is the Best Catcher in the AL
June 7, 2012

Abelimages/Getty Images
Jarrod Saltalamacchia. The name leaves you tongue-tied just long enough so you never forget it. His name is like a competition you give your friends during fifth grade lunch break—try saying it five times as fast as you can.
For years, this is how many baseball fans knew him: by name, not accomplishment.
But that has changed this season.
Saltalamacchia was only a triple away from hitting for the cycle against the Baltimore Orioles Tuesday night. He tied Tuesday's game in the bottom of the ninth with a shot into the Monster seats against Baltimore closer Jim Johnson. It was his 11th  home run of the season. He has eight RBI over his past 10 games. (Boston Globe)  
Red Sox fans have become accustomed to Salty's sweet swing.
Click to watch Saltalamacchia's bottom of the ninth home run.   
Yes, Saltalamacchia has been on tear recently, but he has been consistent all season.
In addition to his 11 home runs, Saltalamacchia is batting .278 with 27 RBI. He's learned how to become a perfect Fenway hitter and has been wearing out the green monster.
Saltalamacchia leads all AL catchers in home runs with 11. His 12 doubles are good for second, and his 27 RBI are good for fourth most among AL catchers.
This is exactly the kind of production Red Sox management had in mind when they acquired him from the Texas Rangers in 2010.
Saltalamacchia is a former first-round draft pick of the Atlanta Braves and was considered one of the best catching prospects in all of baseball.  
Saltalamacchia struggled to live up to the hype.
But the Red Sox have become the beneficiaries of a player who is suddenly looking like a highly touted first-round draft pick.
It's not just his prowess at the plate that has him in the running for best catcher in the AL. Red Sox pitchers are learning to love him when he's behind the plate as well.
Jon Lester recently told Rich Thompson of the Boston Herald,
"Obviously it's nice to have Tek here, but Salty (has) gotten from underneath that shadow and now it is his pitching staff. He came to us with a big name — no pun intended — and he had a big reputation for who he was as a catcher and an offensive player. I think now he is just feeling comfortable, he knows his role."  
Felix Doubront, perhaps Boston's best starting pitcher this season, said, "He's a very good guy and the most important guy. He really knows me and he can call my game." (Boston Herald) 
This is now firmly Saltalamacchia's pitching staff, and he has quietly become the best catcher in the American League.
There is obviously room for debate. Baltimore Orioles, Chicago White Sox and Minnesota Twins fans may have something to say about this.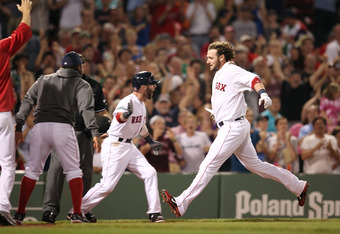 Gail Oskin/Getty Images
White Sox' catcher A.J. Pierzynski is seeing a resurgence at the plate this season and is hitting .303, with 10 home runs and 37 RBI. But Pierzynski is 35 years old and at the tail end of his career. He has no history to prove he can sustain those kind of numbers.
Baltimore Orioles' catcher Matt Wieters is the reigning Gold Glove winner, was an All Star last season and has nine home runs with 25 RBI this season. But he's only hitting .246, 32 points behind Saltalamacchia.
Minnesota Twins' catcher Joe Mauer is the obvious superstar name of the bunch. The former MVP and three-time batting champion is hitting .298 and has a .407 OBP. But he has yet to find his power swing after undergoing arthroscopic knee surgery following the 2010 season.
In 2009, he hit 28 home runs. He has a total of 15 since then. It remains to be seen if Mauer will ever be the MVP caliber type player he was in 2009.
Saltalamacchia, on the other hand, is on the upswing of his career. He is 27 years old, has finally found a home and is living up to the hype.
It is time fans from all cities start to learn the name Saltalamacchia.
If it makes it easier, just call him Salty.