FYI WIRZ: NASCAR's Greg Biffle and Matt Kenseth Take Lead to Shortened Pocono
June 7, 2012

The top-five join other teams in the next event, the Pocono 400 presented by NASCAR June 10 at Pocono Raceway. All will face a freshly repaved track. Fans not in the stands at the 2.5-mile tri-oval track with 14 degree banking can view the action at 12 p.m. ET on TNT.
Drivers and teams also face a shortened race, as Pocono has been shortened from 500 to 400 miles.
Several years ago Matt Kenseth, who has a subtle and sharp sense of humor, jokingly called the long Pocono race "the 24 hours at Pocono."
Greg Biffle and Matt Kenseth lead the top-five NASCAR Sprint Cup contenders, but only one point separates them. Dale Earnhardt Jr. has been consistent in 2012 and has the most top-10 finishes at 10. Denny Hamlin has been steady as well and keeps his top status. Jimmie Johnson has been on a win spin since starting the season at the bottom after Daytona. Johnson is only 33 points from leader Biffle, so the top-five has a slimmer point spread going into this event.
The top-five guys share their thoughts going into Pocono.
Greg Biffle may have a slim lead on the No. 1 spot this week, but he and his team have been strong all year.
Greg Biffle (No. 16 Ford)
"I'm nervous heading to Pocono because I have no idea what to expect," Biffle said. "We have a day and a half of testing, which is good, but I have no idea how fast it will be, or how different it will drive through the corners. I'm excited it was repaved and also think that the race being shortened to 400 miles will create some excitement with the fans."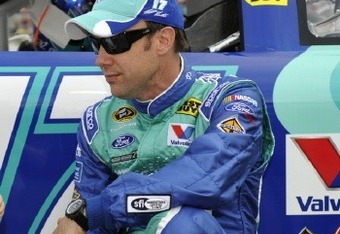 Matt Kenseth sometimes seems like he is under the radar, but that radar in 2012 tracks a skilled driver having a strong year.
Matt Kenseth (No. 17 Ford)
"I don't know a lot about Pocono since they repaved it," Kenseth said. "I think by the time we do the test, we'll have a good idea of what you need and a good plan getting ready for the weekend.
"I would assume with it being a new paved track that we'll have a fairly hard tire and be more focused on track position and fuel mileage than on tires. Again, we haven't been on the track yet so it is hard to predict all that right now."

Dale Earnhardt Jr. is having a very productive year. All Earnhardt needs is what fans, NASCAR, Hendrick Motorsports and almost everyone who sees his name in the media want for him—a win.
Dale Earnhardt Jr. (No 88. Chevrolet)
"I know NASCAR wants to get enough rubber down so we have a good race," Earnhardt said. "We'll just go out there and try to learn what we can and use it as an opportunity to try some things we haven't been able to work into the practice sessions this year. I heard that there's a big curve in the tunnel turn that I was hoping would be gone, but that's still there I guess. Other than that, I think the track is going to be in excellent shape."
In the past Denny Hamlin has been the kind of guy to make the Chase and falter. His consistent production this year could change his contender struggles.
Denny Hamlin (No. 11 Toyota)
"I think it's going to be pretty treacherous," Hamlin said. "Pretty much every new surface that we come upon is very treacherous for the first at least three or four years because we have to run such a hard tire at that track."
Jimmie Johnson and team seem to find the magic and recover from occasional dismal results. That mastery has led to five championships and appears to be fodder for the next quest.
Jimmie Johnson (No. 48 Chevrolet)
"We will leave the Pocono test and race," Johnson said. "Go to Michigan and, actually, it will probably be closer than it would if we came from a short track because the speeds in the way you set the car up due to the aerodynamics would be the same."
FYI WIRZ is the select presentation of topics by Dwight Drum at Racetake.com. Unless otherwise noted, information and all quotes were obtained from personal interviews or official release materials provided by NASCAR and team representatives.