Green Bay Packers
Keys to Greatness: How Jordy Nelson Owned the Detroit Lions in Week 17

(footage courtesy of FOX)
June 7, 2012
Jordy Nelson sort of snuck up on us in 2011.
Up until then, he'd never been targeted for more than 64 passes in a season, never caught more than 45 and never went for more than 582 yards and a pair of touchdowns.
Then—BOOM—102 targets, 68 catches for 1,200-plus yards and 15 touchdowns.
Jordy Nelson caught more than the fans and media by surprise—he caught a bunch of NFL teams as well. Including the Detroit Lions in Week 17.
The first time out, in Week 12, Nelson was held to just four catches for 26 yards. Part of that was solid defense, but a lot of it was Aaron Rodgers just going a different way.
Week 17 was all Nelson, though. Fifteen targets for nine catches and three touchdowns—all career highs for him.
We probably should have assumed he was in for some work when four of Matt Flynn's first seven passes were aimed toward Nelson.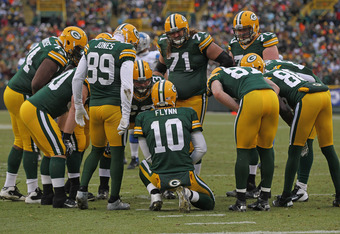 Jonathan Daniel/Getty Images
Oh, yeah, that's right—I forgot to mention he wasn't getting thrown to by Aaron Rodgers. Matt Flynn (now a Seattle Seahawk), perennial backup with limited experience, was without Greg Jennings, Randall Cobb, Bryan Bulaga and James Starks, as all were resting for the playoffs.
Flynn ended up throwing for 480 yards and six touchdowns in what was one of the worst defensive games I have ever seen. It was brutal.
Anyway, back to Jordy Nelson, who as I just pointed out, had his best career game without Aaron Rodgers under center.
Nelson was Flynn's big-play guy for this game. Two of his touchdowns were longer than 35 yards, though he also scored in the red zone.
Overall, the Lions had no real answer for Nelson. They were finally reduced to triple-teaming him a few times, but by then the damage had been done.
Let's take a look at a couple of the plays to show just how Nelson dominated the Lions secondary.
Despite talking about Nelson being Flynn's big-play guy, I want to look at the short touchdown first. It's just a great way to look at how hard he works.
In fact, we can back up a play to the catch that set up the touchdown.
As you can see on the screen cap, Nelson lines up to the left in single man coverage.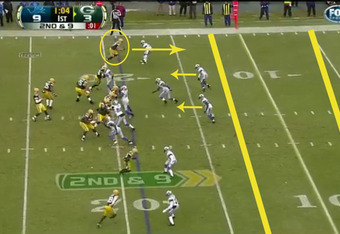 The Lions are sneaking in on Flynn and Nelson is in single coverage with a lot of room between him and the deep safety (footage courtesy of FOX)
Every other defender is looking to the quarterback and already seems to be content to let the cornerback handle Nelson. More than likely, they are thinking the deep safety (off-screen, just look for the arrow and the "S") is going to help over the top.
As you will see, he does not.
The yellow lines denote the large area that appears to be open for Nelson. He's already likely to have seen it, and it's a lot of area for the cornerback to cover, even if he did get safety help.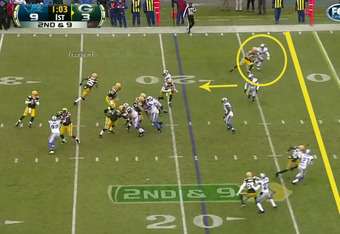 The defenders are still cheating the short middle route and Nelson has the inside position on his defender and a clear field (footage courtesy of FOX)
The next cap shows Nelson already getting inside on his coverage—for the route he is running, he is in perfect position, and it's going to take a great play by the defender to stop him. There is still no sign of safety help—most other defenders are focused on Matt Flynn, and the only wrinkle could be the receiver (I believe it's Donald Driver) slanting into the same wide-open area Nelson is heading into.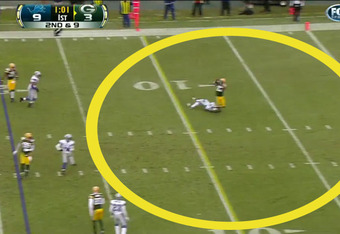 Nelson makes the catch—with nary a Lion in sight (footage courtesy of FOX)
On the third cap we see the defender falling (that's what happens when you have to make a play from behind) and Nelson catching. Look at the giant yellow circle—not a defender in sight.
If Nelson could have kept his feet, he might very well have scored.
It's a combination of very good route-running and a bad coverage call. I also don't know what the safety was doing up top—he is pretty much in the end zone and of no use to anyone.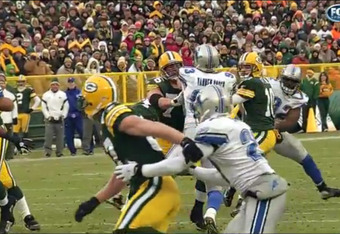 Nelson has a step and the inside—all Flynn has to do is lead him (footage courtesy of FOX)
You can see in this cap that Nelson is in perfect position as the ball comes in—he has a step on the defender and is inside on the route. Textbook route-running.
Nelson scores on the very next play.
Once again, he is in single coverage, this time with the cornerback playing well off him and Nelson behind the line of scrimmage.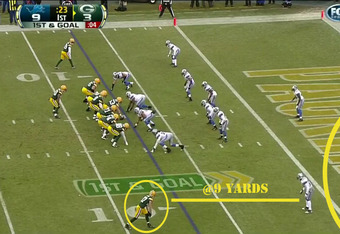 Man coverage again—and a big open uncovered space again (footage courtesy of FOX)
In fact, both corners are about eight yards off their receivers—and there's only seven yards to go. I understand they don't want to get burned by allowing either receiver to run for the corner and a back shoulder fade, but it seems a bit ridiculous.
The ball is snapped, and Flynn immediately turns right and fires a throw to Nelson behind the line. Nelson makes a catch and turns upfield immediately.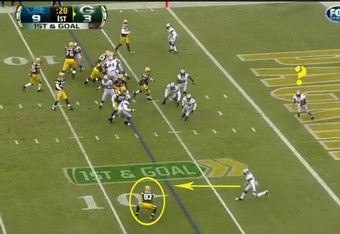 Nelson catches the ball behind the line and Smith has a lot of distance to go to get to him (footage courtesy of FOX)
He completely stuffs Alphonso Smith—just gives him a Heisman pose to the face.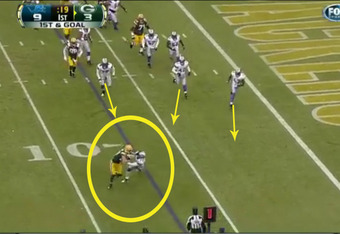 Nelson delivers the facepalm. Two defenders have bad angles. One defender has a good angle. Will he get there? (footage courtesy of FOX)
Nelson then runs for the cone and walks into the end zone.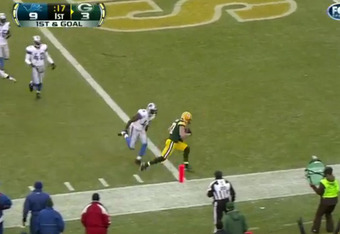 .....Or not. Nelson easily outraces the defender ofr the end zone. (footage courtesy of FOX)
Two things here. Well, three because the face-palm should get another mention and another screen-cap.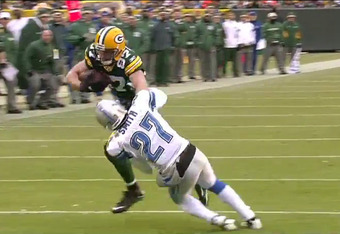 The other two things are more critical.
First, playing so far off the line of scrimmage puts Smith at a big disadvantage. By the time he comes up on Nelson, the receiver has had plenty of time to figure out where he will go and how to avoid Smith.
Second, Detroit again clogs the middle (you know, because Green Bay is a power run team), and there is no extra containment for either cornerback. Neither Smith nor his opposite number has anyone to bail them out if something happens—which naturally, it does.
Nelson is able to break the Lions all game because of the coverages they choose and his natural athleticism and route-running.
One more example of how much Nelson was able to take example of the coverage.
This is Nelson's third touchdown, a 58-yard pass.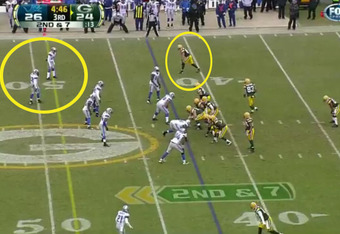 Is that some safety help for the guy covering Nelson? (footage courtesy of FOX)
Once again, Nelson is covered straight up. But wait, is that a second player helping the cornerback on a route? One would think it would be, given the day Nelson's having.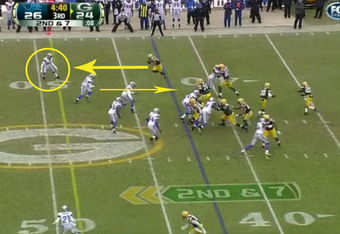 Nope, the safety is cheating up on a blitz or delayed rush. Cornerback—you're on your own. Good luck with that. (footage courtesy of FOX)
No, it's a safety creeping up to the line as Nelson goes long and his coverage follows along.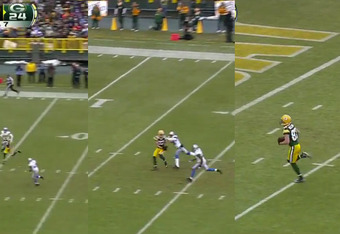 Safety shows up late, but Nelson has position, makes an easy catch and saunters into the end zone (footage courtesy of FOX)
You can see a second Lion come into frame in this composite, but it's too little, too late. Nelson once again has a step on the coverage, and the second Lions player is coming in too late.
Nelson makes the catch as one of the defenders falls (again) and easily outruns the late-arriving defender to the end zone.
It's plays like this that made Nelson such an asset last season and why I am sure he will not fall off this year. He is smart enough to exploit the weaknesses of the secondary for big gains and a sharp enough route-runner to shake loose of coverage on his initial routes.
While the Packers won't just focus on him (they usually don't, and if Jennings had played, Nelson's numbers might have dipped a lot), they will utilize him as much as they can.
His ability will do the rest.
Check out the B/R NFC North Facebook page - like us and keep up with everything NFC North on Bleacher Report!
Like the new article format? Send us feedback!