Daniel Bard-Daisuke Matsuzaka Swap Can Decide Boston Red Sox's 2012 Season
June 7, 2012

Abelimages/Getty Images
One of the long-term problems that has cropped up this season for the Boston Red Sox is the horrible way the front office has constructed their pitching staff.
When they acquired Andrew Bailey from the Oakland Athletics in the off-season, they knew he had a history of injuries, but, because the starting rotation was so thin, they felt they had no choice but to move last year's setup man, Daniel Bard, to the back end of the starting rotation.
When Bailey was injured in spring training, they still felt that Bard's best role was as a starter and not in closing for half a season, until Bailey and his thumb healed.
When Bard was sent down after his disastrous last start, failing to make it out of the second inning up in Toronto, the failure of the Red Sox front office's thinking process was fully exposed again.
Bard has so far been an absolute mess as a starter. While sporting a 5-6 record and somehow allowing only 8.5 hits per nine innings, his ERA is 5.24, and he walked more than he struck out, 37-34.
When injuries earlier forced Bard to do some pen duty, he basically complained to the press about it at a time when the team really was struggling.
While Bard's future just may be as a starter—why else would he be demoted to Pawtucket at this point, as he is not even the worst starter in the rotation?—it has seemed so painfully obvious that the best use for the 27-year-old pitcher was as a firewall in the bullpen.
If Bard is not a closer, then he should have been a solid setup guy for Alfedo Aceves.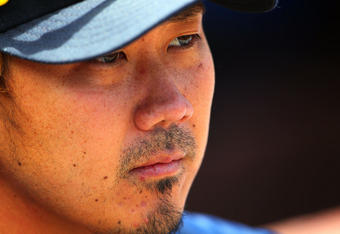 Rich Schultz/Getty Images
Ideally, Bard should have been given a shot to close, while Aceves could have continued his role last year as a starter-long reliever mix, a role that he filled so well all season.
Yet a combination of stubbornness on Bard's part and the even more shocking reluctance of the front office, waiting until 52 games had passed do to anything about it, is even more telling.
Saturday, against the high-flying Washington Nationals, the Sox in effect traded Bard in the rotation for the rehabbed Daisuke Matsuzaka. Dice-K has pitched eight rehab starts down in the minors, the last six in Pawtucket.
What they get out of Matsuzaka remains to be seen. His walks and strikeout ratios were both low at 2.2 walks per nine innings and 6.4 strikeouts per nine innings, but his WHIP was a very solid 1.024.
Considering Matsuzaka's injury stints in all but one of his six seasons since coming over from Japan, trying to judge his durability and effectiveness in returning from Tommy John surgery will be very tough.
What we have seen in the past is a stubborn pitcher that has struggled with his transition from being a star in Japan to becoming a solid fifth starter here in the United States. While the Red Sox have played a bit better as of late and have Bobby Valentine, who can relate to the Japanese style and mentality of play, in the dugout, Dice-K's reverting to diva-like behavior would be a disaster for the team as a whole.
The larger question remains just how much damage the front office has done to the team by insisting on keeping Bard as a starter—as opposed to making him bite the bullet and return to the bullpen when pressed.
The AL East this year just may be the toughest that it has been since the late 1970s, and one has to wonder just how many games have been lost as Aceves has struggled as a closer.