Cleveland Browns Can Sell Confidence in Brandon Weeden Without Rewriting History
June 7, 2012

Christian Petersen/Getty Images
ESPN Cleveland's Tony Grossi reported (or perhaps, speculated) on Tuesday the reasons why the Cleveland Browns ultimately chose Brandon Weeden over the other quarterback options out there, including Robert Griffin III, Ryan Tannehill and Matt Flynn.
But something's fishy. Of Griffin, Grossi said the Browns "pursued him just enough to say they tried." He said that Tannehill, while strong-armed and accurate, didn't have the maturity or leadership qualities they were looking for.
And Flynn? Well, Flynn they determined was little different from Colt McCoy, so they passed on him, too.
Much of this seems like revisionist history, with the goal being to prove that the team's full confidence is in the quarterback they decided to go with, Weeden. Establishing that you believe in your new quarterback is more than fine, of course, but the manner in which the Browns are doing so (with Grossi as their mouthpiece) is unnecessary and unsettling.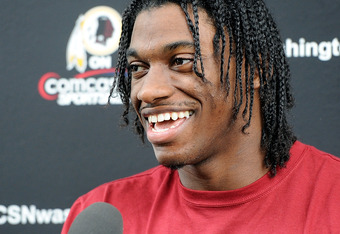 Patrick McDermott/Getty Images
To say the Browns went after Griffin "just enough to say they tried" is a patent falsehood. I hardly think that offering both 2012 first-round draft picks, their 2012 second-rounder and their 2013 first-round pick amounts to a mere pittance or an admission of only cursory interest.
That sounds very much to me like a team that tried to go all-in on acquiring Griffin's services. But because that attempt ultimately failed and now the Browns have Weeden, they seem eager to pretend such a courtship never occurred.
Admitting that they wanted Griffin doesn't make Weeden any less valuable. It doesn't insult Weeden to admit their interest in Griffin. And it doesn't make the Browns seem any less confident in their new, about-to-be starter because they wanted another rookie quarterback that badly earlier on.
When it comes to Flynn and Tannehill, I never believed the Browns had much interest in either. But Grossi's comments (which likely have within them a kernel of truth fed to him from someone in Cleveland's front office) as to why the Browns passed on both smacks of ingenuousness and of an ill-conceived public relations campaign to sell Weeden that to me is completely unnecessary.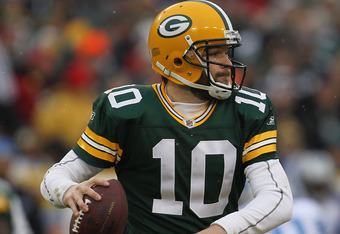 Jonathan Daniel/Getty Images
No one is going to believe the Browns barely pursued Griffin. Sure, I bet they weren't sold on Tannehill (or they would have drafted him instead), but I doubt it had to do directly with his maturity and leadership qualities—it's just that they want to enhance the fact that Weeden has maturity. 
I doubt that they passed on Flynn because his profile, his arm and his size are reminiscent of McCoy's—it's just that they want to hammer home why they are likely to turn away from McCoy and start Weeden this year.
There's little reason to revisit the past and the quarterbacks the Browns didn't bring on to illustrate why Weeden was the smart choice. Sell the fans on Weeden's attributes, his talents, his skills alone—not in comparison to the quarterbacks they didn't choose.
Maybe they didn't like Griffin, Tannehill and Flynn as much as we all thought—and I think that's likely true when it comes to the latter two quarterbacks. But to directly say that Tannehill and Flynn lack exactly what Weeden has, and to deny exactly how heavily they pursued Griffin, is an inaccurate retelling of the events of the past months.
It's a public relations ploy—and a failed one at that. Just believe in Weeden, full stop. Why talk about the ones that got away when the quarterback you have is now the franchise's future?