Oregon Football: New Faces in 2012 You Need to Know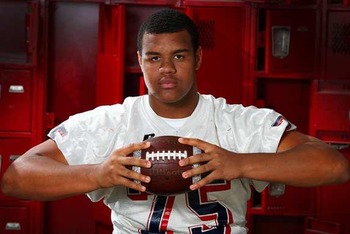 Arik Armstead maxpreps.com
The agony and the ecstasy of college football is that every year, like new green sprouts pushing up through your garden in the spring, you must say good-bye to long-cherished favorite players (the agony) at the same time you welcome bright new stars (the ecstasy).
Those bright new stars—if you are a standard, obsessive fan; yes, I'm talking to you—will control your happiness for the next few years. Are they worthy? Will they fulfill your dreams? Will they disappoint?
I know that you will welcome them all with open arms and lavish all your love and attention on them. At least, until they drop the first pass that you could have caught with your eyes closed, or miss the first tackle that allows Stepfan Taylor to waltz into the end zone.
But that's not going to happen, is it? Your beloved Ducks have recruited an exemplary crop of fine young men. Men with fast feet, sure hands and a good attitude. They will dazzle you with their brilliance and not drive 118 mph on I-5.
Who are your new heroes? Here they come by position. Your assignment, should you choose to accept it sometime in the next 84 days, is to memorize each of them so you don't waste a minute getting up to speed on Saturday, Sept. 1.
Please follow me on Twitter: https://twitter.com/#!/KayJenningsPDX
Wide Receivers: Bralon Addison, Chance Allen and Dwayne Stanford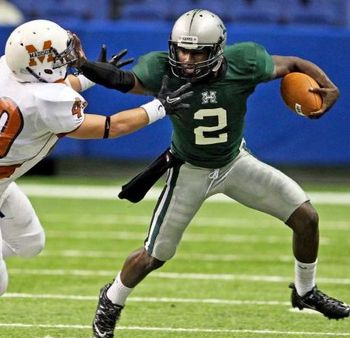 Bralon Addison mysanantonio.com
From the land that keeps on giving—Texas—comes 4-star wide receiver Bralon Addison and his childhood friend 3-star Chance Allen.
Joining the buddies in this most excellent recruitment of WRs is Dwayne Stanford from Cincinnati, OH.
Addison is 5'10", 180 lbs and has played both WR and QB. He is speedy, handsome, throws a good ball and has a 3.1 GPA. Scout.com ranks him as the No. 14 WR in the nation.
Personally, I like my wide receivers a little taller than Addison, but if he makes up for it with attitude and competitiveness, I'm OK with his height. He is due to arrive in Eugene on June 23 for summer school.
Allen is bigger than Addison; 6'2", 188 lbs and more in the mold of Lavasier Tuinei. He blocks well and has good physicality. Also handsome.
Originally a verbal commit to Oklahoma State, Allen changed his mind after a visit to his Texas home by Chip Kelly, Mark Helfrich and Scott Frost a couple of weeks after the Rose Bowl.
I don't know yet when Allen is arriving in Eugene, but I will keep you posted.
Stanford is even bigger than Allen at 6'4", 194 lbs. In addition to his great size, Stanford is extremely athletic with good hands and the ability to go up over the top of most defenders.
Back in January, Stanford said he would head out to Oregon right after he graduated in late May.
If you aren't happy with these three promising wide receivers, I'm not sure what it takes to make you happy.
Punter: Dylan Ausherman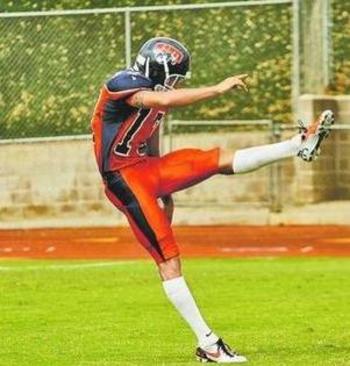 Dylan Ausherman was quietly one of the best punters in the nation in 2011.
I absolutely love good punters, don't you? They are like good makeup: they can cover up so many flaws.
The 6'3.5" (not a typo), 180 lbs Ausherman is a JC transfer from California's College of the Sequoias. He has one year of eligibility remaining and is expected to redshirt unless Jackson Rice gets hurt.
Ausherman is also a kickoff specialist, which can't hurt, especially if Rob Beard is not fully recovered.
Running Back: Byron Marshall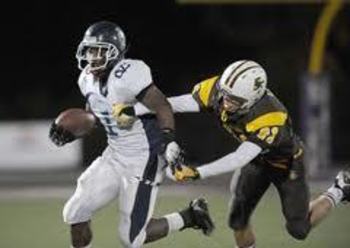 maxpreps.com
Is Byron Marshall the next in a long line of great Oregon running backs? Will he help us recover from "Missing-LaMichael-James-itis"?
Yes. And, yes, perhaps even this year.
Quarterback: Jake Rodrigues and Jeff Lockie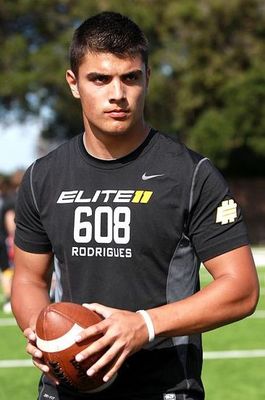 Jake Rodrigues Espn.go.com
Both Californians, 4-star Jake Rodrigues and 3-star Jeff Lockie will most likely compete for the No. 3 QB position.
Rodrigues, who enrolled early and participated in the Oregon spring game, has been called the best dual-threat quarterback in the West. The 4-star QB is 6'3", 215 lbs and will wear No. 3 at Oregon.
According to Rob Moseley of The Register-Guard, Lockie chose Oregon even after Rodrigues committed because his older brother is a student at the U of O. Also helping his decision was Jeff Maehl, with whom Lockie became acquainted with when they both worked out at the same gym while Maehl was trying to stay in shape for free agency.
While it may have looked a little silly to sign two QBs when Darron Thomas was still in school and Mariota and Bennett were on board, it looks much smarter now. I think the competition between Rodrigues and Lockie will be fun to watch.
And, I wouldn't be at all surprised if Rodrigues doesn't push Bennett and Mariota a little bit—certainly in 2013 if not this year.
Offensive Lineman: Kyle Long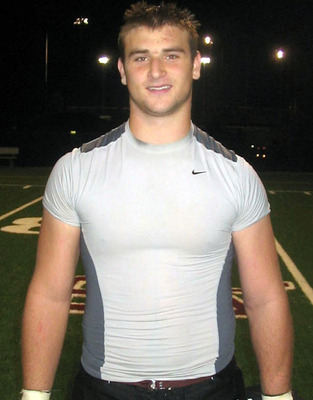 4-star Kyle Long should arrive in Eugene this summer after what he calls "a detour" (a brief stint in jail, among other things.) Always physically gifted, the son of NFL-great Howie Long has had somewhat of a rocky road finding himself.
At 6'7", 290 lbs, Kyle is now taller than his dad. Highly sought after as a JC out of Saddleback Community College in Mission Viejo, CA, Long has one year, at least, of eligibility left. He has appealed to the NCAA for another year—it's complicated.
I expect Long to start in Mark Asper's position.
And if you see Kyle's parents in a Eugene restaurant this summer, you are to call me immediately, OK?
Tight End: Evan Baylis and Pharaoh Brown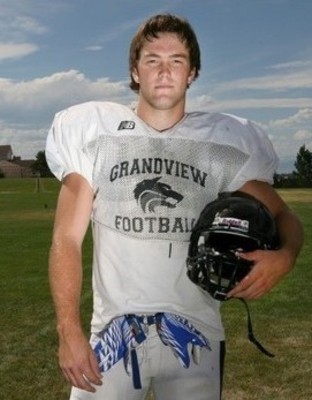 I'm flying over Colorado as I write this, and I want to thank that state for Aurora, CO's Evan Baylis. The 4-star tight end has great size (6'6", 220 lbs) and good skills.
Baylis is already enrolled at Oregon and participated in the spring game. I believe that you will see Baylis (No. 32) in games in 2012. And if he starts against Arkansas State, I called it here first.
But wait, the Ducks have another 4-star tight end; Pharaoh Brown from the great state of Ohio. Brown is also listed at 6'6", 220 lbs. How on earth did Brown get away from the Ohio State's and Michigan's of this world?
He was rated the No. 25 DE (No. 12 TE) in the nation but wants to play TE and Chip said, OK.
I am honestly confused about the Ducks depth chart at tight end. I do think you will see both Baylis and Brown on the field in 2012.
Your thoughts on the tight end position would be most welcome.
Defensive Lineman: Arik Armstead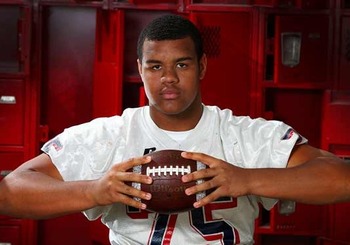 maxpreps.com
If Mark Asper and Aretha Franklin had a child, it would be Arik Armstead. This is a large, talented human being. And precisely the big body that Oregon needs on the D-line.
Armstead will work his way into the starting lineup sooner rather than later and will definitely see action in 2012. He's just too big to leave on the bench for long.
At 6'8", 297 lbs, Armstead was rated 5-star and the No. 1 OT in the country, but he will play DL for Oregon and will wear No. 9. Apparently he loves sacking quarterbacks.
My kind of guy.
DE: Buckner, Bair, Daniel, Carriger and Balducci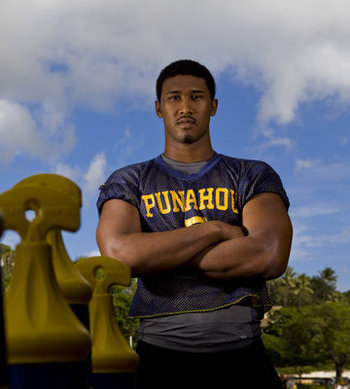 DeForest Buckner thenewstribune.com
Talk about your embarrassment of riches. The defensive end position will welcome two 4-star recruits in 2012 and three 3-stars.
There haven't been many 4-star players to come out of Oregon high schools over the years. Alex Balducci (6'3.5", 245 lbs—and when you watch him, he looks even bigger), from Portland's Central Catholic high school is one of them. Balducci was the Class 6A defensive player of the year, and I can't wait to see him in a Ducks uniform.
But as impressive as Balducci is, he might find himself behind DeForest Buckner on the depth chart. If I were lined up against Buckner, I would be very afraid. The kid is a giant—a very impressive giant at 6'7", 250 lbs, who will remind you of Dion Jordan.
Buckner is a 4-star recruit who was rated the No. 17 DE in the nation. When you see him, you will wonder who in the heck are Nos. 1-16.
You will recognize the name Stetzon Bair. Yes, he's the younger brother of Oregon DT Brandon Bair, now with the Kansas City Chiefs. 3-star Bair is mature, having done his Mormon mission before attending community college.
Terrance Daniel is listed as a DE on the signing list, but there is some talk that he might also play tight end. The 3-star from Oakland, CA, is 6'5", 220 lbs. How do these kids get so big?
Cody Carriger (6'6", 230 lbs—again with the size!) is a 3-star from Butte, MT. At a press conference back in February, Chip Kelly said that if Carriger were from someplace other than Montana, we would all know more about him.
In my business, sometimes you just get a feel for a kid, and while Buckner and Balducci are the sure things on this list, I think Carriger might be the silent assassin of this group.
Cornerback: Stephen Amoako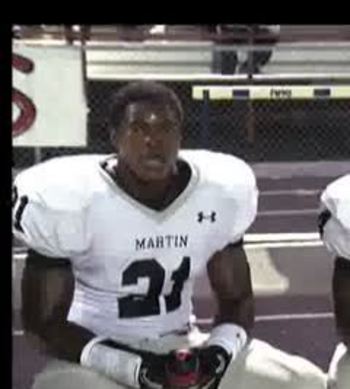 The twins are coming! The twins are coming! Stephen and Eric Amoako, both 5'11", 195 lbs are another gift from the state of Texas.
Stephen plays CB (and can also play safety) and is a 3-star recruit. According to his Scout.com profile, Stephen is known to be a good leader on the field, rarely gives up the big play and has had experience against some pretty good receivers.
If everything I've read about this young man is true, he might challenge for playing time as we get further into the season.
What about his brother, you ask?
I'm glad you asked.
Safety: Eric Amoako, Oshay Dunmore and Reggie Daniels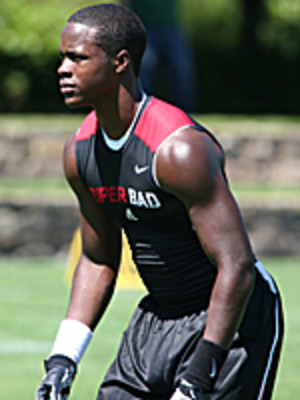 Eric Amoako Scout.com
If you are a thinking Duck fan, you are concerned about who will back up John Boyett at safety (John Boyett for Heisman.)
This is arguably the position with the least depth on the roster. While I wouldn't be comfortable with any of these three starting soon, all three have terrific potential to be "the guy."
Reggie Daniels, a 4-star recruit out of Chandler, AZ, looks the best on paper and on film. Daniels is 6'2", 185 lbs and has run the 100 meters in under 11 seconds. He's also a good tackler and appears fearless. Give Daniels one year with Boyett and I will breathe easier about the safety position next year.
Although Daniels appears to be the man to beat, don't rule out Eric Amoako or Oshay Dunmore. Both are 3-star recruits with good size and speed. I believe they will both get an opportunity; it depends what they do with it.
Dunmore's story, in particular, is compelling. One of the first major college prospects to come out of Newport, OR, in years, and with a difficult childhood, Dunmore will be a huge crowd favorite in Autzen. He is tremendously athletic and so versatile he could play both sides of the ball.
Oregon does some fun tests during recruit visits. After meeting with nutritionists and strength coaches, they compare recuits to current and past Ducks. Eric Amoako was compared to Eddie Pleasant and Jairus Byrd.
That works for me.
OLB: Brett Bafaro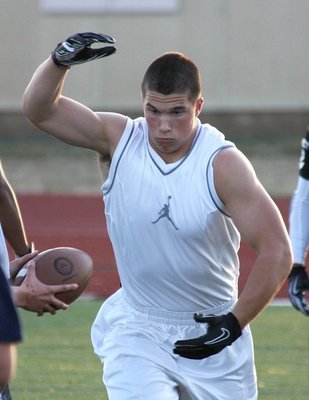 Brett Bafaro Oregonlive.com
Brett Bafaro is another Oregon recruit, out of Hillsboro's Liberty High School. The 3-star OLB is 6'2", 220 lbs.
I was surprised to see the Ducks take only one OLB in 2012, but indications are that they got a good one in Bafaro. And, I was thrilled that Bafaro chose Oregon over Washington, who finished second in his decision.
If Bafaro watches and pays attention closely this year, he should be ready to go in 2013.
Your Homework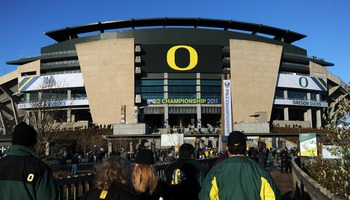 Steve Dykes/Getty Images
Study up on Oregon's new faces for 2012 and let me know what you think.
As we get closer to kickoff, I will do single in-depth profiles on each new Duck and I would like your input.
In the meantime, have a great weekend!
Keep Reading

Oregon Ducks Football: Like this team?