Alabama Football: Bama's Biggest Road Blocks in 2012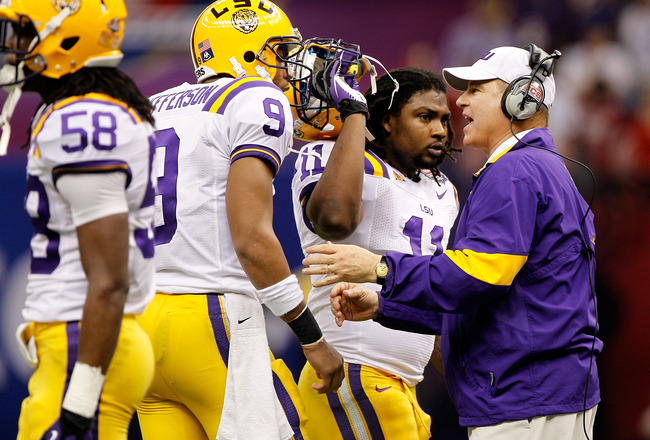 Chris Graythen/Getty Images
The Alabama Crimson Tide have all the tools they need to make a run at repeating as national champions, but there are a lot of teams in front of them ready to stop them dead in their tracks.
Last year, it was apparent that only Arkansas and LSU had a chance at beating 'Bama after the second week was in the books. Penn State was down, and Auburn struggled against the mighty Utah State.
2012 is a different story, and the schedule is littered with many upset-minded teams who have the muscle to make those dreams become reality.
Here are 10 dangerous teams that look to shut 'Bama down, in chronological order with SEC and national championship possibilities included.
Michigan Wolverines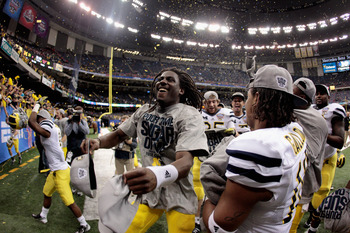 Chris Graythen/Getty Images
Date: September 1, 2012
Location: Cowboys Stadium, Arlington, TX
What Makes Them Dangerous
The Wolverines have quarterback Denard Robinson, some good weapons and a solid defense.
Alabama has faced plenty of dual-threat quarterbacks under Nick Saban, and the Tide conquered them all except for Cam Newton. Robinson isn't quite as talented, but he's blazing fast and has a decent enough passing game.
It's the first game of the season and the outcome will be a bigger mystery than any other game.
Why Alabama Can Beat Them
A decent passing game isn't enough to beat the Tide. Their "young" secondary is still going to be beastly, but passing may be Michigan's only chance.
Alabama will still have a ridiculous rush defense in 2012.
Michigan will become a one-dimensional team offensively, and it matters little if it is the run or the pass. You can't beat 'Bama without both the run and the pass working effectively.
Arkansas Razorbacks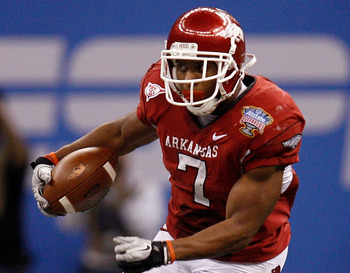 Chris Graythen/Getty Images
Date: September 15, 2012
Location: D.W.R. Razorback Stadium, Fayetteville, AR
What Makes Them Dangerous
Arkansas returns quarterback Tyler Wilson, arguably the best in the SEC, and running back Knile Davis (my pick for best RB in the SEC) will be healthy once again. Both can hang with the Tide and have proven as much.
Wilson threw for 22 of 35 for 185 yards, two touchdowns and one interception against the Tide's 2011 defense.
Davis rushed for 42 yards on only six carries against the Tide in 2010. His brute strength as a running back rivals that of former Tide back Trent Richardson.
But Davis isn't alone, as he has a good bench behind him with running backs Dennis Johnson and Ronnie Wingo, Jr.
Why Alabama Can Beat Them
Arkansas has become one of the premier passing attacks in the entire nation in recent years, but their defense is always lacking just enough to keep them out of something big.
A few shining stars appear once in a while, such as defensive end Jake Bequette (now graduated), but their overall defense won't be able to match up with 'Bama.
Quarterback A.J. McCarron and his new army of top-notch receivers will exploit the Hogs' defense ruthlessly, and running back Eddie Lacy will spin his way to the end zone numerous times.
Tyler Wilson has proven that he can hang with the Tide, but even with Bama's personnel turnover, he won't be able to carry his team to victory.
It will likely be the Tide's closest match of the year (yes, including LSU), but Arkansas will see its losing streak come to six.
To top it all off, the Tide will need to beat Arkansas on the road, and road challenges don't phase quarterback A.J. McCarron a bit.
Missouri Tigers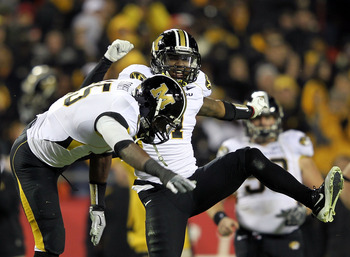 Jamie Squire/Getty Images
Date: October 13, 2012
Location: Faurot Field, Columbia, MO
What Makes Them Dangerous
The Missouri Tigers struggled in 2011, going 8-5, but two Mizzou stars aren't to blame for that.
Quarterback James Franklin (not the Vanderbilt coach) is a great dual-threat quarterback. In 2011, he passed for 2,872 yards with a completion percentage of 63.4, with 21 touchdowns and 11 interceptions. He also rushed for 981 yards and 15 touchdowns.
To help him on offense, Franklin has a stellar running back in Henry Josey, who rushed for 1,186 yards (8.06 average) and nine touchdowns in 2011.
The Tigers' defense has a rising stars in defensive lineman Brad Madison (4.5 sacks, 8.5 tackles of losses) and linebacker Andrew Wilson (98 tackles, 9.5 for losses). Each will do their best to quell the Tide.
Why Alabama Can Beat Them
The Tigers didn't look too terrible in 2011, but that was against some relatively weak teams. They lost against pretty much every good opponent. How will they fare in the SEC?
Franklin must have the game of his life to beat the Tide. He can run and throw, but he's not spectacular at either.
Between Franklin and Josey, the Tigers likely won't be able to establish a running game against Alabama, as its rush defense will not drop in production.
The Mizzou defense will be ineffective against the Alabama's greatly improved offense featuring what is arguably the best offense line in the nation heading into 2012.
Tennessee Volunteers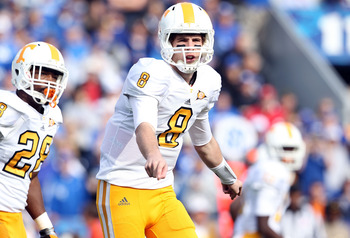 Andy Lyons/Getty Images
Date: October 20, 2012
Location: Neyland Stadium, Knoxville, TN
What Makes Them Dangerous
This Tennessee team will be unlike the underachievers we've seen lately. They will be the real deal in 2012.
The Vols have had solid recruiting in recent years, always cracking the top 25, and a lot of their young talent is now seasoned and ready to break out.
Quarterback Tyler Bray looks to finally have his career season if he stays healthy, and his size (6'6", 210 lbs.) and talent could carry him to All-SEC honors or more.
Why Alabama Can Beat Them
As much as Tennessee may improve in 2012, they will not be a top-tier SEC team.
Their defense will likely not improve a lick and should remain in the bottom half of the SEC.
Bray, however well-built and talented, has yet to prove himself against a solid SEC team. He floundered in 2011 against real competition, even before his injury.
Florida and Georgia held him to less than a 55 completion percentage, and he looked like a complete joke against Vanderbilt and Kentucky after he returned from injury.
They will put more into this game than any other in 2012, but the Tide's swarming defense and efficient offense will put the game out of reach for the Vols by the end of the first half.
Mississippi State Bulldogs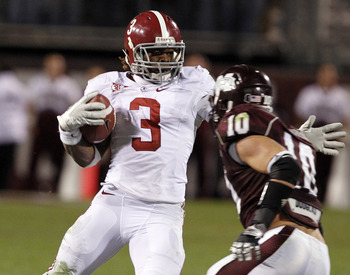 Butch Dill/Getty Images
Date: October 27, 2012
Location: Bryant-Denny Stadium, Tuscaloosa, AL
What Makes Them Dangerous
The Mississippi State Bulldogs are far from a top-tier program, but they have a serious knack for showing up for big games.
In 2011, they put up incredible fights against LSU (loss, 6-19), Georgia (loss, 10-24), South Carolina (loss, 12-14), and Alabama (loss, 7-24, Tide had to run Trent Richardson over 30 times to clinch the win).
They return only one player worth mentioning, but he's a good one. Cameron Lawrence, one of the most underrated linebackers in the nation, can do it all.
At 6'2", 230 lbs., Lawrence has the ability to play against the run and pass in equal measure.
In 2011, he racked up 123 tackles (49 solo), six for losses, two sacks, two interceptions and a forced fumble.
He is able to play all over the field and is a dangerous defender. He made 12 tackles against the Tide and tacked it off with an interception.
Why Alabama Can Beat Them
Though the Bulldogs always put up a good fight against the Tide, they just don't have enough playmakers to pull off the upset.
It's not impossible, but incredibly unlikely.
Their offense will do little against the Tide's defense, and the Bulldog's defense won't be able to hold off a powerful attack from Alabama's veteran offense line, quarterback and running backs.
LSU Tigers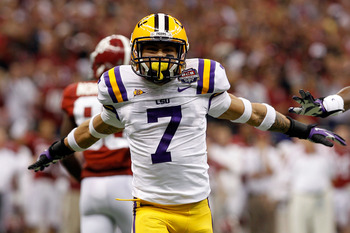 Chris Graythen/Getty Images
Date: November 3, 2012
Location: Tiger Stadium, Baton Rouge, LA
What Makes Them Dangerous
The LSU Tigers are stacked with talent and depth and carry over a lot of players who led the team to the national title game.
Heisman finalist Tyrann Mathieu will be even deadlier, as will the Tigers' defensive line that features two likely first-round NFL draft picks, defensive ends Barkevious Mingo and Sam Montgomery.
Every aspect of the game that the Tigers dominated in 2011 will be dominated in 2012.
The Tigers' weakest link in 2011 was the quarterback, and Zach Mettenberger looks to fix any and all issues. If he plays to his potential, he just may become the best quarterback in the SEC.
The Tigers also return a veteran offense line that rivals that of 'Bama.
Why Alabama Can Beat Them
In terms of talent, the LSU tigers match the Tide man for man everywhere—except for quarterback.
Mettenberger has the opportunity to change that, but McCarron has proven his ability against the Tigers in the national title game. Mettenberger has only the promise of hope to offer.
The Tide have the ability to make the Honey Badger (the Tigers' top playmaker) irrelevant, and without Morris Claiborne to carry the load, the Tigers will have a lot of difficulty stopping the Tide's passing attack that will feature a lot of big 'n' tall receivers.
The Tigers' defensive line, however talented and seasoned, will have an terrible time trying to fight off Alabama's incredible offensive line. The Tide running backs will run free (in Alabama vs. LSU terms), and A.J. McCarron will be safe and sound.
LSU's offensive line is the x-factor. They are almost as good as Bama's, if not their equals, and will test the Tide's "young" defense.
Unfortunately for them, the Tide's rush-defense will be just as strong, which is bad news for a team that relies heavily upon its four-headed monster at running back.
The home-field advantage will play a very small part. A.J. McCarron is not rattled when on the road, and Alabama was able to defeat LSU in New Orleans, which is LSU territory, in the nation title game when McCarron shredded (relatively speaking) its defense.
Texas A&M Aggies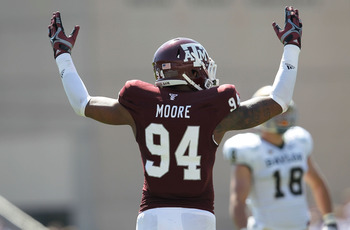 Sarah Glenn/Getty Images
Date: November 10, 2012
Location: Bryant-Denny Stadium, Tuscaloosa, AL
What Makes Them Dangerous:
Looking back, Texas A&M was a terribly underrated team in 2011. They played quite well but had a habit of slacking just enough in the second half to lose. Their only convincing loss came at the hands of Oklahoma in a 41-25 disappointment.
The rest of their six losses were decided by only one touchdown or less, including a quadruple overtime 53-50 loss to a very good Kansas State team.
The Aggies have a running back in Christine Michael, who just might prove to be one of the best in the SEC, or at least very close to it.
The 5'11", 213-pound running back racked up 899 yards with a 6.0 YPC average and eight touchdowns in 2011, all done in relief duties.
What makes the Aggies really dangerous is their duo of stud linebackers, Sean Porter and Damontre Moore, who spearheaded an underrated defense.
In 2011, these two combined for 151 tackles (91 solo), 34.5 tackles for losses (163 yards lost), 18 sacks, eight QB hurries and five forced fumbles.
These two make for one beastly combo, and they will test both Alabama's rushing and passing attack.
Why Alabama Can Beat Them
The Aggies lose their stellar quarterback Ryan Tannehill, who was a controversial first-round NFL draft pick (most predicted a Day 2 selection) to Miami.
He is replaced by 6'1", 200-pound redshirt sophomore Jameill Showers. Showers is a pro-style quarterback but has the legs to make things happen on the ground.
Showers is unproven against not only Big 12 competition, but SEC competition as well.
The Aggies' passing game will struggle against the Tide and too much weight will need to be carried by their running backs, and running backs just can't carry a team against the Tide.
Texas A&M's defense will put up a fight with Porter and Moore, but they will be able to do little against the Tide's veteran offense line.
If they manage to shut down the Tide's rushing attack then A.J. McCarron will just slice them apart with his army of receivers.
To top it all off, the current Aggies' roster has never traveled to a venue as intimidating as Bryant-Denny Stadium. The rabid 'Bama fans will be eager to give A&M a warm SEC welcome.
Auburn Tigers
Kevin C. Cox/Getty Images
Date: November 24, 2012
Location: Bryant-Denny Stadium, Tuscaloosa, AL
What Makes Them Dangerous
Like Tennessee, the Auburn Tigers will not look anything like their 2011 version that won the Chick-fil-A Bowl over Virginia.
Auburn returns a lot of starters who were tested in a trial by fire last season when they were far from ready. Their disappointing performances will pay dividends in 2012 when they take the field as seasoned veterans.
The Tigers will bring a four-headed monster at running back to the field.
However, unlike LSU's version, these Auburn players are all blazing fast and led by veteran running back Onterio McCalebb, who has proven himself many times against stout defenses and is rumored to run at or under a 4.3 40-yard dash.
Their running backs' ability to attack the perimeter is nearly unrivaled, but they can hit between the tackles as well with their offensive line.
Both of Auburn's guards are over 330 lbs., and their center, Reese Dismukes, has a good shot at proving himself as the best center in the SEC (yes, even ahead of Barrett Jones).
On the defensive side, the Tigers have a long list of experienced players, including the ones who were forced to start in 2011.
The stars include undersized-yet-ferocious linebacker Daren Bates, who is a vicious run defender, T'Sharvan Bell, who wrought havoc on the Tide in 2010, and defensive end Corey Lemonier, one of the best pass-rushers in the entire nation.
Lemonier is my vote as the Tigers' MVP, as in 2011 he racked up 9.5 sacks, 13.5 tackles for losses and forced a whopping five forced fumbles.
Even Alabama fans must admit that this guy looks just as mean as Courtney Upshaw, as Lemonier beat left tackle Barrett Jones badly a couple times in the 2011 Iron Bowl.
Why Alabama Can Beat Them
Though Alabama will head into many games in 2012 on upset alert, the Auburn Tigers should prove to be their toughest competition outside of Arkansas and LSU.
The Tigers' defense will struggle to get to quarterback A.J. McCarron with such a staunch and seasoned offensive line.
Lemonier will have a lot of difficulty matching up against Alabama's new left tackle Cyrus Kouandjio who, even at 6'6", 322 lbs., is quick as a hiccup against even the fastest players.
The rest of the defense, however experienced and talented, will struggle against Alabama's new receiver corps that is as talented as any in the nation. National championship MVP quarterback A.J. McCarron will find his mark.
Auburn's offensive strength will lie in its running backs, but they will find it too difficult to attack up the gut. On the perimeter, Alabama's secondary is always extremely proficient at shutting down the outside.
Georgia Bulldogs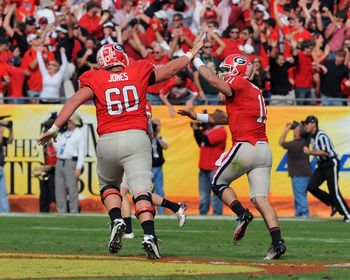 Al Messerschmidt/Getty Images
The SEC East will return from their two-year slump and emerge as their typical, powerful selves. I believe Georgia will narrowly win the East over South Carolina and advance to the SEC championship game.
Date: December 1, 2012
Location: Georgia Dome, Atlanta, GA
What Makes Them Dangerous
The Bulldogs have a great veteran quarterback in redshirt junior Aaron Murray, who performed extremely well in 2010 and in 2011, even without the help of wideout A.J. Green.
He is the real deal and has a future in the NFL.
The Dawgs also have a perfect complement to Murray's passing attack in running back Isaiah Crowell, who was asked to do a little too much as a true freshman in 2011 despite his status as the best running back in the class of 2011.
Georgia's defense is also extremely dangerous, and it will be led by junior linebacker Jarvis Jones who decimated competition all year.
Jones only tallied 70 tackles in 2011, but he was a terror in the opposition's backfield. He racked up 13.5 sacks, 19.5 tackles for losses, an incredible 26 quarterback hurries and forced two fumbles to boot.
Why Alabama Can Beat Them
Alabama's offensive line is outstanding on the weakside and will allow limited sacks, and the offensive line as a whole will not allow tackles behind the line of scrimmage. The best they can hope for is stopping the Tide's rushing attack at the line of scrimmage.
No defender on Alabama's roster has proven himself against Georgia, but they did very well in shutting down Arkansas quarterback Tyler Wilson. They should have few issues when replicating those performances against Aaron Murray.
Crowell will pose a serious running threat against the Tide, but Alabama's rush defense will be just as powerful, especially with Nico Johnson at linebacker and Jesse Williams commanding double teams at nose tackle.
The Bulldogs have a lot of playmakers who will test the Tide, but their depth won't be able to stop the might of the Crimson Tide.
USC Trojans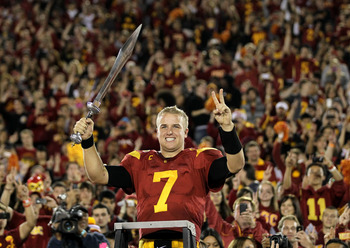 Stephen Dunn/Getty Images
The USC Trojans are expected to make it to the national title game, and I believe they will face Alabama when they get there.
USC seems to have a clear path, and Alabama will make it through the SEC gauntlet and run the table. Together, the two will create a monumental showdown that hosts the return of USC to national prominence.
Date: January 7, 2013
Location: BCS National Championship Game, Sun Life Stadium, Miami, FL
What Makes Them Dangerous
Quite frankly, the USC Trojans have the best chance thus far to dethrone the SEC in the national championship game, and that includes the Oklahoma State Cowboys if they had played for the BCS title.
The Trojans return my pick (and that of many others) for the best quarterback in the nation and front-runner for the Heisman Trophy in Matt Barkley.
Barkley would have been a sure-fire first round NFL draft pick had he declared early, but he decided to stay at USC and will likely lead them to the national title game now that USC is now eligible for postseason bowls.
The Trojans also return almost all their starters on defense. Even the Tide's Barrett Jones had issues at times against lightning-quick pass-rushers who had muscle to back it up.
Why Alabama Can Beat Them
If Alabama and USC have the honors to face each other in the national title game, they will match each other blow for blow in every aspect of the game.
The deciding factor will be the depth chart.
Alabama is arguably the deepest team in the nation, and USC is still depleted due to the NCAA sanctions placed on them after the Reggie Bush scandal.
With 30 fewer scholarships in recent years, the Trojans just won't have enough talent on the bench to go toe to toe with Alabama.
Keep Reading

Alabama Crimson Tide Football: Like this team?