Tyshawn Taylor: Highlights, Analysis and Pro Projections
June 25, 2012

Jeff Gross/Getty Images
Tyshawn Taylor is a tweener that must prove to NBA teams he can run the point guard. Taylor helped lead the Kansas Jayhawks to the national championship game as a lead guard, but right now he's more of a shooter.
At 6'3" Taylor is a bit small for a traditional two-guard, but he would have good size for a point guard.
Taylor improved in almost every category through his four years at Kansas, and he showed a commitment to improving as a playmaker. The fundamental base should be there for Taylor. In addition to his four years at Kansas, he also attended St. Anthony High School in New Jersey where he played for historic coach Bob Hurley.
Taylor had rough beginnings. He was forced to become the man of his household at a very young age. Jesse Newell of KU Sports writes:
Tyshawn Taylor knows his father's name — Tyrone Garner — but when asked how to spell it, he says he's not sure.

Taylor was born in Hoboken, N.J., in 1990, and his father was a part of his life until his mother, Jeanell, and her children moved to Florida to be closer to Jeanell's sister.

"I guess it was an 'out of sight, out of mind' kind of thing," Taylor says.

After that, Taylor talked sparingly with his father. The brief times they spoke set him up for disappointment.
This has forced Taylor to grow up quickly off the court; NBA GMs are hoping he grows up quickly on the court.
ESPN's Chad Ford has him listed as the No. 5 point guard in the draft. I wouldn't necessarily agree with that, as I still see Taylor struggling with his decision making.
Here is a scouting report on Taylor highlighting his strengths and weaknesses.
(Height, weight and stats per statsheet.com)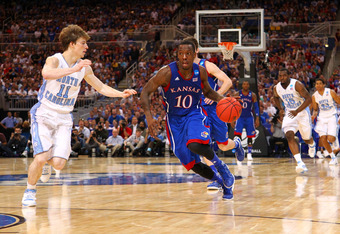 Dilip Vishwanat/Getty Images
Profile:
Height: 6' 3"
Weight: 175 pounds 
School: Kansas
Date of Birth: April 12, 1990
Best NBA Position: Point Guard
College Stats: (Key Stats Underlined) 16.6 PPG, 33.4 MPG, 47.7 FG%, 38.2 3FG%, 68.8 FT%, 4.8 APG, 2.3 RPG, 0.2 BPG, 1.3 SPG
Skill Grades:
Athleticism - A
Size - A
Intangibles - B
Rebounding - B-
Ball Handling - B-
Defense - B+
Shooting - B
Passing - B-
Post Game - C+
Basketball IQ - B-
Upside - A
Strengths:
Taylor is quick and explosive. He has great leaping ability and a killer first-step. He has good change of direction and long arms. These traits make him a solid penetrater and effective off-the-dribble. 
At 6'3" he has good height for the position, and he also has long arms. When he's locked in defensively he can be a very good defender. Taylor is at his best in transition as many of these highlights will show:
He is a four-year college player so that experience should benefit him on the next level. 
Weaknesses:
Taylor's decision-making is a bit shaky. He still forces things and makes the wrong play with the ball too often. This tendency has to be the biggest concern for scouts.
He has improved his jump shot, but it still isn't as pure as it needs to be. Taylor will never be a pure point guard, so he needs to hone his scoring weapons to maximize his potential as a scoring lead guard.
He has the physical ability to be an excellent defender, but he must increase his effort on that end.
NBA Player Comparison: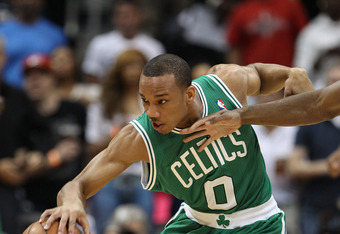 Mike Zarrilli/Getty Images
Less Heady Avery Bradley
Avery Bradley has made an impact with the Celtics this year, and it's primarily about his defense. He has great quickness and length and that has been his ticket. Bradley knows his game and he plays within himself, this is something Taylor doesn't always do.
He took advantage of playing time created by Ray Allen's injury and he had a solid year. He averaged 7.6 points per game and 1.8 assists for Boston. Bradley is 6'2" 180 pounds, he and Taylor are of similar stature.
Taylor has similar athleticism and length. If he plugs in on defense he could have a similar impact in the NBA. It's about finding his niche. At 6'3 he could be a great defender.
From there he can develop his scoring and decision-making.
Draft Projection:
Early to Mid-Second Round
Follow Brian Mazique and Franchiseplay.net for reactions, analysis and news from the world of sports and sports Video Games