Inside Ohio State Football with Billy Price Part 2
June 7, 2012
This is part 2 of our interview with Billy Price.  If you missed part 1, read it here.
He just returned from the state track meet, where he threw discus and shot put. He has next year to compete in the state track meet again and after interviewing him, I have no doubt he will do well, as he is very goal-driven person.
You mentioned that it was a relief to get the recruiting process out of the way, yet recruits like to stretch out the process. What are your thoughts on this?
BP: It was very stressful for me. I am glad it is out of the way. It took a lot of my time that I am glad to have back. I am sure there are people out there that like the attention, but it was a big-time commitment for me, and I wanted to be involved with other things like my family. 
I do think those who draw it out can be distracted during the season. I had a friend who was being recruited by top-level schools, and he told me it was hard for him to play on Fridays because his attention was diverted to his visits on Saturday.  I am glad it is over for me so I can focus on the season.
Who would you say is the leader or is emerging as the leader of the 2013 class?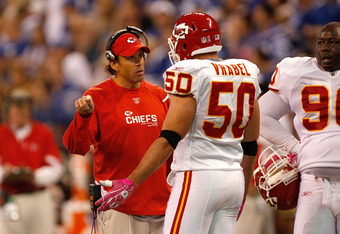 Scott Boehm/Getty Images
BP: Cameron Burrows!  He is the one texting us and communicating with us about things. He is encouraging the class as well as working on trying to recruit others to come to Ohio State.
Anyone that you are working on in the 2013 class?
BP: Not right now.  I worked hard on recruiting Evan Lisle and Joey Bosa, but my time is really limited. I have two younger siblings that are involved in sports. I try to be there for them. I try to work a job to earn money so I do not burden my family with any needs I may have.
My two younger siblings are also involved in athletics, and I want to be part of their life while I am here. If I had more time, I would be working on others like Cameron is, but due to family responsibilities, I am not able to spend as much time as I would like.
Outside of Ohio State, what other schools came at you?
BP: Early on, Michigan and Michigan State.  Ohio State did not recruit me hard until Coach Meyer took over.  Oregon and Alabama also recruited me.
Since Michigan recruited you before Ohio State, what was it about OSU that separated them from TSUN?
BP: There was nothing personal against schools like UM, MSU, Notre Dame, etc. I just felt more comfortable at Ohio State. Also, one of my goals was to earn an Ohio State scholarship. The overall feel of the city, campus, coaches, administration and academics gave me a better feel than Michigan and other schools. 
A coach cannot be the reason one commits to a school. There has to be the overall feeling of the school itself.  No person is bigger than Ohio State.
What will your major be?
BP: Kinesiology
Thank you, Billy, for this two-part interview.  We look forward to your career.