NL Worst of the Night: Carlos Marmol Melts Down Again as Cubs Lose, 8-0
June 7, 2012

Chicago Cubs manager Dale Sveum surely hoped his miseries with reliever Carlos Marmol would come to an end once Marmol was removed from the closer role. 
As is typically done with a former closer who needs to get himself right, Sveum has been pitching Marmol in low-leverage situations where he might be able to work out the issues in his game and essentially rehabilitate himself. 
The Cubs faced just such a situation Wednesday night, down 5-0 to the Milwaukee Brewers in the eighth inning. No lead to protect, no key outs to deliver, no stress on every pitch. It was seemingly the ideal setting for Marmol to just pitch and let his talent shine through.
Well, not so much. Marmol got ahead of Cody Ransom with a two strikes, no balls count to begin the inning. But Ransom fought Marmol for another seven pitches, fouling off three of them. Marmol finally struck Ransom out on a slider, but he had to work for it. And that apparently wore him out for the next few batters.
Marmol gave up singles to the following two hitters he faced. Uh oh. He then fell behind the next batter, Taylor Green, on a two balls, one strike count.
Marmol tried to put Green away with his slider (a pitch Sveum feels he relies to heavily upon, by the way), but hung the third one in the middle of the plate. Green didn't miss it, launching it to right field for his first career home run.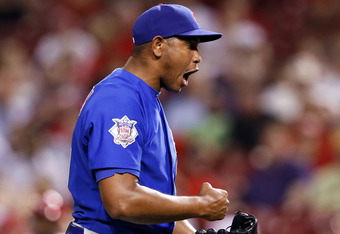 Joe Robbins/Getty Images
Watch video of Green's three-run homer.
After serving up the home run ball, Marmol retired the next two hitters to get out of the inning. But the damage was done. In a situation in which he was essentially asked to do no harm, Marmol couldn't even do that.
Were the Cubs going to rally from a 5-0 deficit and make it a ballgame? Given the way they've been playing, probably not. But they certainly weren't going to recover from an 8-0 hole barring an absolute implosion by the Milwaukee bullpen.
Most of the talk these days surrounding the Cubs is centering on which players they might trade as general manager Jed Hoyer and team president Theo Epstein continue their rebuilding project. The front office would surely love to deal Marmol away to a team looking for a closer or setup man. 
But with the way Marmol has been pitching, he can't even offer himself as a decent trade candidate right now. Who's going to take on a reliever that could potentially explode every time he takes the mound? Then factor in the $14 million that Marmol is owed through 2013, and the Cubs truly have a mess on their hands. 
Follow @iancass on Twitter.