Euro 2012 Top 10 Part 2: Defenders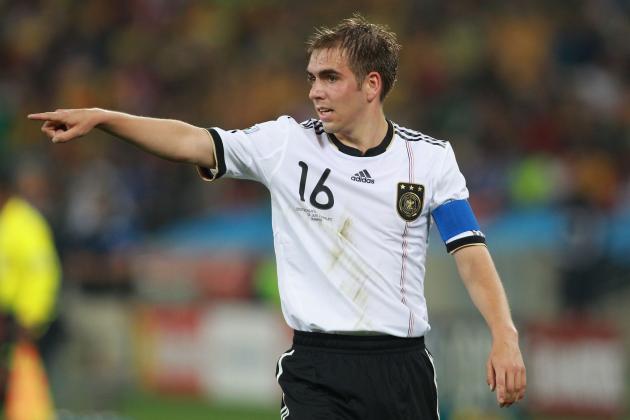 Joern Pollex/Getty Images

In the second installment of our "Top 10 Countdown" of Euro 2012, we'll be looking at the defence.
Over the course of the next 10 slides, we'll consider just who makes the cut in terms of the tournament's best pedigree amongst defenders.
As was explained in part one, these selections are based entirely on individual performance and don't depend on the success of the player's nation in international competition.
Also, each squad is still limited to just one nomination, giving each participating country the fairest chance of inclusion.
Lets get this show on the road.
Begin Slideshow

»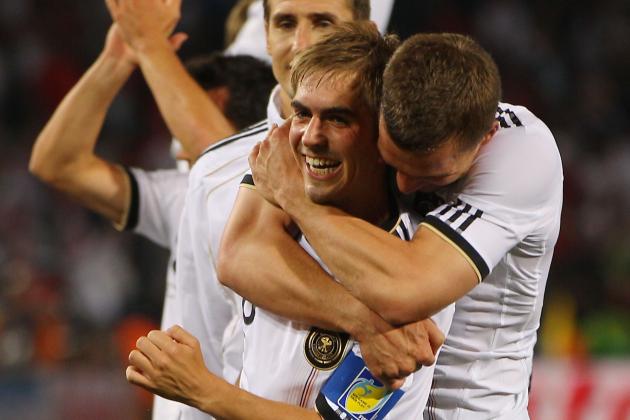 Michael Steele/Getty Images

With Germany being unanimously pinned as favourites to topple current champions, Spain, from off of their throne, it seems only fitting that their captain take the honour of first position on this list.
Philipp Lahm is just about the only assured fixture in the German defence with the likes of Mats Hummels, Jerome Boateng, Holger Badstuber and Per Mertesacker all showing signs of inconsistency.
That being said, the 28-year-old is one of the best fixtures that a manager could ask for and with him marshaling the rest of Die Mannschaft's back four, Germany can risk a degree of comfort in their approach.
With five assists in an incredible 50 appearances for Bayern last season, Lahm was a key factor in the club's run to the Champions League final, as well as their tight-knit league encounter with Borussia Dortmund.
Operating from either side of the defence, Lahm is nearly as much of a helping hand in attack as he is in defence; an attribute that opposing sides would be careful to look out for if they are to prevent him contributing to his optimum.
That being said, "nearly" is the key word there and it's the pint-sized leader's devoted defensive diligence that makes him one of, if not the best in the world at what he does.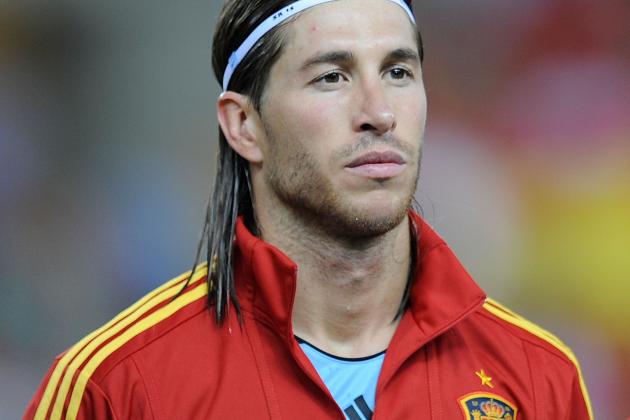 Denis Doyle/Getty Images

As current World Cup and European champions, Spain's nomination for this list was always going to be very highly placed.
Were it not for the injury that ruled him out of the tournament, it could well have been Carlos Puyol who took the spot, but it wasn't to be.
Gerard Pique was the other candidate, but Sergio Ramos is the man who ultimately gets the nod after playing a massive part in Real Madrid's La Liga-winning campaign.
It's the 26-year-old's versatility that makes him the superior choice above his teammates after having shown his ability to feature as both a top-class centre-back as well as a potentially destructive full-back.
In your average understanding of what a defender is, to call Ramos "attacking" would be an understatement.
In a season where he made 51 starts for his club, Ramos managed to score four goals along with a generous six assists in turn.
As is the case with goalkeepers, it can often be seen that defenders look more glamorous than their individual talent suggests due to the abundance of skillful players around them.
However, having first turned heads during his days at Sevilla more than seven years ago, it's safe to say that Ramos is an incredible power all on his own and will feature prominently for Spain in Poland and Ukraine.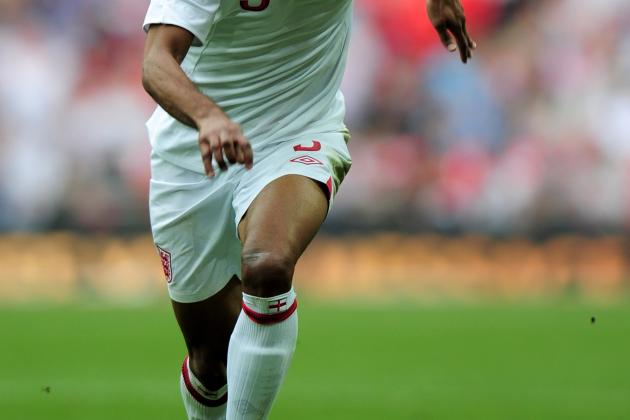 Shaun Botterill/Getty Images

Whether you hate to love him or love to hate him, the controversial figure of Ashley Cole is still amongst the best players in the world in his position.
Shooting Chelsea trainees with an air rifle, having numerous run-ins with the law, maintaining an eight-year "on again, off again" relationship with Cheryl Tweedy—Ashley Cole has done it all.
However, no matter the amount of disturbance that would block his path, the Premier League veteran has rarely let off-the-field incidents affect his performances on it.
At 31 years old, the argument is still there that Cole is in the prime of his career—a statement backed up by the player's performances for the Blues in their triumphant Champions League run.
With speed as his natural ally, it will be intriguing to see whether or not Cole is able to link up with his England teammates down the left touchline as efficiently as he has done at Stamford Bridge.
This is, of course, made all the more intriguing when you consider that it could be the stuttering form of Stewart Downing—a player who managed barely two assists for Liverpool last season—playing with Cole as his partner on the left flank.
With Rio Ferdinand and Frank Lampard both out of the squad, Cole will be one of the most senior figures in the England squad and will have to lead along with Chelsea teammate John Terry if his side are to succeed in Poland and Ukraine.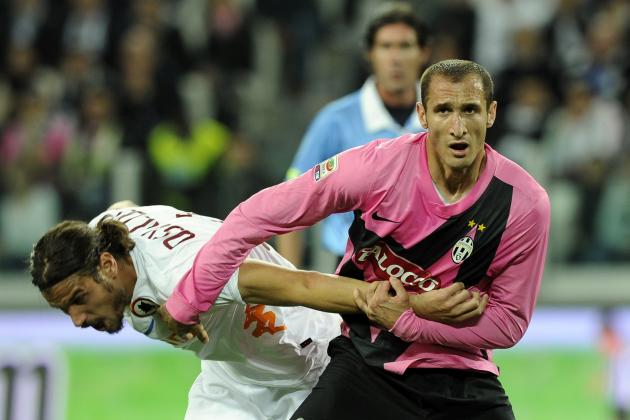 Claudio Villa/Getty Images

Fresh off the trail of a Scudetto victory, Giorgio Chiellini was a monumental figure for Juventus in the 2011-12 campaign where the club won their first Serie A title for seven years.
Italy's defensive play has been a key feature in their game for some time now, and with Chiellini leading their back line this summer, Cesare Prandelli can feel assured that that will remain the case at Euro 2012.
The 27-year-old will team up with several members of his Juventus side in Poland and Ukraine, hoping to produce similar form as they face a tough group against Croatia, the Republic of Ireland and, of course, Spain.
Although Juve's successful season can't be attributed to one player, Chiellini was massive in the centre of defence all season long, and that isn't specifically in reference to his height.
Amidst the controversy involving match-fixing in Serie A, it will up to several figures in the Italian dressing room (Chiellini being one of them) to ensure that the player's heads are screwed on right as they head into this competition.
Despite Italy's disappointing run of results heading into the tournament, the Azzurri will be striving to return to the World Cup-winning form of 2006—a feat in which Chiellini will be vital if it is to be achieved.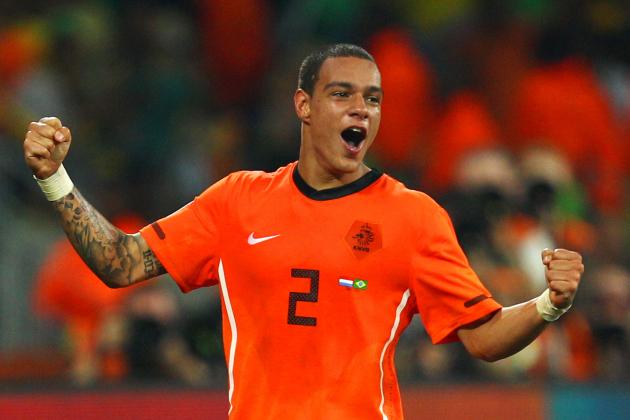 Richard Heathcote/Getty Images

After emerging as an Eredivisie talisman in the 2008-09 season, Gregory van der Wiel has slowly evolved into one of the premier full-backs in European football on both the club and the international scale.
This is evident in the fact that Chelsea have been linked with a move for the defender for around a year now.
The Ajax right-back was a massive component in Ajax's 2011-12 campaign that saw them retain the Eredivisie title.
Despite being just 24 years old, Van der Wiel has already accumulated an impressive 184 appearances for the Dutch outfit and it seems as if he is unlikely to remain at the club long enough to add to that tally.
The wing-back has done enough on the club scale to remain the first-choice right-back under Bert van Marwijk for the last three years now and while the Netherlands defence isn't their strongest asset, Van der Wiel's helping hand in attack will be a very common sight in Poland and Ukraine.
Thanks to a three-month injury this season, Van der Wiel made just 18 league starts for Ajax this season but still managed an impressive four assists as well as two goals playing out of defence.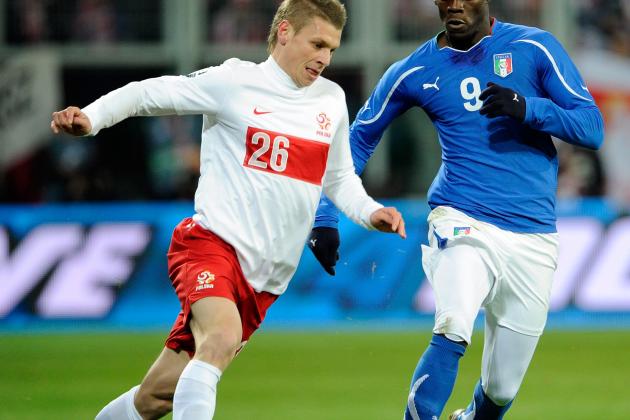 Claudio Villa/Getty Images

Similar to our last nomination, Gregory van der Wiel, Łukasz Piszczek is a defender that stands out as an invaluable attacking talent amongst the rest of his defence.
With home crowds cheering their talisman on, Poland's Euro 2012 campaign will be a very interesting one to watch, but if there is any success to be had, you can bet that Piszczek will be a factor in it.
The full-back is one of three Borussia Dortmund players in the Poland squad for the tournament upon whom a massive share of the responsibility will lie in the coming month-and-a-half.
In 50 starts for the German outfit last season, Piszczek contributed four goals and 10 assists.
Not a bad total for a defender.
We can fully expect to see more of the same in Poland and Ukraine, too.
Fortunately for manager Franciszek Smuda, Piszczek will once again be able to team up with Dortmund teammate and compatriot Jakub Błaszczykowski down the right-hand flank, giving the two an added sense of familiarity in both attack and defence.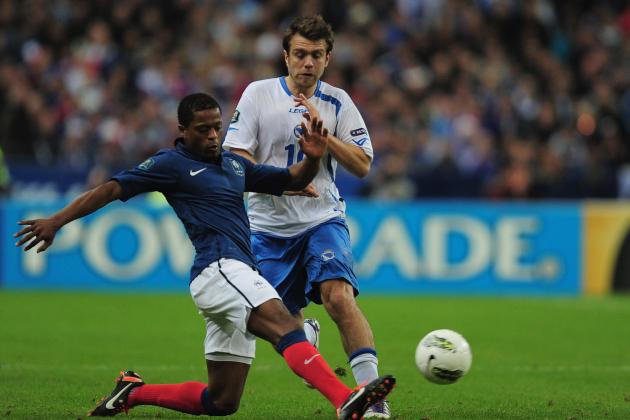 Jamie McDonald/Getty Images

Thought to be one of the main contributors in France's infamous rebellion in South Africa, you can bet that Patrice Evra will be one of the most-watched French players when the side travel to Poland and Ukraine, even if it is for the wrong reasons.
Regardless of the defender's discrepancies off the pitch, it's hard to argue that when on it, Evra isn't still a world-class talent.
As is so often the case with modern full-backs, Evra's defensive play is sometimes an aspect that will suffer in matches due to the player's attacking nature and is something the Red Devil will have to balance if France are to succeed at Euro 2012, given the fact that France's defence isn't actually the finest cog in their machine, if you will.
At 31 years old, it's arguable that this will be the last international tournament in which Evra can even be considered to still be "in his prime," and the player needs to impress if he is to ward Gael Clichy off his position.
After making 49 starts for Manchester United last season, Evra pitched in with eight assists and will certainly be looking to help out his midfield in a similar fashion over the course of the summer competition.
At times, the veteran could easily be mistaken for a winger due to the length at which Evra goes to complete an attack, and with Les Bleus likely to play with just one striker up top, he'll need to keep pitching in wherever he can.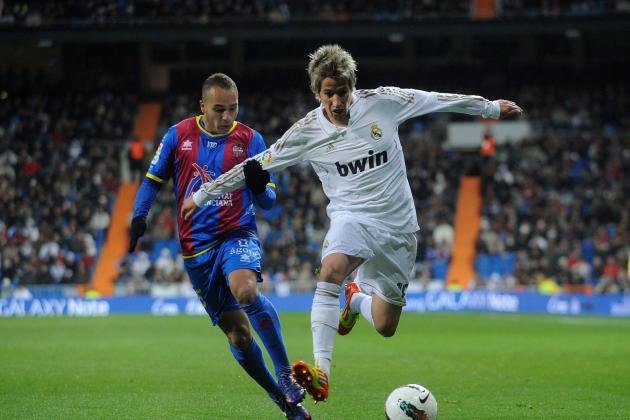 Denis Doyle/Getty Images

Another piece of the Real Madrid puzzle, Fabio Coentrao actually fell victim to the plethora of player selection that Jose Mourinho has at his disposal last season.
Able to play in both defence and midfield, Coentrao was actually used in the latter more than most would have assumed upon his arrival at the Santiago Bernabeu last summer.
The 24-year-old is capable of featuring in both full-back positions, as a winger or even as a defensive midfielder—a variety that Mourinho used to its full extent in Real Madrid's La Liga-winning 2011-12 campaign.
It's this kind of diversity that makes Coentrao such a valuable asset to the Portuguese squad and is one of the reasons that the utility stood out so much at the 2010 World Cup.
However, Paulo Bento is likely to utilize Coentrao in his natural position of left-back in Poland and Ukraine, the position in which he has played for all of the side's 2012 friendlies.
Despite making just 12 starts for Los Merengues last season, Coentrao pitched in with a decent return of four assists.
With the likes of Cristiano Ronaldo, Nani and João Moutinho playing in front of him, it wouldn't be a surprising sight to witness Coentrao getting heavily involved in attack, an aspect of his play that he became known for during his days at Benfica.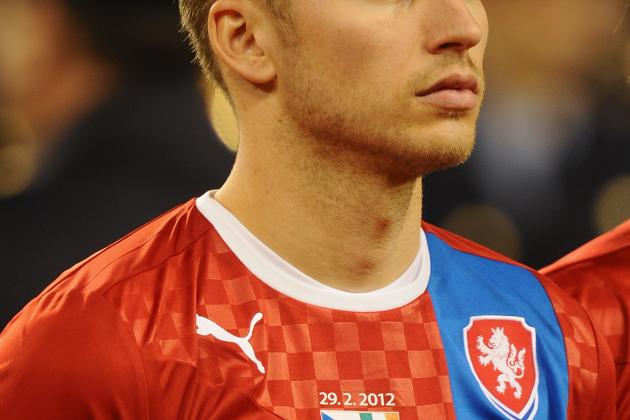 Mike Hewitt/Getty Images

When you finish your national side's qualification campaign for a major international tournament as their top goal scorer, it's only natural that you receive a lot of praise.
When you accomplish such a feat and you play as a defender, that praise gets multiplied tenfold.
With his trusty left foot, Michal Kadlec appeared to have kept the Czech Republic's hopes of European football alive almost singlehandedly.
With three goals in his last four matches, Kadlec remains one of the nation's main attacking threats and while that may be from the full-back position, manager Michal Bilek won't care as long as he continues in the same fashion.
The 27-year-old finished the season with six assists and two goals for Bayer Leverkusen, consistently helping his team out in attack.
However, the set-piece specialist has proven himself as a sound defender as well, and he contributed largely to the team keeping one of the lowest concession rates in the Bundesliga season.
Although a great amount of responsibility rests on the shoulders of Petr Čech in goal, the performances of Michal Kadlec will also lend a hand in deciding the way in which the Czech Republic's Euro 2012 tournament unravels.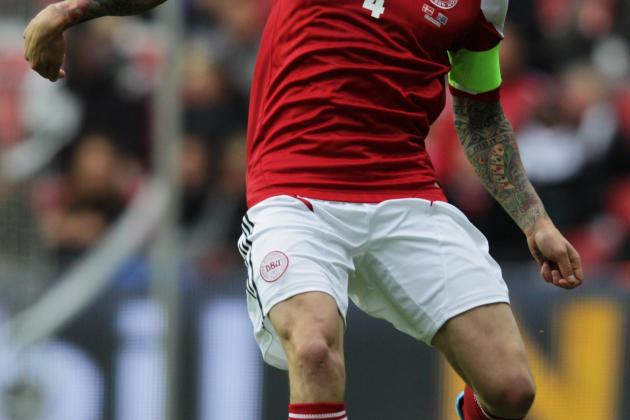 Dean Mouhtaropoulos/Getty Images

Depressed. Vulnerable. Hopeless.
A team can feel a variety of ways when drawn as the veritable underdogs in a "Group of Death." If there was one to be picked at Euro 2012, then Denmark are certainly that team.
With Holland, Germany and Portugal all soon to clash with the Danes, defence will have to be an absolutely historical part of Denmark's defence if they are to progress, and that isn't an overstatement.
One figure who stands out in said defence is their captain and leader, Daniel Agger.
For all the injury woes and selection disappointments the defender has been subject to at Liverpool, Agger remains a quality defender who appears to embrace the role when playing for his national team.
The tattooed centre-back has scored two goals in his last five games for Denmark and also pitched in with another two goals and four assists at Anfield last season.
Comfortable with a ball at his feet, Agger is probably one of the least cumbersome centre-backs in Euro 2012 and is more than capable of plying the role of left-back also.
Regardless of a disappointing 2011-12 campaign for Liverpool, Agger has seldom allowed his standard of play to slip and his ability to attack makes him a threat at both ends of the pitch.
Just in case you missed it, the list of Euro 2012's Top 10 Goalkeepers can be found here.
Make sure to keep an eye out for the next edition of our Euro 2012 Top 10 that will account who the best midfielders heading into the tournament.
All statistics were provided courtesy of Transfermarkt.com, Statto.com and WhoScored.com.