Stanley Cup Final: Devils Stop Kings in Game 4, 'Not Ready to Go to Vacation'
LOS ANGELES—The New Jersey Devils played spoiler Wednesday night in front of a record crowd at Staples Center, preventing a series sweep by the L.A. Kings and sending the 2012 Stanley Cup Final back to New Jersey for Game 5.
Adam Henrique scored the game-winner late in the third period to give the Devils a 2-1 lead they would never relinquish, eventually taking it 3-1 after a late empty-netter.
It had been a very frustrating series for the Devils, who have felt numerous times that they have played games capable of winning, yet they haven't gotten the breaks or the bounces to get a victory.
Fourth-line grinder Stephen Gionta agreed that New Jersey's Game 4 win will be a big boost to the team moving forward and reignites their belief a little bit more.
"We had a positive attitude going into tonight," he told Bleacher Report after the game. "It's do or die every night for us, and we came out with the win tonight."
The Devils, by far, played their best game of the series, but the surprising thing was that until late in the third period, it looked very similar to the previous games they'd lost. The Devils did, however, get a change of fortune with their puck luck.
The Kings hit two posts in the scoreless first period and also missed a number of breakaway chances on veteran netminder Martin Brodeur.
"It's a bit of the same, but we are just more relaxed," said Devils superstar Ilya Kovalchuk, who scored on an empty-netter to cap off the 3-1 victory.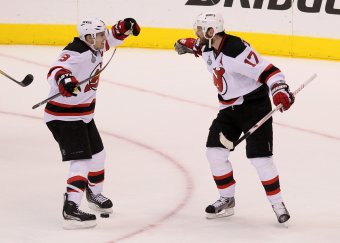 Jeff Gross/Getty Images
"We really enjoy being around each other—and this room, we are very close, this group—and we are not ready to go to vacation. We got a couple more games to play."
The Kings now have a 1-3 record in Game 4s this postseason with the opportunity to close out the series. The team now must fly back to Newark to play at Prudential Center on Saturday night.
With the Devils finally getting rewarded for the style of play that got them this far, the Kings should expect a very tough and inspired battle in Game 5. Though the Kings are still an undefeated team on the road these playoffs, the Devils have already played spoiler with their Game 4 victory. Regardless of the good outcome for the Devils tonight, forward Alexei Ponikarovsky was quick to keep his eye on the prize.
"We can't think right now that we've won the series. It's only one game. It's great, it's a big win, but we have to go back and do it again," Ponikarovsky said.
With the victory and a little more confidence in themselves, the Devils just might turn this into a series.
As far as the Kings' point of view?
"We've got to forget about this one," said alternate captain Anze Kopitar. "It's not something that was in our plans tonight, but it happens. So we've got to regroup and get back at it for Game 5."
Jason Lewis is a Featured Columnist for Bleacher Report, reporting live from Staples Center. Follow Jason on Twitter @SirJDL for up-to-the-minute news on the L.A. Kings and the Stanley Cup Final from the games at Staples.
This article is
What is the duplicate article?
Why is this article offensive?
Where is this article plagiarized from?
Why is this article poorly edited?