WWE: Dean Ambrose Being Managed by AJ Lee Is Perfect Fit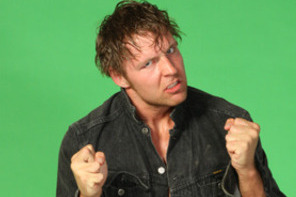 Photo courtesy of FCW

The most compatible match for crazy—is crazier.
I love AJ Lee's character. She has the look of innocence which makes the crazy work even better.
I also love the storyline she's involved in. I've always been a big fan of stories that branch out and have several layers to them. Daniel Bryan began challenging CM Punk for the WWE Championship because he won the challenge on RAW to become the number one contender. The story then advanced to controversy with the ending of their pay-per-view match and more emotion.
Then Kane came in to the mix and, oh yeah, Bryan's ex-girlfriend—who he dumped—is now flirting with all three guys. It's a great soap opera.
Like any good soap opera story, there has to be a twist which injects more drama.
Everybody is waiting to see AJ align herself with either CM Punk, Daniel Bryan or Kane.
CM Punk wouldn't work. He is a face who is over. She would serve no purpose.
Daniel Bryan would be okay, but what is she going to do? Scream "YES" along with him like it's karaoke? Kane would be interesting but AJ acting all gothic would get old quick.
The twist would be a mystery man behind door number four who adds a new layer to the story.
Enter Dean Ambrose.
Now, I have to admit, Dean Ambrose wasn't something I thought up on my own. I said on my show Tuesday "Wrestling Reality" on TribLIVE Radio that there should be a door number four with a surprising twist.
A fan named Lee sent a tweet that read something like "door number 4 equals Dean Ambrose."
I've thought about it for a while and I can't find one reason I don't like it.
For months I have been talking about the excitement I have for Dean Ambrose to debut on television on the WWE roster. I constantly compare him to a modern-day Brian Pillman.
I continue to think and predict that Ambrose should make his debut on WWE television on the June 18th episode of RAW. The show takes place in Long Island, NY—the home of Mick Foley. There has been a lot of internet buzz and potential build-up to a storyline between the two.
However, if that isn't going to happen, Dean Ambrose being AJ Lee's new boyfriend would be appropriate. The crazy characters that each portrays so well would be natural fits. Ambrose can interfere in a match and be introduced in the story.
CM Punk is the overwhelming face in the scenario, but he is the WWE Champion and likely will remain that throughout the summer. I am leading the Dean Ambrose bandwagon, but obviously am not expecting or thinking he should be up against the champion to start.
I think the most potential is in Ambrose costing a title victory and feuding with Daniel Bryan. It would turn Bryan in to the face, while allowing and encouraging everyone to take part in the YES chants. After all, Bryan is the one who dumped AJ.
Bryan needs to keep his touch of arrogance and annoyance. Those qualities, in addition to being portrayed as the face up against the wacky heel duo, will be similar to Kurt Angle's or Chris Jericho's characters in the past. Not the nicest person, can be tough to deal with—but you just have to cheer them.
I've had fans talk to me about a heel AJ and Daniel Bryan duo being the next Macho Man and Miss Elizabeth.
First off, no—not even close. Secondly, I don't want the king and queen, I want crazy Bonnie and Clyde. Dean Ambrose and AJ Lee are selling crazy and I'm buying it.
This article is
What is the duplicate article?
Why is this article offensive?
Where is this article plagiarized from?
Why is this article poorly edited?