Why Ryan Howard, Chase Utley Are Now Incapable of Playing Phillies' Hero Role
June 7, 2012

Harry How/Getty Images
Ryan Howard and Chase Utley will soon be back, but it's too late. The Philadelphia Phillies are already doomed.
Should we slow down a bit?
Yeah, let's slow down a bit.
The good news is that I'm not lying about Howard and Utley being back soon. According to a report from Jim Salisbury of CSNPhilly.com, the two of them batted six times in an extended spring training game on Wednesday. 
Here's how Salisbury characterized the situation: "If this were a football game, Ryan Howard and Chase Utley would be entering the fourth quarter."
Yup, they're close.
Assuming there are no setbacks, both Howard and Utley could embark on minor league rehab assignments in a couple weeks, and join the Phillies a couple weeks later.
At this point, the Phillies can realistically expect to have both Howard and Utley back shortly after the All-Star break, and maybe even before if they're lucky.
The bad news is it doesn't matter.
The Phillies are basically counting on Howard and Utley to rescue them, and that's asking too much. They may have been capable of heroically rescuing the Phillies once, but not anymore.
Phillies fans know the score when it comes to Howard.
He was the game's most feared power hitter once upon a time, but his power numbers took a major dive in 2010 and 2011. He used to be good for a slugging percentage in the .550 range and an ISO (a measure of a hitter's raw power) in the high .200s.
In 2010, he barely managed a slugging percentage over .500, and it dipped to .488 in 2011. His ISO was in the low .200s in both 2010 and 2011.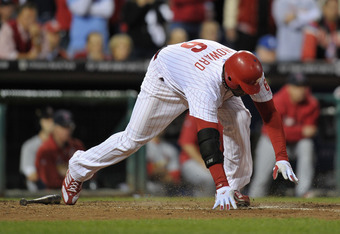 Drew Hallowell/Getty Images
I won't go so far as to call Howard old, but he's definitely not a young man anymore. He was starting to crumble as an offensive force in 2010 and 2011, and then he ruptured his Achilles in the postseason.
He is now a declining player with a major injury and a long layoff in his wake. A player like that is not going to magically return to his glorious form of yesteryear.
The same is true of Utley, except his situation is even more disconcerting.
His decline as a hitter was even more sudden than Howard's, and it was certainly more serious. He was a remarkably consistent producer for five straight seasons, and the next thing we knew he was slugging well below .500 and missing games left and right.
The time off will probably help Utley more than it will help Howard, but only to a degree. His knee problems are degenerative, meaning the fear of random flare-ups is not going to go away when—or if—he returns to the big club.
He's going to need special treatment and time off, and there's hardly any guarantee that he's going to be able to hit like he used to when he is able to play.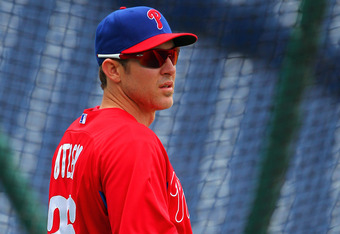 Rich Schultz/Getty Images
Will Howard and Utley provide Philly's offense with a boost?
Sure. It's not like it's going to be subtraction by addition. The two of them aren't that hopeless.
Their returns just won't be a significant boost, and that's an issue.
The Phillies have a respectable team batting average, but they rank in the middle of the MLB in runs, on-base percentage and slugging percentage. Theirs is a mediocre offense.
All Howard and Utley will do is make it a little less mediocre.
Meanwhile, the Phillies will probably also be dealing with the absence of staff ace Roy Halladay, who is going to be out for up to two months with a bum shoulder, according to the Philadelphia Inquirer.
Staff ace No. 2 Cliff Lee has already spent some time on the DL this season, and he's still winless on the season.
The bullpen is an entirely different headache.
Jonathan Papelbon has been good. So has Antonio Bastardo.
Everyone else, not so much. It's not a shock that the Phillies have one of the highest bullpen ERAs in the majors.
Bill Parcells once said, "You are what your record says you are." The Phillies' record of 28-29, entering Wednesday, says they are both a subpar ballclub and a last-place ballclub.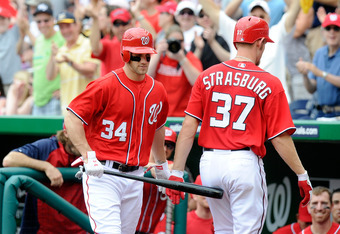 Greg Fiume/Getty Images
As if the Phillies weren't already in enough trouble, this year they have the added challenge of coming back and competing in a very deep National League East.
It only had two legit contenders last year, and this year it has four legit contenders—all of whom are ahead of the Phillies in the standings.
Of the bunch, I for one can see the Mets falling off the pace. But the Nationals, Marlins and Braves are quality clubs who are going to hang around all season.
The Phillies are currently on pace to win 80 games. It's probably going to take at least 90 to make the playoffs.
If the Phillies are still one game under .500 at the All-Star break (43-44), they're going to have to play .630 baseball down the stretch to even have a shot at the postseason.
The old versions of Howard and Utley could have made that kind of impact, but not these new ones. Their returns will be too little, too late.
This just isn't the Phillies' year.
If you want to talk baseball and/or yell at me, hit me up on Twitter.