Joseph and Feilhaber of New England Revolution Predict Euro 2012 Winners
June 6, 2012

Denis Doyle/Getty Images
After a late morning practice session, Benny Feilhaber and Shalrie Joseph of The New England Revolution took a few minutes of their time to predict who would win the upcoming Euro 2012 tournament in Poland and Ukraine. 
Feilhaber played on the world stage at the 2010 World Cup in South Africa and played a part in the historic USMNT win over Spain—which had just won the 2008 Euros 2008 and eventual 2010 World Cup winners—in the 2009 Confederations Cup.
Feilhaber moved to Major League Soccer in 2011 and ended up with the Revolution after being selected by New England in the allocation lottery for USMNT players who return to MLS.
Joseph played international soccer for Grenada and is one of MLS's top midfielders.
He has played his entire career in MLS with the Revolution and is the team's undisputed leader. Traditionally Joseph has played in the center of the midfield as the anchor, but more recently, he has shown an ability to play higher up the field as a forward when needed or to slot into the center of the Revolution defense when injuries plagued the team.
Shalrie Joseph
Who will win?
Spain. Spain's got to be the favorite. They have the best team and the best players in the world right now. It will be fun watching them and I think they'll definitely be winning it.
Is there any team you look forward to watching beside Spain?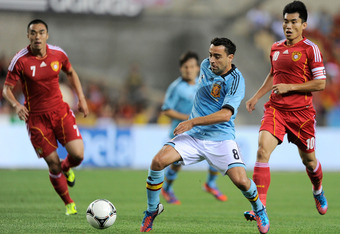 Denis Doyle/Getty Images
All these teams are quality sides and with me, I just like to watch soccer and watch the style they play and the system. These guys are the best in the world and for me it's just about putting my feet up and enjoying the best players in the world.
Benny Feilhaber 
Who will win?
I think I have to go with the favorite Spain. Obviously they proved in the World Cup that they're the best team in the world right now and they still have everyone in top form right now, so I have to pick Spain.
No worries about Carlos Puyol's absence?
I don't think [Spain's] defense is their biggest asset. They keep the ball 90 percent of the time so it's more about Xavi and Andres Iniesta.
The thing I'm worried about is if they can find a goalscorer because Fernando Torres isn't as good as he was playing and David Villa is still injured and got left off the roster. But they can pretty much play like Barcelona with eight midfielders in there. I'm sure they'll be good.
Kevin Koczwara is a Contributor for Bleacher Report. Unless otherwise noted, all quotes were obtained first-hand.