Alex Rodriguez: Will NY Yankees 3B Break Barry Bonds' HR Record in Pinstripes?
June 7, 2012

Andrew Burton/Getty Images
Alex Rodriguez will turn 37 years old in July and is under contract through 2017. He currently has 638 home runs in his career, leaving him 124 longballs away from disputed home run king Barry Bonds.
Having hit nine home runs through 53 games so far this season, can A-Rod reach the pinnacle and usurp Bonds' throne before his contract expires? The simple answer is yes.
Even if he does not hit a single home run for the rest of the year, if he can average 25 homers a year for the remaining five years on his contract, he will have 763 HR, one more than Bonds.
A-Rod won the AL MVP in 2007, belting 54 home runs to go along with 156 RBI and a .314 average. His home run totals since then are 35, 30, 30 and 16 (an average of over 27 HR per year). In those four seasons, while averaging 27 HR, he has averaged 124 games played.
While the latter number is not encouraging, manager Joe Girardi has demonstrated a greater willingness to keep Rodriguez fresh this season. A-Rod has already found himself DH'ing 15 times this year, which is over a quarter of the games so far. All that time on the bench will certainly keep one's hips fresh.
A-Rod also will not have the benefit of performance-enhancing drugs (PEDs) to keep him fresh, as many suspect was the case with Barry Bonds. The most notable case made against Bonds was in the 2006 book Game of Shadows by Mark Fainaru-Wada and Lance Williams.
They were reporters for the San Francisco Chronicle, and their investigative journalism into baseball's steroids scandal won them the 2004 George Polk Award for sports reporting. In the book, they alleged Bonds took Stanozolol, also known as Winstrol, along with other PEDs. Excerpts of the book were published in Sports Illustrated.
While Bonds was 36 when the 2001 season began, he hit a record 73 HR that season, and added another 195 HR in the six seasons that followed, before retiring in 2007 at age 43.
Bonds was also found guilty in 2011 of obstructing justice in the BALCO investigation. The jury found he had given an evasive answer under oath in 2003 about whether he had ever received drugs which required a syringe to inject himself (via ESPN).
Of course, in a 2009 interview with ESPN, Rodriguez admitted to using steroids between 2001 and 2003. He stated: "I was young, I was stupid, I was naïve. And I wanted to prove to everyone that I was worth being one of the greatest players of all time. I did take a banned substance. And for that, I am very sorry and deeply regretful." But he also said that all his years in New York "have been clean."
So all the statistics amassed more recently are pure Rodriguez, unenhanced. While we won't see the A-Rod of 2007 again, he's certainly capable of putting up around 30 HR a year for another five seasons, especially if Girardi continues to save his third baseman's legs by spelling him at DH at least once a week. With a strong lineup around him, A-Rod will continue to see plenty of pitches to hit.
And what about some of the other records within his reach?
As hitting coach Kevin Long told Paul White of USA Today, there is some "disappointment" around the Yankees lineup over their performance so far. Through June 5, Rodriguez has just 22 RBI. That is 36 less than league-leader Josh Hamilton, and puts him behind such titans as Jason Kipnis (35), Kelly Johnson (28), Michael Brantley (28), Ryan Doumit (26) and Alejandro De Aza (25). Oh, and some guy named Jesus Montero (27).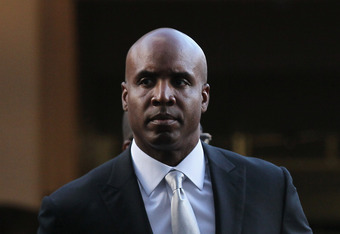 Justin Sullivan/Getty Images
But even those paltry RBI numbers to this point put him just about on pace to break Hank Aaron's all-time record of 2,297 by the end of his contract (Rodriguez now has 1,915). That should give you an inkling of just how gaudy A-Rod's career numbers already are.
And with 29 runs this season, he is also on pace to break Rickey Henderson's all-time record of 2,295 runs scored (Rodriguez has 1,853).
Rodriguez is also likely to pass the 3,000-hit mark sometime next year (he currently has 2,831).
But the all-time home run record is the jewel in the statistical crown. A-Rod also stands to make an extra $30 million if he can hit at least 763 home runs—$6 million each for passing Willie Mays, Babe Ruth and Hank Aaron, plus $12 million for tying and then passing Bonds. It will take pretty consistent health, but only mediocre production.
The 2009 World Series title, and Rodriguez's outstanding performance in those playoffs (15 G, 19-for-52, 6 HR, 18 RBI), helped take some of the pressure off the megabucks star. He's still in excellent shape, and with a championship ring on his finger, he can focus on playing his best baseball and helping his team win. The statistics will follow close behind.
No one puts more pressure on A-Rod than himself. And it's precisely that drive which will carry him through to the all-time home run title.