Dallas Cowboys: Will DeMarco Murray Become a Star in 2012?
June 6, 2012

Jeff Gross/Getty Images
Dallas Cowboys running back DeMarco Murray burst onto the scene in 2011, but history tells us that his sudden rise as a rookie doesn't necessarily mean he'll maintain that trajectory in 2012. 
The 24-year-old third-round pick out of Oklahoma had 253 rushing yards and a 91-yard touchdown in his first game as the team's primary back, and totaled 662 yards from scrimmage in the five starts that followed. 
But then he slowed down a bit in early December before seeing his season end prematurely due to a broken right ankle.
Two concerns from Cowboys fans here:
1. Could the ankle bother Murray in 2012?
2. Will he suffer from a sophomore slump regardless?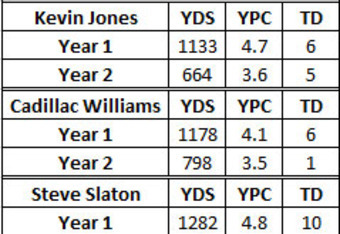 Answer 1: It looks as though he'll avoid any ill effects from the ankle injury. Murray was cleared to practice earlier this offseason and he says he feels great. It should also be noted that the injury—seen here—was just a bad break.
Answer 2: No one knows. Like I said, he began to fade a little prior to the injury, averaging just 3.4 yards per carry in his final four games of the season. Was that an indication that defenses were adjusting to a RB they couldn't fully prepare for earlier in the year? It's possible.
Remember Julius Jones? Quite the sensation as a rookie in 2004. Seven starts, over 800 yards. Dude had 150 yards in his third game, 198 in his fourth and 196 yards from scrimmage in the season finale. He entered 2005 as the starter and fell off a cliff, hitting the 100-yard mark only once in 13 games and averaging only 3.9 yards per carry on the year.
Murray certainly looks like the real deal, but so did Jones.
So did Kevin Jones that very same year in Detroit, before he started experiencing a sharp decline as a sophomore in 2005.
Whatever happened to Cadillac Williams after going over 1,000 yards as a rookie in '05? Steve Slaton in 2008 anyone?
Cautionary tales is all they are, but Murray was passed on 70 times in last April's draft. That, along with all these tales is enough to soften my enthusiasm. 
In 2011, when Murray was at his best, so were the Cowboys. When he amassed 100-plus yards from scrimmage, Dallas was 5-0. When he started but didn't get to that mark, they were 0-3. I know that there's a whole chicken-or-the-egg deal with running backs accumulating yardage in wins because teams run more with a lead, but the Cowboys only won once when his average was below 4.0 and only lost once when it was over 4.0 (not including the game where he was injured early).
Those results, combined with his size, speed and pass-blocking ability, indicate he can be a very good lead back for years to come.
Considering how unreliable Felix Jones has been, the Cowboys will be relying on Murray to reestablish that momentum from last November and grab those reins. If he can do that and stay healthy for most of the season, he'll become a star and Dallas will surely be a contender.