Euro 2012 Players to Watch: Petr Cech of Czech Republic
June 7, 2012

Scott Heavey/Getty Images
Petr Cech's Czech Republic are situated in Group A—a group his team will view as winnable.
While most see the group as the weakest and least interesting of the tournament, it's actually going to be one of the most hotly contested.
Michal Bilek has a less-than-reliable defensive line and will look to Cech to keep his team anchored in the tournament.
In Numbers
Cech made nine appearances during the qualifying phase for the European Championships this summer.
He kept three clean sheets during the group stage and effectively subdued Montenegro twice in the playoff phase. Czech Republic won 3-0 on aggregate to advance to the final having finished second to Spain in the initial qualifying period.
He's coming off the back of an incredible campaign with domestic club Chelsea and really found form at the right time. His standout performances came against Barcelona and Bayern Munich in the UEFA Champions League semifinal and final respectively.
He also made one of the best saves I've ever seen against Liverpool's Andy Carroll, during the FA Cup final at Wembley.
What to Expect
Expect Cech to carry his side defensively. As alluded to previously, the Czech Republic's back line is subject to questioning.
Concerns over Roman Hubnik's ability leading up the tournament might see flying full-back Michal Kadlec moved to centre-back and David Limbersky introduced at left-back.
Right-back Theodor Gebre Selassie is promising but largely untested, so the defence could really turn out one of two very different ways.
Cech is a constant, though, and represents a blockade to any striker. As long as he's fit, his side have a chance of a clean sheet. Group A is tight, so conceding as few as possible could be the difference between last place and a quarterfinal berth.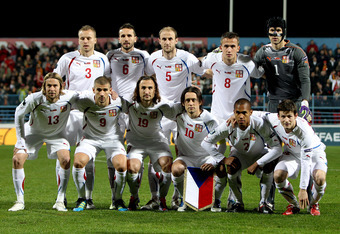 Scott Heavey/Getty Images
What They Say About Him
Upon signing his new four-year deal in May, Chelsea chief executive Ron Gourlay had this to say about his No. 1 between the sticks (via The Daily Mail):
"Chelsea fully appreciates the highly significant contribution Petr has made to the most successful period in the club's history, and it is very important to our aim of continuing this level of achievement that he has committed himself to the club until 2016.

'It is clear to anyone who watched the climax to the season just completed that Petr continues to perform as well as any goalkeeper in the world.'



The compliments don't stop there though, as his 208 saves for Chelsea this year landed him the Czech Footballer of the Year Award for the fifth time.
Czech Republic coach Bilek remarked (via iDNES.cz):
"Peter has for years been one of the best goalies in the world. It's a real professional who cares about himself. I think that one can achieve a huge record, because as a goalkeeper will operate at the highest level for long. Expect that overcomes all kinds of records"
To conclude, here is a timely reminder of what he's capable of.