Defensive Snap Review for the New England Patriots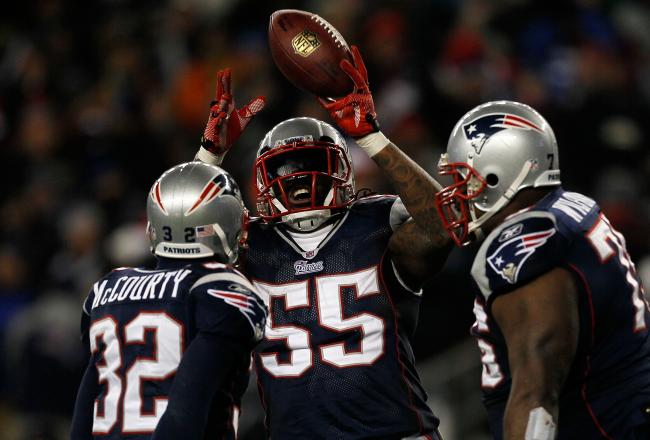 Jim Rogash/Getty Images
Reviewing defensive snaps for the New England Patriots is like researching statistics on every individual fight in a 19-part war.
The Patriots defense is that permeable.
In fact, of all the AFC East teams, the Patriots had by far the most defenders to play a snap—with 39, the next closest was the Buffalo Bills with 32.
With help from stats website Pro Football Focus, we'll take a look at the Patriots' defensive snap counts from 2011 and what they may (or may not) mean for the 2012 season and going forward.
Defensive Line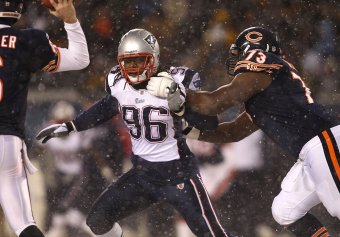 No one's rushing to judgment on Jermaine Cunningham, this is definitely a make-or-break year for him on the roster.
Jonathan Daniel/Getty Images
Who's Going Up?
If defensive end Jermaine Cunningham doesn't have a solid training camp, he could be on his way out, but with just 48 snaps in an injury-plagued 2011 season and with the departure of defensive end Mark Anderson, Cunningham could easily see his snaps rise.
But this is a make-or-break year for Cunningham from this perspective.
Defensive tackle Brandon Deaderick was another product of the 2010 draft and saw more playing time in 2011 (383 snaps) than he did as a rookie (258) but has missed six games in each of his first two seasons.
Deaderick has found a role in the Patriots defense, but he'll be used more frequently in four-man lines because of his interior pass-rush ability. The Patriots are frequently in the sub package, meaning he'll have plenty of opportunities in that alignment.
Watch out for 2011 sixth-round pick Markell Carter, who didn't play in his rookie season, to get snaps at defensive end.
Who's Going Down?
Marc Piscotty/Getty Images
Defensive end Andre Carter may not return to the team until October, according to
Christopher Price of WEEI.com
, so the Patriots could be in a position to replace a good chunk of his 753 snaps from 2011.
The team would also be happier if defensive tackle Vince Wilfork wasn't playing over 1,000 snaps (1,173 to be exact, and 86.6 percent of the total defensive snaps), so look for New England to try to plug in a few different tackles in the rotation to take some of the pressure off of big Vince.
Other Takeaways
This unit's snap counts will be more dependent upon whether the team features a four-man or three-man front more predominantly in 2012. The selection of defensive end/outside linebacker Chandler Jones in the first round and the success of his subsequent transition to the NFL could also have a big impact on how this unit shakes out.
Linebackers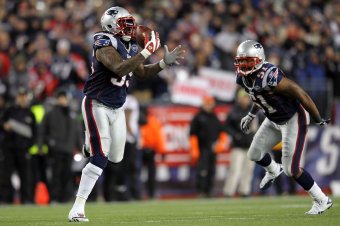 It's in his hands.
Jim Rogash/Getty Images
Who's Going Up?
I've made a case in the past for linebacker Brandon Spikes to be a big part of the defense regardless of the scheme. He may not be the most athletic linebacker on the field, but he is one of the most instinctive. Injuries have hurt his playing time (365 snaps in 2010, 542 in 2011), but if he can stay healthy, he should earn a heavy workload.
That is, if he can stay healthy.
It's hard to project any other linebackers earning an increase in playing time with the arrival of first-round linebacker Dont'a Hightower. He is versatile enough to play several linebacker spots and even to put his hand in the dirt and rush the passer in nickel and dime situations.
Who's Going Down?
Come to think of it, the presence of Hightower could actually mean fewer snaps for Spikes.
Also watch out for linebacker Rob Ninkovich; although he can play both standard and "rush" linebacker spots, the Patriots selection of both Hightower and Jones could have Ninkovich in the thick of a couple of training camp battles up against some of the top young prospects on the roster.
However, having played 1,126 snaps in 2011 (83.1 percent), it's clear that the Patriots are comfortable with him on the field.
Other Takeaways
Much like the defensive-line spots, linebacker is a tough one to project. It will depend a lot on the primary defensive alignment, but no matter what, the Patriots will find ways to put their best players on the field to respond to any given situation.
Defensive Backs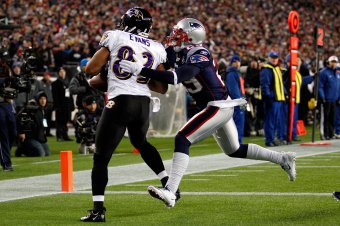 You can't see it here, but I promise you: This was not a drop.
Rob Carr/Getty Images
Who's Going Up?
Defensive back Sterling Moore joined the team in Week 10 and was primarily used as a safety against the Jets and for the next two games. He was let go from the roster before being brought back prior to the playoffs and played 51.1 percent of the snaps in the three playoff games.
With a full offseason program to learn the playbook and a full season of opportunities, Moore should be on the rise.
Cornerback Ras-I Dowling (two games in 2011) could be a key to the Patriots secondary in 2012, as the Patriots continue to search for answers at cornerback a year after being burned for over eight yards per pass attempt (29th in the NFL) and 4,977 gross passing yards (31st in the NFL).
Who's Going Down?
Julian Edelman was never supposed to play defensive back in 2011 but ended up with 125 snaps on defense. With the secondary back to full health, expect him to get back to being a full-time offensive player.
With the free-agency addition of former Chargers safety Steve Gregory and the selection of safety Tavon Wilson in the second round of April's draft, safeties Sergio Brown (349 snaps, 28.8 percent) and James Ihedigbo (917 snaps, 75.7 percent) could see their playing time suffer.
Other Takeaways
This unit will likely be the largest focus in 2012, as it has been for the past few years. The Patriots have invested heavily in defensive backs, but the secondary has struggled at times, especially last year.
For once, it appears they have solid depth in the secondary, but it's not up to them to translate that potential into on-field success.
Erik Frenz is the AFC East lead blogger for Bleacher Report. Be sure to follow Erik on Twitter and "like" the AFC East blog on Facebook to keep up with all the updates.
This article is
What is the duplicate article?
Why is this article offensive?
Where is this article plagiarized from?
Why is this article poorly edited?