Rio Ferdinand: Roy Hodgson Under the Spotlight Through No Fault of His
June 6, 2012

Alex Livesey/Getty Images
Poor Roy Hodgson.
There he was, having a private chuckle, quietly confident that for the first time in living memory an England team would head for a major international tournament without the proverbial "weight of expectation" behind them. All the talk of England's "golden generation" had finally been put to bed, with most of them now retired or way past their best.
The team was shorn of its brightest young star, Jack Wilshere, due to a season-long injury, and would be without its best player, Wayne Rooney, for the first two group games.
Even the WAGs had lost their lustre.
He had safely negotiated the tricky John Terry-Rio Ferdinand predicament, and the nation was relatively satisfied with his squad selection.
And, best of all, the press had almost lost interest, too. Well, not literally, but in comparison to tournaments gone by, definitely. Perfect!
Enter Dries Mertens.
In one impulsive moment during England's friendly international against Belgium, the Belgian striker turned Roy Hodgson's world upside down.
Gary Cahill was ruled out of Euro 2012 with a fractured jaw after a push from Mertens, and Hodgson, ignoring the apparent credentials of Rio Ferdinand as a like-for-like replacement, went for Liverpool's young right-back Martin Kelly instead.
Cue mass bedlam.
The racism bandwagon immediately cranked into gear, and all and sundry leaped aboard. Potshots were indiscriminately fired at Hodgson, and as the days roll by, "eminent" pundits such as Paul Ince, Harry Redknapp and anti-racism group "Kick it Out" have joined the cause as well.
Everyone believed that Rio Ferdinand was not selected because of Hodgson's fears of dressing-room unrest after Terry had allegedly hurled racist abuse at Rio's brother, Anton, in October last year. Obvious, isn't it? Or is it?
But is all of this Roy Hodgson's fault? Or is this a case of much ado about nothing?
First of all, I think it is a complete disgrace that we are still awaiting judgement regarding an incident that took place on October 23, 2011. Now, I don't know whether or not Terry did abuse Ferdinand, but if the courts are going to take nine months to conclude on a 30-second incident that took place in front of other players, officials, 20,000 spectators and God knows how many television cameras, I fear for the process of justice in England.
How come there was no such dragging of feet when Liverpool's Luis Suarez was fined and banned for a racist offence against Patrice Evra? Or when Rio himself was banned for missing a drug test? Or the countless occasions when Joey Barton has been Joey Barton?
There is no doubt that the FA have asked the judiciary to postpone the legal proceedings. And given that they readily agreed, I am forced to quote the venerable Mr. Bumble from Oliver Twist, and assert that "the law is an ass."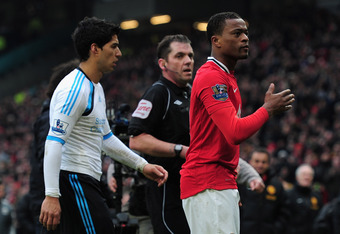 Shaun Botterill/Getty Images
The FA obviously wanted John Terry, the player, available for Euro 2012, but by doing as they did, they have only saved their noses to spite their ugly face.
Secondly, in terms of fitness, by all accounts, Rio Ferdinand had taken his foot off the pedal once the Premier League season ended. He was on holiday in Spain. And while his camp insists that he stayed fit by playing a charity game in Bangkok, you and I are well aware that while Bangkok is known for many things, being a fitness destination is not one of them.
Martin Kelly, on the other hand, had been with the England squad as a stand-by and was most certainly in better condition.
And finally, we come to team selection. The racism angle makes this a debate-worthy issue, but would Rio Ferdinand really have walked into the England team? Yes, he was fairly steady for Manchester United during the Premier League run-in, but he had more than his fair share of injury and inconsistency last season.
I would definitely place Joleon Lescott, Phil Jagielka and Phil Jones above him in the pecking order, not to mention Micah Richards, who must surely be wondering what he needs to do to please an England manager.
For Hodgson's sake, I hope this hullabaloo dies down, and the press gets back to deriding England's chances of making any sort of splash in this tournament.
I, for one, believe they will exceed expectations in Poland and Ukraine. Based on what I've seen in England's two friendlies thus far, Roy is trying to focus on defence and discipline and make his team hard to beat.
And if they aren't, he surely can't blame it on Rio.
Follow me on Twitter @ratanpostwalla.