Washington Capitals: Why the New Look Capitals Will Be Better in 2012-2013
February 6, 2017
Paul Bereswill/Getty Images
I know what many of you are thinking.
How can I write an article about the "new look" of the Capitals when I don't even know what that new look will look like?
Point taken.
Obviously, I am going to take some liberties here and project what I think (or perhaps "hope" is the better word) the Caps will look like this coming season. If they do look like this, then I think the Caps will be a better team in 2012-2013—with team being the operative word.
A Coach Shall Lead Them
I truly believe that the Caps' success or failure in the 2012-2013 season is going to fall on the shoulders of George McPhee. After all, McPhee will have to pull the trigger and hire a coach to take control of this franchise at a very key moment in its history.
If McPhee is smart, he will look for a coach who will build upon the foundation laid by Dale Hunter during the most recent playoff run.
Ryan Davenport discussed this in an article he wrote here on Bleacher Report recently and I agree with him on this topic.
The fact that McPhee has not just rushed out and hired the highest profile coach he could tells me that the Caps' GM is more concerned with making the right move then he is with making a move.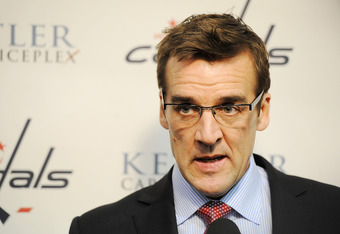 Patrick McDermott/Getty Images
McPhee knows all too well that if the Caps are going to get to the next level, they will need to be coached by someone who is strong enough to manage all the various egos on that team, knows the personalities of the players backwards and forwards and will know how to get the very best out of those players.
Of all the potential coaching candidates out there, the one I am liking the most would actually be a hire from inside the organization as opposed to bringing someone in from the outside.
As reported by the Washington Examiner, the ideal coach for the Caps might be present assistant coach Dean Evason.
As the Examiner discussed, Evason has been an assistant coach for the Caps for seven years now and has served under Glen Hanlon, Bruce Boudreau and Dale Hunter. He knows the personalities of the team and, even better, he understands them.
Equally important is the fact that Evason would be able to analyze the team in a way that a different coach, particularly one being brought in from the outside, might not be able to.
He has seen the offensive behemoth the Caps were under Boudreau and he knows just how far that will take them.
He has also seen the style that Hunter utilized and will know that, while Boudreau's style will work just fine for the regular season, Hunter's style is the type that will most likely translate to playoff success.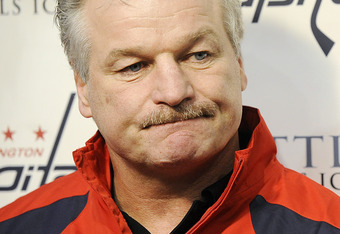 Patrick McDermott/Getty Images
Having seen and been a part of all this, Evason would be able to evaluate his personnel, know what they are capable of, implement a style and run that style through his players instead of trying to force them to adopt a style ill-suited to their skill sets.
Hunter wanted his players to be accountable to the team, not just themselves. It helped the Caps find something that had been missing almost all regular season—an identity.
Someone like Dean Evason would be a smart choice to help the Caps not just maintain that identity, but expand upon it. It would not be as sexy a pick as someone like Mike Keenan or even Larry Robinson, but it would be the smarter pick.
And it would be a pick that would help the Caps be a better team for the 2012-2013 season.
Thunder And Lightning
Barring a surprising turn of events, Alexander Semin will not be in a Capitals uniform this coming season. This will be a major event for the Caps as it signifies the end of the "Core Four," the nickname that has been given to Semin, Alexander Ovechkin, Mike Green and Nicklas Backstrom.
It was those four players that propelled the Caps from Eastern Conference doormats to powerhouses in rather short order.
With Semin leaving, it will be time for the Caps to close this chapter. But it will provide them with an opportunity to open a new one.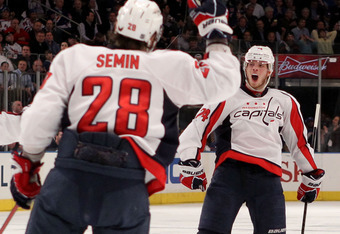 Bruce Bennett/Getty Images
Without question, Semin's loss is a significant one and he will need to be replaced. But if the Caps have learned anything over the past couple of years, and from this most recent playoff run, then Semin's departure creates an opportunity to bolster the ranks instead of dwelling on what has been lost.
The free-agent crop this year will present some opportunities for the Caps to not just add a player to replace Semin, but to add someone to the lineup who will be grittier and, to a certain extent, nastier.
This is what the Caps need to get to the next level, some more thunder to go with the lightning.
As for the lightning part of that equation, in looking at potential replacements for Semin, there are options although they seem a bit limited.
Zach Parise would be great—but the cost to get him will likely be too steep.
You can probably say the same for players like a Ryan Smyth, Dustin Penner or Brian Rolston.
But someone like Jiri Hudler, Travis Moen or P.A. Parenteau, just to name a few, could certainly equal the numbers Semin put up last season.
As for the thunder part of the puzzle, a name that jumps out at me is Arron Asham. Caps fans will recall that Asham knocked out Jay Beagle in a fight between the two in October of 2011.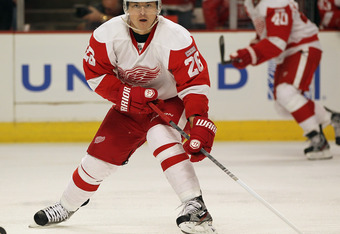 Jonathan Daniel/Getty Images
Asham does not score a lot of goals, and I do not particularly like his plus/minus rating. But he adds that physicality and nastiness that I think the Caps will need as they embrace this new identity of not being just a finesse team anymore, but a team that can be as physical as the needs dictate.
With Semin probably leaving, the Caps should put more focus on the physical side of the fence.
But Semin will not be the only face to replace; Mike Knuble said he will not be coming back in an interview with the Washington Post, and the same can probably be said for Jeff Halpern. How the Caps address those departures will answer many questions as to how improved the team will be in 2012-2013.
Free agency might not be the only way the Caps want to go this offseason. There are trades that could be made, and one player who should be on the block is Marcus Johansson.
Johansson is young and has shown signs of being a very good player. He did score 14 goals this past season and assisted on 32 others so he is an offensive contributor.
But he completely vanished during the playoffs this year. That was particularly disappointing when you consider that he played quite well against the Rangers in the 2011 playoffs.
Johansson is one of those players who has some trade value, and the Caps should be exploring dealing him as an option.
All the potential deals and signings aside, a main reason I think the Caps will be better in 2012-2013 is that I figure they will be healthier. 
Nicklas Backstrom missed nearly three months with a concussion. If he had played during that time, there is a very good chance the Caps are not a No. 7 seed. It is very likely his presence during that time frame would have enabled the Caps to win the Southeast Division and, at a minimum, grabbed a No. 3 seed.
And, of course, we have to talk about Alexander Ovechkin.
The Great Eight had his least productive season thus far—and he still led the Caps in scoring.
The odds are that Ovie's numbers will improve this coming season. One of his biggest problems this past year was with his accuracy. According to an article from USA Today, Ovechkin missed the net 135 times during the 2011-2012 regular season, the most in the league.
His failure to put the puck on net on a three-on-two in Game 7 against the Rangers was a key moment in the game that decided the Caps' fate this past season.
If Ovechkin improves his accuracy even fifty percent next season, he would likely be on pace to being a 50-goal scorer again—and the Caps offense would improve quite a bit.
As the USA Today article also noted, Ovechkin has become too predictable. The dynamic playmaker teams used to be powerless to defend against has done to himself what other defenses failed to do. Teams know how to play defense against Ovie because all too often they know exactly what he is going to do.
Ovechkin needs to get back to being the playmaker, the freestyle ice artist who used to make magic happen with his hands and skates. If he can refocus his efforts in the right direction, and just get back to being Alex The Great, even a little bit, the Caps' offense should improve considerably.
With some new offensive weapons, some more physical players, some continued stability from guys like Jason Chimera, a healthy Nicklas Backstrom and a refocused Alex Ovechkin, the new look Capitals for 2012-2013 should be better on offense than they were this past season.
Defenders Of The Faith
While concerns over the coaching search and how the offense will function without Alex Semin are understandable, one area in which Caps fans should feel very confident is the defense. 
For years, the Caps' defense played second fiddle to the high-powered offense. In the playoffs, though, it was the defense that stepped up while the offense struggled.
The Caps went from a finesse style of defense to a tough-as-nails unit that blocked shots, hit people and did not give an inch.
They also learned how to defend their zone tenaciously and effectively neutralize teams' star players.
One of the players that emerged and seemed to really flourish in the Caps' new-found defensive philosophy was Karl Alzner. The job he did against the best the Bruins and Rangers had to offer was phenomenal. There is every reason to believe that Alzner will get even better next season.
Another player who came into his own during the playoffs was the man paired up with Alzner most of the time, John Carlson.
Carlson had a pretty mediocre regular season but then seemingly flicked the switch in the playoffs. He was one of the leading shot-blockers and hitters for the Caps in the playoffs. Why that effort was not there all season is a mystery. But one can only hope Carlson's playoff experience will lead him to understand how the game is supposed to be played year round.
Carlson will be a restricted free agent on July 1, so the Caps need to get him signed and locked down.
One of the big debates I read about on various sites deals with Dennis Wideman and Mike Green and what to do with each guy. It is highly unlikely the Caps will retain both of them. One of them is leaving. But which one should the Caps focus on keeping in DC?
I say Green. It has to be noted that Green missed 50 games last season due to injury, but in the playoffs, we saw the emergence of a different Mike Green. Against the Bruins and Rangers, Green played better than he had in any prior playoff series.
He too was blocking shots, laying out hits, not allowing players to get into the zone and playing absolutely solid defense for the Caps, something we had not really seen of him before.
Green also still possesses a wicked shot, as evidenced by his blast that won Game 4 of the Rangers series.
Wideman was certainly a bigger offensive threat than Green and was quite obviously the healthier of the two.
But Wideman is a bit of a liability as a defender; he was a minus-seven in the playoffs.
Mike Green, on the other hand, was a plus-five.
If you look at the two solely for what they bring to the table defensively, Green seems like the better option.
Green will be a restricted free agent on July 1 while Wideman will be unrestricted. It will likely be easier to retain Green and, if he remains healthy, a bounce back season is a distinct possibility.
Based on the numbers and the way both guys played in the playoffs, Green would be the option that fits in better with the Caps' anticipated defensive scheme.
If Wideman does leave, the Caps will likely turn to free agency to try and replace him. There will be quite a few options for the Caps to choose from.
Johnny Boychuk of the Bruins is a solid defender who knows what it takes to win a Stanley Cup. while other options might include Ryan Suter or Bryan Allen, although both would command a pretty high price tag.
Regardless, most of the nucleus of the Capitals' defense that improved so dramatically during the playoffs should return. On top of that, there is a good chance that a free-agent acquisition might be able to improve the Caps' new defensive style even further.
There is every reason to believe the Caps defense will be quite better in 2012-2013.
Net Gain
Lastly, it would be foolish to ignore the performance that Braden Holtby churned out in the playoffs.
The 22-year-old rookie goalie came out of nowhere, outplayed Tim Thomas and matched Henrik Lundqvist save for save.
He had a .935 save percentage and a 1.95 goals against average during the playoffs.
Holtby should start the season as the Caps' No. 1 goaltender, and with a whole regular season to hone his skills, he could be even better in 2012-2013 than he was during this recent playoff run.
That should be a cause for concern for many coaches, particularly those in the Southeast Division.
In all likelihood, particularly with Tomas Voukoun having been dealt to Pittsburgh, Michal Neuvirth will be the back up goalie for the 2012-2013 season.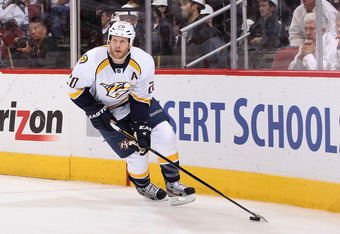 Christian Petersen/Getty Images
That is not a bad thing, not at all.
People seem to forget the performance Neuvirth put up against the Rangers in the 2011 playoffs. Neuvirth did what Holtby could not—beat Henrik Lundqvist.
During the 2011 playoffs, Neuvirth had a .912 save percentage and a 2.34 goals against average.
It is evident that both goalies know how to play when the pressure is at its highest—and play well.
The combination of Holtby and Neuvirth will give the Caps stability in net this season.
It very well could end up being the best goalie combination in the NHL.
The Sum Of All Parts
While staunch supporters of the Capitals find it very easy to be negative when it comes to their team, there are many reasons for fans to feel very confident about the future.
Without question, there will be growing pains and there will be periods of great adjustment.
But what the Caps learned from the 2012 playoffs will have a profound effect on the shaping of this team and how they approach all aspects of the game.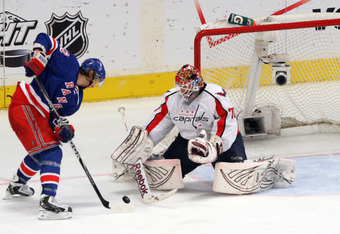 Bruce Bennett/Getty Images
They now understand what it takes to be a lower-seeded team fighting and clawing for everything they can get.
The Caps now realize just how much effort it will really take to win a Stanley Cup and what it means to be a team.
They will face a tremendous amount of adversity over the next four months, but it will all serve to build their character.
With a good choice as to the next head coach, continued adherence to the lessons learned from Dale Hunter's tenure, continued reflection over what was learned during their most recent playoff run and wise choices as to free agency, all the pieces will be in place for the Capitals to be better in 2012-2013.