Big 12 Basketball: Way Too Early 2013 NCAA Tourney Predictions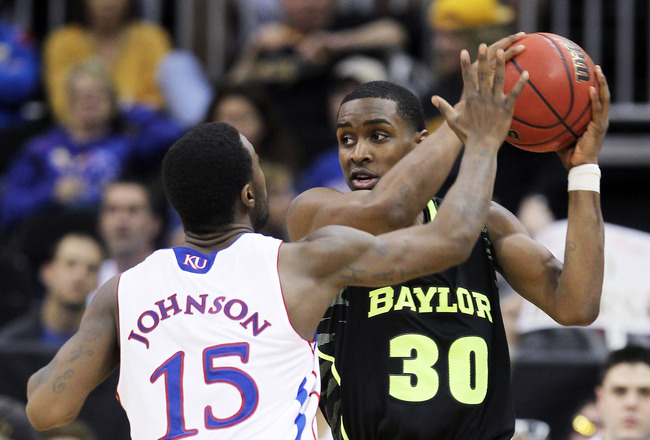 Jamie Squire/Getty Images
The college basketball season is still over 130 days away, which is unfortunate news for all fans.
That said, predictions are already flying in from all of the major sports outlets on who is in and who is out of the 2013 NCAA tournament.
The Big 12 looks to be in good shape heading into the season with the possibility of sending six or seven teams to the dance. However, it's safer to say at this point that at least five Big 12 teams will be trying for the 2013 national championship.
Read on to find out which teams make the cut at this point.
Honorable Mention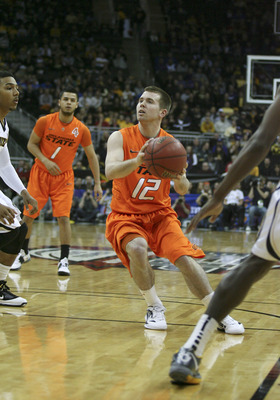 Ed Zurga/Getty Images
The following teams are good enough to make the NCAA tournament, so long as they play to their full extent. However, the competition in the Big 12 next year is not going to be easy, and my prediction is that these teams will not make the definite field of 64.
The following three teams are ranked in order of their likelihoods of making the tournament:
1. Oklahoma State
2. West Virginia
3. Oklahoma
Kansas Jayhawks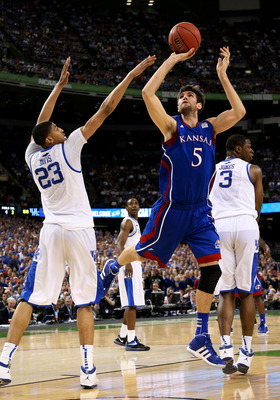 Ronald Martinez/Getty Images
Seed
No. 1 or No. 2
Analysis
The Kansas Jayhawks' seeding is really going to come down to whether they can outperform the Baylor Bears next season to win the Big 12 again.
At this point, it is safe to say that the Big 12 title race is going to come down to Baylor and Kansas. It would be a crime for the selection committee to not give the Big 12 champion a No. 1 seed considering the level of talent that that team will have.
Kansas has high expectations coming into this season after losing to Kentucky in the 2012 National Championship Game. They have the potential to exceed all of those expectations with Jeff Withey, Elijah Johnson and Ben McLemore returning.
A No. 1 seed would most certainly pave the road for the Jayhawks to keep its playoff history alive and, quite possibly, make another run at the championship.
Baylor Bears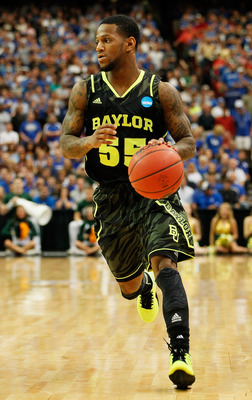 Kevin C. Cox/Getty Images
Seed
No. 1 or No. 2
Analysis
A No. 2 seed in the NCAA tournament would be the highest in program history for the Baylor Bears. However, head coach Scott Drew and company are definitely looking to top Kansas next season and earn a No. 1 seed in the tournament.
With one of the best backcourts in the country in Brady Heslip and Pierre Jackson, the 2012 incoming class' second best center in Isaiah Austin and a true sleeper at the power forward position in Cory Jefferson, Baylor is poised to make a deep run.
Joe Lunardi of ESPN has Baylor at No. 2 in Kentucky's region. The Bears have been to the Elite Eight twice in the past three years. Maybe this time, they can get over the hump and defeat the Wildcats to move on to the Final Four.
Texas Longhorns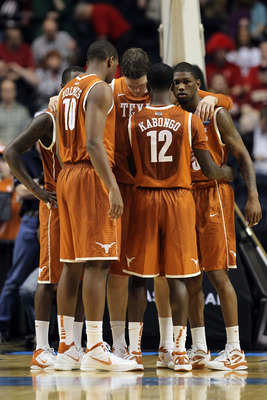 Jamie Squire/Getty Images
Seed
No. 4 or No. 5
Analysis
The Texas Longhorns could be the most dangerous team in the Big 12 next year.
Head coach Rick Barnes has brought in yet another fantastic recruiting class, including two of the best centers in the nation.
As such, he is going to have one of, if not the, deepest teams in the Big 12 next season. Pair that with Myck Kabongo, a sophomore, who has the ability to be one of the nation's best point guards, and you have a very strong team.
That said, it is still not clear whether or not Texas can play consistently, which is what it struggled with last year. If the Longhorns can pull it all together and have an impressive showing in the Big 12 tournament, they could reach as high as No. 3.
Until then, it is safe to put them around No. 4 or No. 5 right now.
Kansas State Wildcats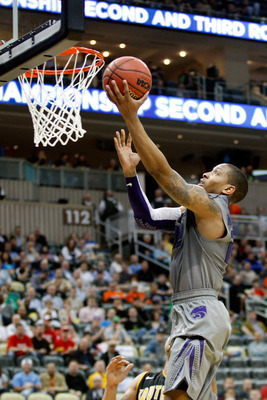 Jared Wickerham/Getty Images
Seed
No. 7 or No. 8
Analysis
Head coach Frank Martin led his Kansas State team to a No. 8 seed in the tournament last year after an impressive season-ending performance.
Since then, Martin has left for the job at South Carolina, and the Wildcats are now welcoming Bruce Weber to the family.
My projection of K-State as a No. 7 or 8 seed is not to doubt Weber's ability or the talent on the Kansas State team, but it is better to play it on the safe side with a team that did not have an extremely remarkable season last year and is going to have a new head coach.
Wildcat fans should know that Rodney McGruder, a small forward, has come out and said that he is healthy and looking forward to next season. He led the team in scoring last season.
Iowa State Cyclones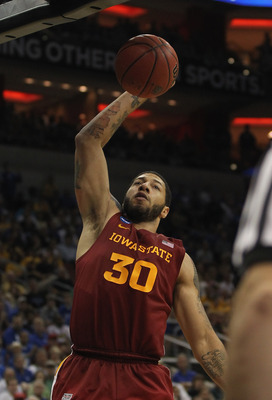 Jonathan Daniel/Getty Images
Seed
No. 9 or No. 10
Analysis
The best thing about the Iowa State Cyclones is that they are a completely different team at home than they are on the road. The Hilton "Magic" is what the Cyclones' home-court advantage is known as.
As such, Iowa State should have enough to make the selection field next year at a reasonable seed, not too high or too low.
It would not be unreasonable to think that Georges Niang, Iowa State's top recruit, could take the place of Royce White at the power forward position. However, the Cyclones are still losing their two top scorers.
For this team to succeed next year, someone is going to have to step up big time.
Keep Reading