Albert Pujols Playing Third Base Could Destroy His Offensive Resurgence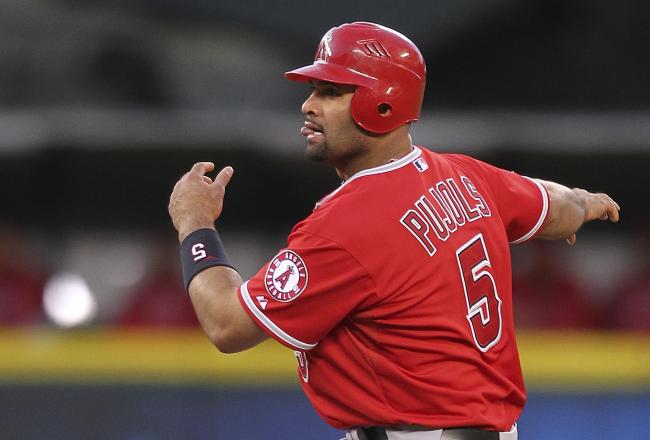 Will playing third base during interleague play affect Albert Pujols at the plate?
Otto Greule Jr/Getty Images
After a miserable April in which he batted .217/.265/.304 with no home runs and four RBI, Albert Pujols rebounded in May, looking more like the hitter we've been accustomed to seeing in his previous 11 major league seasons.
In 123 plate appearances for May, Pujols hit .263/.309/.491 with eight homers and 24 RBI. With those April numbers dragging him down, his numbers for the season still don't look impressive overall. But whatever was wrong with Pujols' swing and timing appears to have been smoothed out now.
So why risk knocking him off balance again? Why give Pujols something else to contend with mentally as he appears to be regaining his focus at the plate? Why play him at third base during interleague play, as the Los Angeles Angels plan to do this upcoming weekend when the team visits the Colorado Rockies?
According to the Los Angeles Times' Mike DiGiovanna, the idea is to keep Kendry Morales' bat in the lineup by playing him at first base, rather than sit him down when the Angels have to play without a designated hitter at Coors Field. That means Pujols will have to move across the diamond to third base, a position he's barely played since 2002.
However, I'm not suggesting that Pujols is some delicate flower whose petals will wilt when he's asked to do something he normally doesn't do.
Pujols volunteered to play third base last season with the St. Louis Cardinals to prevent Allen Craig from playing second base and to allow Jon Jay to get into the lineup. The man is a team player, and probably didn't flinch when Angels manager Mike Scioscia asked Pujols if he would play third. (That's presuming Pujols didn't volunteer to play third once again.)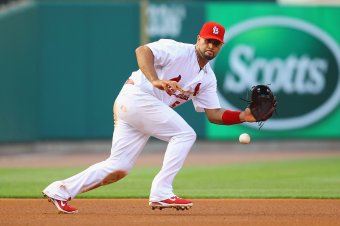 Albert Pujols played a handful of games at third base for the St. Louis Cardinals last season.
Dilip Vishwanat/Getty Images
But this isn't the same Pujols we've seen in past seasons. If he was hitting the way he always has, moving to third wouldn't seem like much of a deal.
However, Pujols is currently in sort of a fragile position when it comes to his hitting. He appears to be getting himself right at this point. Giving him something else to think about while he's on the field could provide a big distraction.
Baseball players talk all the time about wanting to know what their role is, what they're expected to do when they get to the ballpark each day. The implication is that players will succeed when they don't have anything else to think about and can just play baseball. Otherwise, once something else gets in their heads while they're on the field, they begin fighting themselves mentally.
Pujols hasn't played third base that often over the course of his career, manning the position for only 104 of his nearly 1,400 career games in the majors. And when he did play there, he wasn't very good. Perhaps 296 innings at third in 2002 is a small sample size to go on, but based on Ultimate Zone Rating, he was one of the worst defensive third basemen in baseball that season.
Look at what moving back to third base did to the Detroit Tigers' Miguel Cabrera earlier this season. He went through an 0-for-22 stretch in mid-April, a slump he never experienced last year. Sure, any batter can go cold. But is it a coincidence that Cabrera struggled at the plate while returning to a position he hadn't played in four years?
Granted, we're talking about a six-game span at most for Pujols, as opposed to switching positions for an entire season. This isn't a long-term commitment for the Angels, so if it's not going well, Pujols can be quickly switched back.
But if moving him to third base for even just a couple of games messes with Pujols' hitting approach at all, the consequences for him and the Angels far outweigh whatever convenience they might enjoy during a week of interleague play.
Follow @iancass on Twitter.
This article is
What is the duplicate article?
Why is this article offensive?
Where is this article plagiarized from?
Why is this article poorly edited?