Toronto Blue Jays: Top 20 Prospects Report, June Edition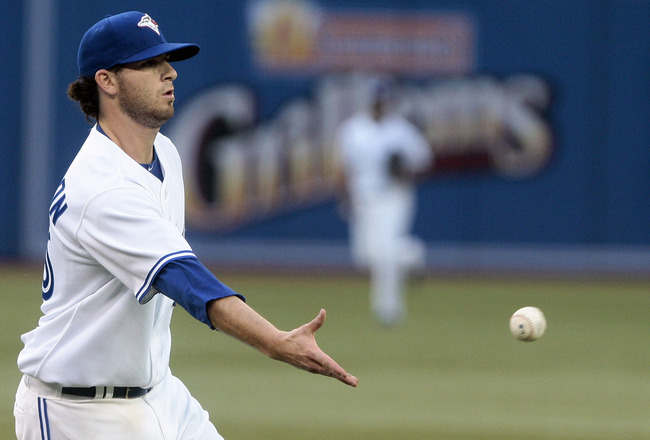 Abelimages/Getty Images
Last month, I decided to begin a series that would follow the Toronto Blue Jays' top prospects on their journey through the 2012 professional baseball season.
Since it's about two months into the minor league season, it's time to take our second look at how each of the Blue Jays' top youngsters are faring in the minors.
This month's edition of the Blue Jays prospects report will vary slightly from last month's version.
First off, we will be looking at the top 20 prospects, as opposed to just the top 10.
Secondly, I will be basing the rankings off of MLB.com's list of top Blue Jays prospects, instead of Baseball America's top 10 list.
Let me reiterate, these are not my personal rankings, and if players' positions shift from last month it is due to the difference of opinion between MLB.com and Baseball America, not me changing where a given prospect is ranked.
Now let's take a look at how the Jays future stars are looking in 2012.
Note: Stats are current through June 7th, 2012
20. Kellen Sweeney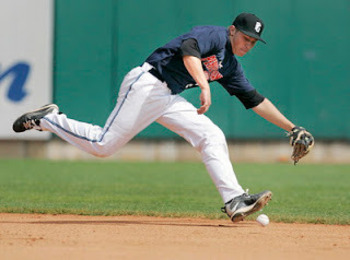 Photo Credit: beyond-bs.blogspot.ca
Drafted 69th overall in 2010, Kellen Sweeney is the younger brother of current Boston Red Sox outfielder Ryan Sweeney.
However, unlike his big brother, Kellen is an infielder and has an arm that is serviceable at either position on the left side, though it seems more likely he'll be a third baseman.
After being assigned to play short-season ball in the Appalachian, an injury prevented him from playing much of 2011.
Sweeney has avoided the injury bug in 2012, but his rough start with the Blue Jays' Class-A affiliate Lansing has seen him re-assigned to Blue Jays extended spring training.
2012 Stat Line:
Class-A Lansing*:
.179/.297/.207, 165 AB, 3 XBH, 12 RBI, 30 K, 23 BB
*Sweeney is no longer with the Lugnuts, as he was demoted to Blue Jays extended spring training.

19. Moises Sierra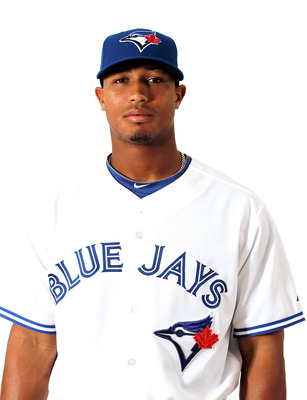 Jonathan Ferrey/Getty Images
At 23 years old, Moises Sierra is one of the most major league-ready prospects in the Blue Jays organization.
After a few years of bouncing around the lower minor league levels and adjusting to playing professional baseball, Sierra found his power stroke last year when he belted out 18 home runs for the New Hampshire Fisher Cats.
In 2012, Sierra became one step closer to reaching the show when he was assigned to Triple-A Las Vegas to start the season.
While it appeared likely that Sierra may get his shot in Toronto with the injury to Travis Snider and Eric Thames' demotion, Rajai Davis appeared out of nowhere and has claimed the starting job in left field.
If Sierra can continue to produce on a consistent basis, though, it is only a matter of time before he gets his chance with Toronto.
2012 Stat Line:
Class Triple-A Las Vegas:
.297/.361/.479, 219 AB, 10 HR, 35 RBI, 53 K, 20 BB

18. Jacob Anderson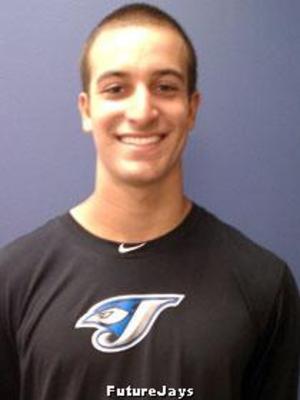 Photo Credit: bluejays.scout.com
While there may not yet be much of a sample size to analyze for the young Chino, California native Jacob Anderson's nine-game stint in the short-season Gulf Coast League last year was remarkable.
In those nine games Anderson hit .405 with two home runs and seven RBI in 37 at-bats.
Anderson has not yet played in 2012, as he's expected to play short-season ball somewhere in the lower minor leagues for the Blue Jays.
If he manages to put up similar numbers over a prolonged period this year, Anderson will undoubtedly shoot up the organization's prospect chart.
2012 Stat Line: N/A
17. Adonys Cardona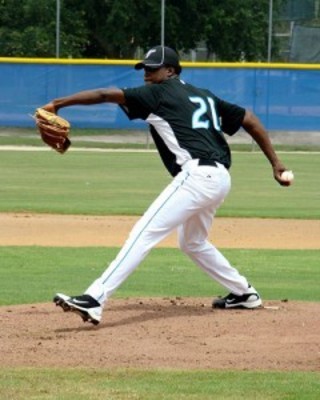 Photo Credit: jaysprospects.com
Adonys Cardona is another Blue Jays prospect that will start playing short-season baseball soon.
Last year, at the ripe age of 17, Cardona showed some serious promise during his time in the rookie ball Gulf Coast League.
His 1-3 record and 4.55 ERA aren't exactly sparkling numbers, but his 1.36 WHIP isn't too bad for a 17-year-old playing his first season of North American baseball after making the jump from his home country of Venezuela.
His 9.9 strikeouts per nine innings is a number that should have Blue Jays fans excited.
If he can bring down his walk rate of 3.4 per nine innings from last year, he has the potential to exceed a three-to-one strikeout-to-walk ratio.
With his first taste of rookie ball in the books, expect the now 18-year-old Cardona to post even better numbers when he begins play in 2012.
2012 Stat Line: N/A
16. Adeiny Hechavarria
Jonathan Ferrey/Getty Images
Adeiny Hechavarria, another Latin American Blue Jays signing, is another prospect knocking on the door of the big leagues.
The 23-year-old Cuban defecter began playing for the Blue Jays organization back in 2010, and has since risen to Triple-A Las Vegas, where he has had a very nice start to his 2012 campaign.
Hechvarria is third on the team and 14th in the Pacific Coast League (PCL) in average and leads the team in RBI (he's seventh in the PCL in that department).
Affectionately known to Jays fans as "Hech", don't be surprise if the defensively gifted infielder receives his first taste of major league baseball before the 2012 season is through.
2012 Stat Line:
Class Triple-A Las Vegas:
.321/.369/.453, 243 AB, 22 XBH, 40 RBI, 50 K, 20 BB, 87.5 SB%

15. Kevin Comer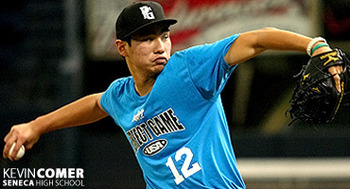 Photo Credit: perfectgame.org
Considering Kevin Comer has yet to play any professional or rookie ball as part of the Toronto Blue Jays organization, there isn't much to report in terms of results.
According to the MLB.com's Blue Jays top prospects list, Comer may be the most promising arm the Blue Jays managed to sign out of last year's draft (though Daniel Norris may have something to say about that).
Comer already possesses a plus-fastball, and has shown signs of a plus-curveball and decent changeup. With some refinement in the minor leagues, Comer has the potential to develop into an impact arm for Toronto.
2012 Stat Line: N/A
14. A.J. Jimenez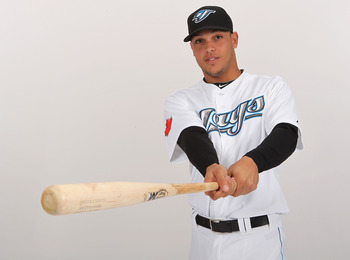 Nick Laham/Getty Images
Taken in the ninth round with the 279th overall pick in the 2008 MLB June Amateur Draft, A.J. Jimenez has been a nice surprise for the Blue Jays organization.
Unfortunately for him, he is part of an organization that already has talented catchers in J.P. Arencibia, Travis D'Arnaud and Carlos Perez.
Jimenez has been determined to thrust his name into the discussion, as he has posted batting averages of over .345 in both of his last two full seasons.
He's also thrown out at least 44 percent of attempted base-stealers in 2010 and 2011, and threw out an astonishing 55 percent in 2012 for New Hampshire, before his season came to an abrupt end when he had to undergo Tommy John surgery.
If Jimenez can rehab well and return to form as a true threat both at and behind the plate, the Jays will have an incredible amount of talent at one of the most coveted positions in baseball.
2012 Stat Line*:
Class Double-A New Hampshire:
.257/.295/.371, 105 AB, 7 XBH, 10 RBI, 14 K, 5 BB, 55% caught stealing rate
*Jimenez had season-ending Tommy John surgery after appearing in just 27 games this season.

13. Chris Hawkins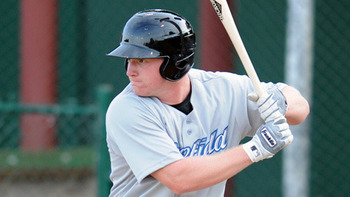 Photo Credit: Tony Farlow/MiLB.com
Chris Hawkins is in currently in his first season of playing full season professional baseball with the Toronto Blue Jays organization.
The lanky outfielder began showing some promise at the plate last year, when he hit .311 in the Appalachian League.
Hawkins began 2012 with the Class-A Lansing Lugnuts (along with a handful of other top Blue Jays prospects), and seems to have carried over some momentum from 2011 at the plate.
The 20-year-old from Sugar Hill, Georgia is currently sporting an average of over .300 through his first 200 at-bats of 2012 and is one of Lansing's better young hitters.
His plate discipline has also been above average for a 20-year-old, striking out just once in every seven trips to the plate.
At this pace, it wouldn't come as much of a surprise if Hawkins were to receive a promotion to Class-A Advanced Dunedin before the season draws to an end.
2012 Stat Line:
Class-A Lansing:
.315/.354/.398, 216 AB, 13 XBH, 22 RBI, 31 K, 13 BB
12. Joe Musgrove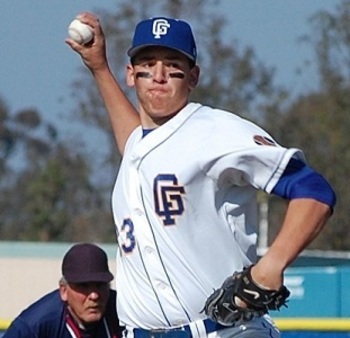 Photo Credit: eastcountysports.com
Another one of Toronto's compensation round selections in 2011, Musgrove was signed and began his career playing rookie ball at just 18 years of age.
In his 24.2 IP split between the Gulf Coast League and Appalachian League (he only threw three innings in the Appalachian League, however), the 6'5", 230-pound Musgrove managed to put up an ERA of 4.01, with a formidable WHIP of 0.97.
While he may not be a strikeout pitcher (he only recorded 6.6 strikeouts per nine innings), he doesn't walk many hitters either, walking just 1.7 walks per nine inings.
Musgrove's sinker also helps him induce his fair share of ground balls and makes it possible for him to give up only 0.4 home runs per nine innings.
Despite a somewhat disappointing ERA, with such an impressive WHIP and BB/9 rate, I wouldn't be surprised if Musgrove manages to start the season with Class-A short-season Vancouver, who will kick off their season fairly shortly.
2012 Stat Line: N/A
11. Asher Wojciechowski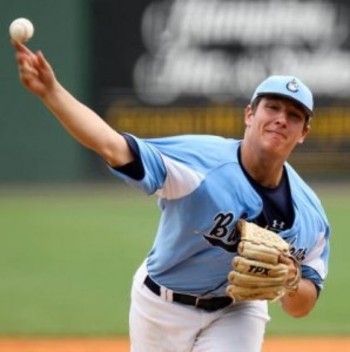 Photo Credit: Southern Conference
Last time we checked in on the 6'4" 235-pound Wojciechowski, he was putting together a respectable season and was sporting an impressive 3.38 ERA and a strikeout-to-walk ratio of nearly 4:1.
Since then, however, things have gone downhill for the 23-year-old hurler.
Wojciechowski has seen his ERA jump nearly two full points, and he's still stuck at Class-A Advanced Dunedin.
The one positive to take away from the last month for Wojciechowski is that his command continues to be spot-on, as his strikeout-to-walk ratio now sits at 4.67:1.
2012 Stat Line:
Class-A Advanced Dunedin:
2-2, 11 GS, 51.2 IP, 5.23 ERA, 1.30 WHIP, 42 K, .291 BAA

10. Deck McGuire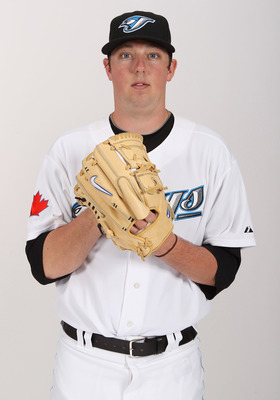 Nick Laham/Getty Images
After having a dreadful start to his 2012 season in New Hampshire, things haven't gotten any better for the young Deck McGuire.
Yet another big pitcher (he stands 6'6" and weighs 235 pounds) in the Jays organization, McGuire has not been able to find traction so far this season.
In fact, ever since making the jump from Class-A Advanced Dunedin to Double-A last season, the 11th overall pick in the 2010 MLB June Amateur Draft has struggled mightily.
His ERA has actually gone up from the 6.40 mark he had in the May edition of the Blue Jays prospect report.
If McGuire can't find his stride in a hurry, a demotion to Dunedin may be in his near future.
2012 Stat Line:
Class Double-A New Hampshire:
2-7, 12 GS, 59.1 IP, 6.83 ERA, 1.48 WHIP, 40 K, .283 BAA

9. Carlos Perez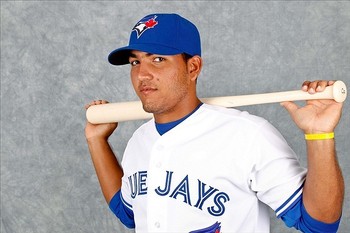 Photo Credit: Derick E. Hingle
Currently playing for the Lansing Lugnuts in just his second season of full-season professional baseball, the product of Valencia, Venezuela has been very good so far behind the plate.
After having some minor struggles in his first full season of professional ball last season in Lansing, Perez has somewhat recovered, bringing his average up nearly 15 points and improving his stats across the board.
While he still has a long way to climb before his name is inserted into the discussion surrounding Toronto's starting catcher job, the fact that he's rated as a top 10 prospect by MLB.com in one of those most talent-rich farm systems baseball has to offer, speaks to the 21-year-old's ability.
It wouldn't be too much of a surprise if Perez finished up the season in Lansing and made the jump to Dunedin in 2013.
2012 Stat Line:
Class-A Lansing:
.270/.345/.437, 174 AB, 20 XBH, 27 RBI, 27 K, 21 BB

8. Aaron Sanchez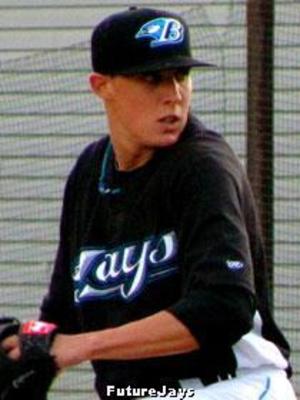 Photo Credit: scout.bluejays.com
Another month, another three or four dominant outings for the young Aaron Sanchez.
Every time this youngster toes the rubber, he makes it look beyond easy.
This season, the 19-year-old right-hander has only allowed three earned runs in 41 innings of work.
He's striking hitters out at a rate of over 10 per nine innings and boasts a perfect 5-0 record.
If Sanchez is not called up to play for Dunedin relatively soon, it'd be a major surprise (unless the Blue Jays want to keep him at Lansing on a strict innings cap).
2012 Stat Line:
Class-A Lansing:
5-0, 12 GP (6 GS), 41.0 IP, 0.66 ERA, 1.00 WHIP, 47 K, .149 BAA

7. Drew Hutchison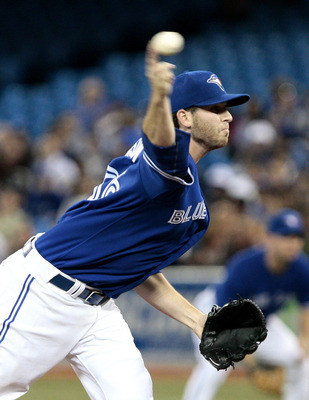 Abelimages/Getty Images
It has been a night-and-day type season for Drew Hutchison.
The one-time ninth-round pick of the Blue Jays got off to a real rough start through four starts, and was sporting an ERA of 6.65 when I wrote the top prospects report in May.
Since then, you could argue he's been the Blue Jays best starter.
With only one blemish in his last five or six starts (giving up six runs in four innings against Tamp Bay), Hutchison has turned his season around and has been instrumental in keeping Toronto in the thick of the race for the AL East.
For a complete breakdown on his stats for the last month, check out my article outlining the 21-year-old's progress here.
Possibly the most impressive improvement that Hutchison has made, has been lowering his batting average against from .315 to .256.
2012 Stat Line:
Class Double-A New Hampshire:
2-1, 3 GS, 16.2 IP, 2.16 ERA, 1.14 WHIP, 12 K, .262 BAA
MLB: Toronto
5-2, 9 GS, 51.2 IP, 4.35 ERA, 1.35 WHIP, 41 K, .256 BAA

6. Justin Nicolino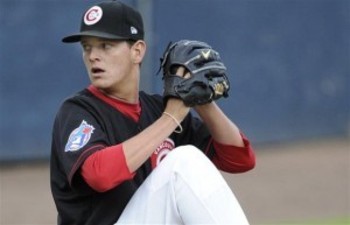 Photo Credit: jaysprospects.com
Another incredibly talented young pitcher, currently throwing for the Lansing Lugnuts, Justin Nicolino has also been an absolute stud for Toronto's Class-A affiliate.
Arguably Toronto's top southpaw pitching prospect, Nicolino has dominated opposing batters at every level he's pitched at.
After embarrassing hitters with the Vancouver Canadians last season, Nicolino got the call-up to Lansing where he posted a respectable ERA of 3.12 in just 8.2 IP.
Returning to Lansing again in 2012, Nicolino is sporting an ERA under 1.50, proving once again to be unhittable.
Along with Aaron Sanchez, Nicolino is a definite candidate to be called up to Class-A Advanced Dunedin at some point this season.
2012 Stat Line:
Class-A Lansing:
2-0, 12 GP (6 GS), 43.0 IP, 1.47 ERA, 0.95 WHIP, 39 K, .226 BAA
5. Daniel Norris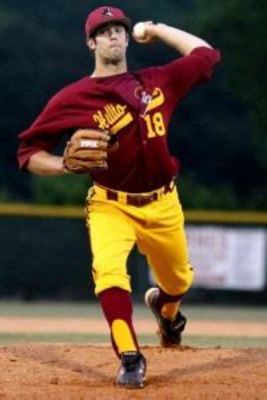 Photo Credit: mlbreports.com
Touted as the best left-handed pitcher in the 2011 June Amateur Draft, Daniel Norris fell all the way to the 74th overall pick, due to issues surrounding his signability, before the Blue Jays took a chance on the young southpaw.
After managing to sign Norris, he quickly became one of the biggest steals of the 2011 draft.
While he's yet to play any baseball in the Jays organization, the 19-year-old native of Johnson City, Tennessee already has a plus-fastball that he can command well, as well as the makings of a plus-curve and he can throw a changeup fairly well.
If all goes according to plan, Norris could very well end up at the top of the Blue Jays rotation someday.
For now, we continue to anxiously away his professional debut.
2012 Stat Line: N/A
4. Noah Syndergaard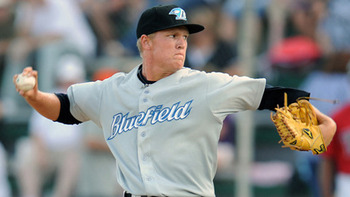 Photo Credit: Tony Farlow/MiLB.com
After coming out guns ablazing to start the 2012 campaign, it appears as though Midwest League hitters have caught up to the 19-year-old Syndergaard.
He's had a fairly rough go recently, seeing his ERA soar to over 4.50.
While he is still undoubtedly an incredibly talented young pitcher with nasty stuff that projects to be a top-of-the-rotation type starter, Syndergaard is going through the first rough stretch of his young career.
With his already plus-fastball and the potential to develop both his curveball and changeup into plus-pitches, Syndergaard is sure to be back on track in no time.
2012 Stat Line:
Class-A Lansing:
3-1, 12 GP (6 GS), 37.0 IP, 4.62 ERA, 1.35 WHIP, 49 K, .258 BAA

3. Jake Marisnick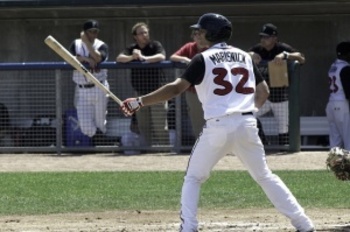 Photo Credit: mwlguide via Flickr.com
Jake Marisnick may not be ripping up the Florida State League just yet, but you can't call the 21-year-old outfielder inconsistent.
Since our last update just over a month ago, Marisnick's average has changed by just two points.
His other stats are also nearly identical to where they were in May.
Hopefully as the season progresses, Marisnick can find a way to pick up his game and elevate his batting average to the .280 area.
In order to do that, he'll need to find a way to bring his strike out rate down.
2012 Stat Line:
Class-A Advanced Dunedin:
.258/.332/.426, 190 AB, 21 XBH, 25 RBI, 40 K, 15 BB

2. Anthony Gose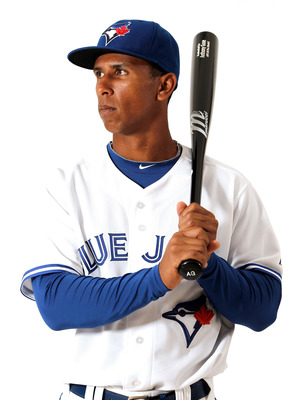 Jonathan Ferrey/Getty Images
After an absolutely horrendous start to the 2012 season, Anthony Gose has found his groove—in a big way.
After starting the season with an average of just .232 with 39 total bases in 125 at-bats, Gose has made a few adjustments at the plate and has been hitting the lights out for the last month.
At one point, Gose went on a 16-game hit streak that saw him hit over .400 during that span.
Gose is also the Pacific Coast League leader in stolen bases with 24.
It seems like Gose is finally becoming the five-tool player the Blue Jays traded Brett Wallace for a few years ago.
If Gose can find a way to end the season with his current stat line and fewer strikeouts, he'll certainly be competing for a full-time job with the big club next season.
2012 Stat Line:
Class Triple-A Las Vegas:
.290/.368/.419, 248 AB, 20 XBH, 28 RBI, 61 K, 28 BB, 24 SB

1. Travis D'Arnaud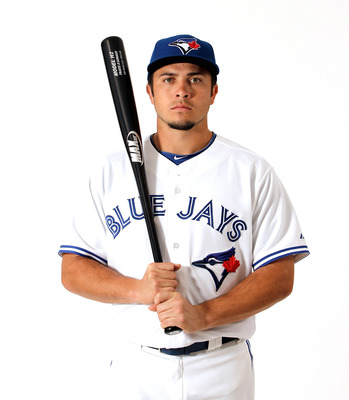 Jonathan Ferrey/Getty Images
Travis D'Arnaud is making the life of J.P. Arencibia very uncomfortable this season, and it has nothing to do with Arencibia's play.
D'Arnaud has just been one of the best catching prospects in all of the minor leagues in 2012.
While he's only managed to throw out 26 percent of would-be basestealers this season, D'Arnaud is still considered to have the better arm between him and Arencibia.
At the plate, D'Arnaud has been an absolute beast.
Not only is he among Las Vegas' leaders in nearly every offensive statistic, but he's also 13th in the PCL in batting average, sixth in home runs, 12th in RBI, and tied for third in total bases.
At this rate, not only will he likely be a Blue Jay in 2013, but he could very well snag the starting catcher's job from J.P. Arencibia (again, this is not a shot at Arencibia).
2012 Stat Line:
Triple-A Las Vegas:
.329/.383/.587, 29 XBH (13 HR), 37 RBI, 42 K, 18 BB, 125 TB
Keep Reading

Toronto Blue Jays: Like this team?