Kentucky Basketball: Creating the Ultimate 12-Man Wildcats Team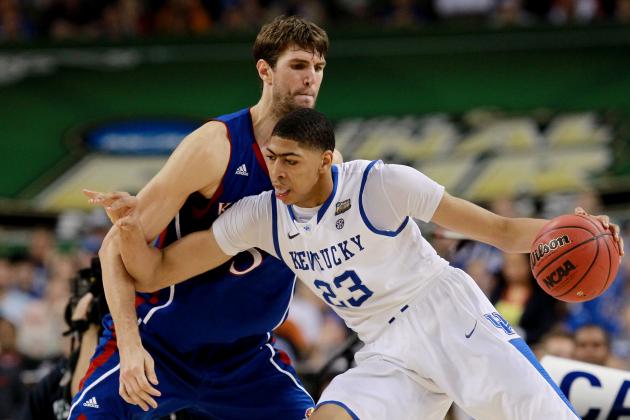 Ronald Martinez/Getty Images

Few teams in college basketball—and especially not ones with such a rich tradition—have seen more historically great players in the last 20 years than 2012 national champion Kentucky. The Wildcats have turned out NBA talent like few other programs in recent years, and many of those stars have taken their places among the best in UK history.
The latest NBA-bound Wildcat to leave his mark on the NCAA record books is soon-to-be No. 1 draft pick Anthony Davis. In one season in Lexington, Davis set a school record for blocks while leading his team to the most wins in NCAA history.
Of course, Davis is just one of many college and pro stars who have worn a Kentucky uniform. Read on for a look at where he fits in on the 12-man roster—from the last two spots on the bench to the starting five—of the best players in Wildcat history.
h/t to commenter Joshua Harris for suggesting this story in response to its Michigan counterpart.
Begin Slideshow

»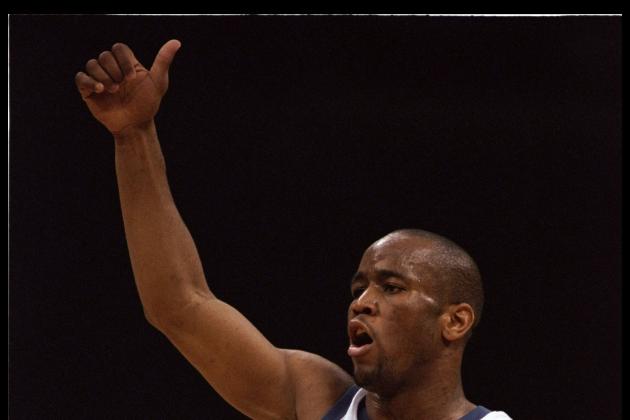 Matthew Stockman/Getty Images

Most programs would kill to have had the players who didn't even make the cut for this Kentucky roster.
Among the notables who came up just short:
PG Dirk Minniefield
PG Anthony Epps (pictured)
SG Ron Mercer
SF Jack "Goose" Givens
C/F Kenny "Sky" Walker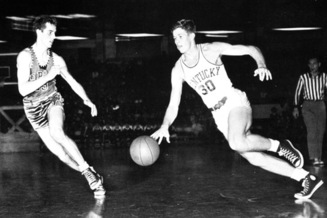 Image from bigbluehistory.net
Despite sharing the ball with one of Kentucky's most dangerous scorers (Cliff Hagan), Frank Ramsey was a terrific offensive weapon in his own right, scoring 1,344 points in his three seasons.
The 6'3" forward was even more dangerous as a rebounder, grabbing the second-most career boards (1,038) in school history.
Ramsey kept up both skills as an NBA swingman, posting career highs of 16.5 points and 7.3 rebounds a night.
His spot in the Hall of Fame, though, owes less to his individual numbers than to his contributions to a remarkable seven NBA championship teams on the Bob Cousy-Bill Russell Celtics.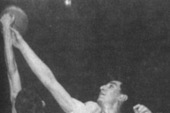 In Kentucky's storied basketball history, only one set of Wildcats won consecutive national titles. That is, Adolph Rupp's Fabulous Five squad in 1948 and 1949.
The Most Outstanding Player honoree in both tournaments was 6'7" center Alex Groza.
Groza was such a dangerous scorer that more than 60 years after his graduation, he's still 10th in school history with 1,744 points.
Groza looked to be well on his way to matching the pro success of his brother Lou—an NFL Hall of Famer—when he was thrown out of the NBA for his role in a point-shaving scandal in college.
In two seasons with the now-defunct Indianapolis Olympians, he averaged 22.5 points and 10.7 rebounds per game.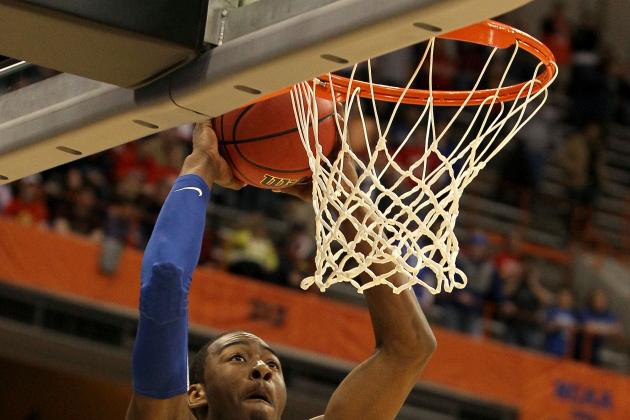 Jim McIsaac/Getty Images

Kentucky has had plenty of one-and-done freshmen, but few have looked as obviously NBA-ready as John Wall did.
Wall earned his place as the No. 1 overall pick in the 2010 draft by averaging a Wildcats-record 6.5 assists per game in his only season on campus (along with 16.6 points and 1.8 steals a night).
Wall hasn't won many games as a pro, but it's hard to fault him for the Wizards' struggles. In two seasons in Washington, he's living up to his college performance with 16.3 points, 8.2 assists and 1.6 steals per contest.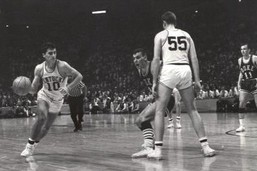 Image from bigbluehistory.net
The most dangerous member of the Rupp's Runts squad that made the 1966 championship game, Louie Dampier was a 6'0" combo guard with exceptional scoring punch.
He averaged 19.7 points per game in a Wildcat uniform, a figure that would have been much higher if his career hadn't predated the three-point shot by nearly two decades.
When Dampier arrived in the ABA after graduation, the presence of the three-point line was just one of the reasons he became a seven-time All-Star.
Dampier finished as the league's all-time leader in points, treys, assists and games played, winning a title with the Kentucky Colonels in 1975.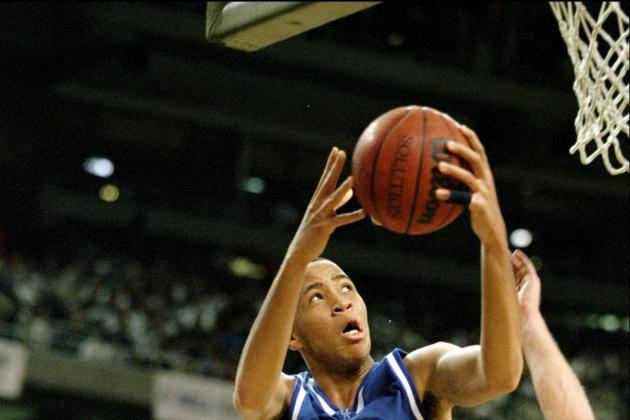 Andy Lyons/Getty Images

Kentucky has a rich history of high-scoring small forwards, but few of them have also boasted the kind of shutdown defense that Tayshaun Prince brought to the table.
Not that Prince wasn't an offensive weapon as well—his 1,775 points are eighth-most in school history.
As a pro, Prince has made four All-Defensive teams while averaging as many as 14.7 points per game.
He's still a solid starter after 10 years in a Pistons uniform, though the way the franchise is going, it's unlikely he'll get another championship ring to go with the one he earned in 2004.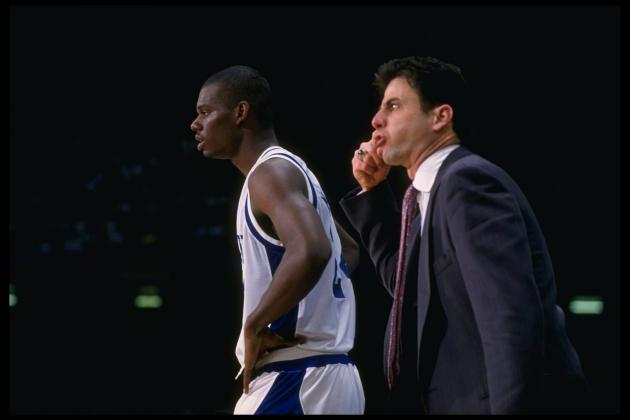 Getty Images/Getty Images

The sixth-leading scorer in Kentucky history (1,843 points), Jamal Mashburn is especially memorable for his postseason showdowns with some of the greatest college post players of his generation.
He had 28 points and 10 boards to Christian Laettner's 31 and seven in the 1992 Elite Eight, before racking up 26 points and six rebounds (against Chris Webber's 27 and 13) in the Final Four the following season.
As a pro, the 6'8" Mashburn moved from PF to SF, though he still averaged as many as 7.6 rebounds a game.
He was a dangerous three-point shooter who averaged 19.1 points per game over 11 seasons with the Mavs, Heat and Hornets (making an All-Star appearance with New Orleans).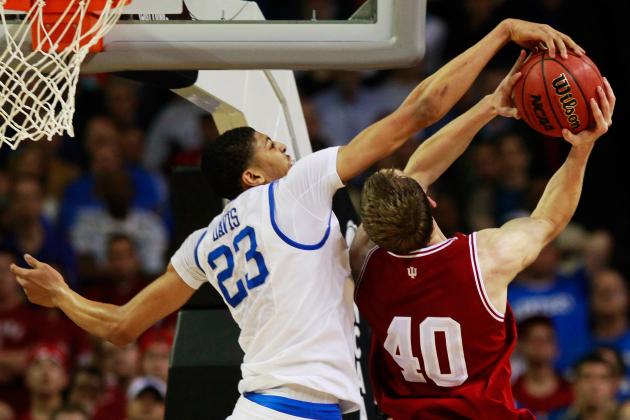 Kevin C. Cox/Getty Images

In 2011-12, Kentucky won an NCAA-record 38 games and a national championship while blocking an NCAA-record 344 shots. None of that would have been possible without 6'10" Anthony Davis in the middle.
Although Davis posted team-high averages of 14.2 points and 10.4 rebounds per game, he'll always be remembered for leading one of the most overpowering defenses in college hoops history.
Davis himself recorded 186 of those rejections, the fourth-best season total in NCAA history and more than twice the previous UK record—all of which are big reasons why he's sure to be the No. 1 overall pick for the Hornets in this month's NBA draft.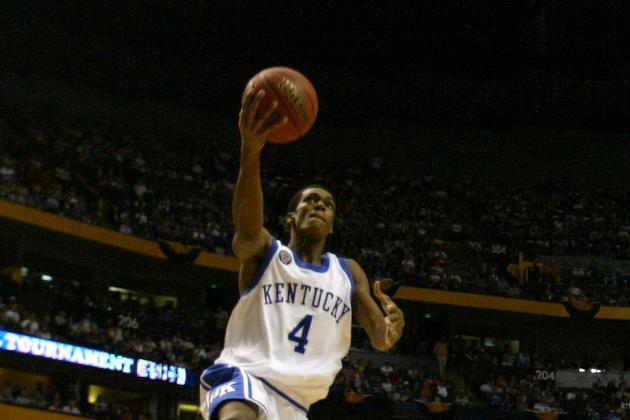 Andy Lyons/Getty Images

Although his passing numbers weren't the most impressive—4.2 assists per game over two seasons—Rajon Rondo opened eyes with his athleticism and defense at Kentucky.
The 6'1" Rondo averaged 6.1 rebounds a night as a sophomore, and his 2.3 steals per game for his two-year career are a school record by a wide margin.
Rondo has been especially effective in the postseason as a pro, recording nine triple-doubles in 89 career playoff games so far.
He kept the offense running for the Celtics' 2008 NBA champs. Meanwhile, in six seasons in Boston, he's averaging 8.1 assists and 1.9 steals per game (having led the league once in each category).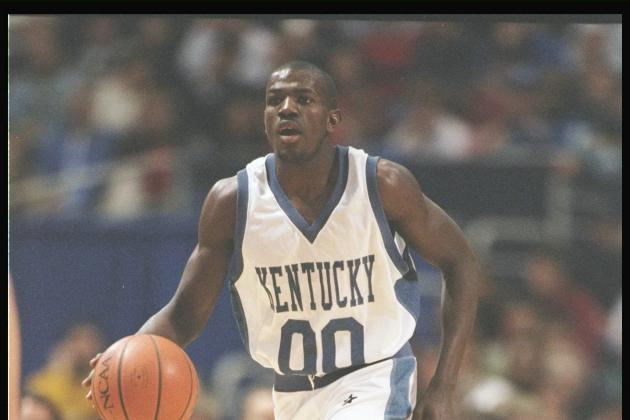 Jonathan Daniel/Getty Images

Despite standing just 6'1", Tony Delk made his mark on defense as well as offense. The shooting guard for the 1996 national champs, Delk ranks fifth in school history in points (1,890), second in steals (201) and first in three-pointers made (283).
Delk never reached those same lofty heights as a pro, but he was a productive bench player for a decade in the league.
He shot .343 from beyond the arc for his career, with his best seasons coming in Phoenix (a career-best 12.3 points and 0.9 steals per game in 2000-01).
One of many complementary scorers on the 1951 national champs, 6'4" center Cliff Hagan took over the team the following season with 21.6 points and 16.5 rebounds a game.
For his career, Hagan averaged 19.2 points a night and a Wildcat-record 13.4 boards per contest.
Paired with Hall of Fame PF Bob Pettit on the NBA's Hawks, Hagan moved to the SF spot and turned in four straight seasons of 20-plus points per game in his prime.
He made five All-Star appearances (plus one when he came out of retirement for the ABA's Dallas Chaparrals) and won the 1958 NBA Championship over the course of a 13-year Hall of Fame career.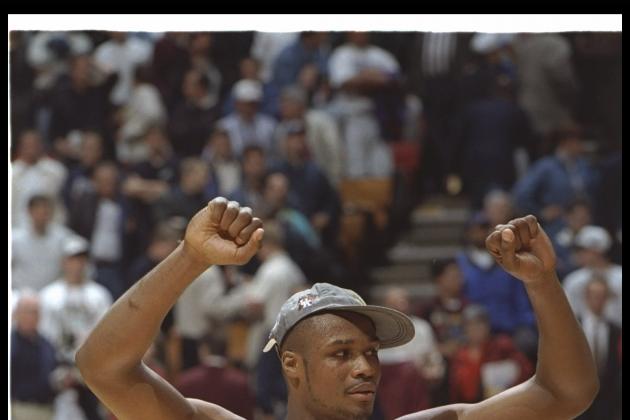 Doug Pensinger/Getty Images

Stuck behind big Mark Pope as a freshman, Antoine Walker became the Wildcats' leader in his second (and final) season.
Walker's athleticism was a perfect fit in Rick Pitino's up-tempo offense, and he averaged 15.2 points and 8.4 rebounds a game for the 1996 national champs.
After totaling just 26 three-pointers in his college career, Walker became a lethal outside shooter who twice hit over 200 in a season in the NBA.
He was a three-time All-Star in Boston—where he topped 20 points per game in five different years—but it was his one season with the Heat that got him his lone championship as a pro.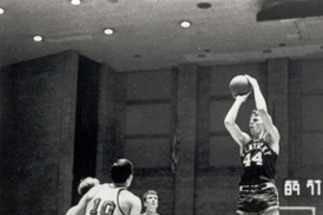 Dan Issel never had enough talent around him to make it past the Elite Eight, but he was the most dominant individual player in Kentucky history.
Issel holds school records for scoring average in a season (33.9 points per game) and a career (25.8), total points (2,138) and total rebounds (1,078).
A five-time ABA All-Star (mostly with the Kentucky Colonels), Issel was nearly as dominant in the NBA as a Nugget.
In 15 pro seasons overall, he averaged 22.6 points and 9.1 rebounds a night—finishing ninth in NBA/ABA history with 27,482 points—on his way to the Hall of Fame.