College Softball World Series: Keilani Ricketts Will Lead Oklahoma to Sweep
June 5, 2012

Dennis Grombkowski/Getty Images
Oklahoma star pitcher Keilani Ricketts is so good, it's unfair. 
The No. 2 Alabama Crimson Tide found that out the hard way Monday night, and they'll get an unfriendly reminder once again on Tuesday as the Sooners roll to a sweep and a national championship.
There's no question that the game of college softball is won from the pitching circle. Crazier things have happened, but more often than not, the team with the best pitcher always comes out on top.
Thus, it makes sense that Ricketts—the best pitcher in all of college softball—has the Sooners on the verge of national glory. 
Just take a look at the junior's gaudy stats:
She's second in the nation with an ERA of 0.99, second in hits allowed per seven innings with just 3.76, second in total strikeouts with 433 and second in strikeouts per seven at 11.0.
Eleven strikeouts per seven innings—let that sink in.
If the ladies played nine-inning games, Ricketts would pretty much be averaging about 14 strikeouts per game.
Unfair might not even be a good enough word for that.
But still, there's a reason Alabama is in the championship with No. 4 Oklahoma, and that reason is Jackie Traina.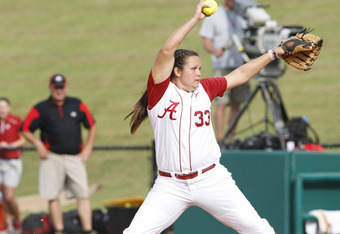 The uber-talented sophomore has a 1.70 ERA to go along with her 8.9 strikeouts per seven innings. Essentially, she's put up an absolutely elite season when compared with anyone not named Ricketts.
So, how can you possibly predict a pitching duel of epic proportions like this one?
Well, once again, Ricketts is the deciding factor.
Not only is she arguably the best women's pitcher in the world right now, she knows how to hit a little bit, too. In fact, she serves as Oklahoma's cleanup hitter. 
And it's not hard to see why.
Ricketts is 43rd in the country in batting average at a whopping .404, and she's also tied for 29th in home runs with 16.
Not often does one person have the ability to fully control the fate of a softball game, but that just goes to show you how talented this woman is.  Just like everyone else who has faced her this season, the Alabama women are going to have nightmares of Keilani Ricketts after this one is all said and done.
Luckily for the Crimson Tide, it will all be said and done after tonight. No more Keilani Ricketts.
Until next year, that is.