Seattle Seahawks, Pete Carroll Show Lack of Discipline and Lose 2 OTAs
June 6, 2012

Otto Greule Jr/Getty Images
The Seattle Seahawks are one of the teams that are most relying on their OTAs to prepare for a few rather important position battles this summer. They have three quarterbacks fighting for the starting position and upwards of 10 wide receivers vying for roster spots and starting jobs.
While few teams win many games because of OTAs, the Seahawks will be hurt by losing two of their sessions.
It seems the Seahawks were a little eager in an earlier OTA session. Teams aren't allowed to line up in 11 on 11 drills or have live contact. While it is unclear how the league and/or the NFL Players Association became aware of the infraction, Seattle will forfeit three days at the Virginia Mason Athletic Center.
The NFL Management Council and NFL Players Association issued a joint statement Tuesday outlining the infraction:
The NFL Management Council and NFL Players Association have determined that the Seattle Seahawks violated the Collective Bargaining Agreement's offseason workout rules on the prohibition of live contact during one of the club's organized team activity days ("OTA days").

As a result, the Seahawks will forfeit two of their scheduled OTA practices (June 6 and 7) as well as an additional offseason workout day on Friday, June 8.  Seahawks' players are not permitted to be at the facility on those days, but will be paid for the sessions.  The club cannot reschedule the cancelled days.
While this issue alone might not be a major one for the team, there has been an ongoing issue of discipline issues under Pete Carroll's management of the Seahawks.
One important example came via Seattle being one of the most-penalized teams during the 2011 season.
While some penalties won't raise many questions, the volume of offensive offsides and holding penalties was concerning. Carroll even went so far as to reference the issue in a 12th Man Town Hall on May 29th.
Pete Carroll responded to the infraction, accepting some responsibility but also deflecting some blame back to poor guidelines from the NFL on what is acceptable.
We have talked all throughout the time about taking care of one another, working to make it safe, playing within the guidelines. And we've probably stretched this limit, obviously by this indication. And I'm not surprised at that. 

We are as competitive as can be, we have a very young football team. Most of these guys have never been in an OTA practice, so this is their first time to get a smell of it. As we go through it, we learn.

If nothing else the league will understand the standard better. We have not had any film to look at. We haven't had the opportunity to see how it is supposed to be done. But maybe that's what we're creating. We'll try to look at that as a positive and help everybody understand how it goes.
Seattle is the first team to forfeit practice sessions for an OTA infraction under the new CBA. Perhaps there are other teams that aren't exactly sure of what is and isn't allowed, but it seems as though the rest of the league already understands the process.
The issue with Seattle really could be just a few plays where "guys made a mistake trying to hard and competing too much," as Carroll described the situation.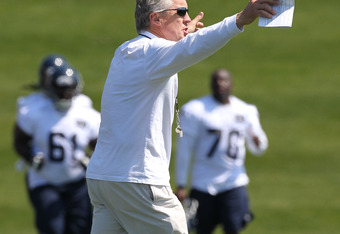 Otto Greule Jr/Getty Images
But the loss of two practices and a workout seems to go beyond just a few plays. If the standards weren't clear, the team should have sought a better understanding prior to the outset of the off-season workout schedule. 
It has been easy for fans to be accepting of Carroll and his approach to re-manufacturing the Seahawks thus far. He and John Schneider have brought a new level of competition and energy to a program that had lost its edge under Tim Ruskell.
However, continued issues with a lack of discipline should be raising a red flag in the organization. While Carroll wasn't directly implicated for any wrongdoing at USC, a reputation for "lack of institutional control" did follow him from his college tenure.
Paul Allen needs to be cognizant of the issue and be certain someone is managing Carroll and the integrity of Allen's franchise.
Standards have changed since Carroll last coached in the NFL, and Schneider is new to the duties of a general manager. 
Scot McCloughan, Sr. Personnel Executive, has ample NFL experience and served as general manager for the San Francisco 49ers prior to joining the Seahawks. He should have a solid understanding of the rules and guidelines and provide some level of guidance and oversight.
Games may not be won or lost in June, but Seattle lost games in 2011 because of an undisciplined, young team. The management can't continue to be a reflection of the problem.