Philadelphia Eagles' Offseason Social Media Scrapbook: Todd Herremans
June 5, 2012

There was a time when it was nearly impossible to know what the players on your favorite team were up to during the long NFL offseason. For colorful details on the personal experiences of your city's football stars, you'd rely merely on the morning and afternoon editions of the local gazette.
Things have changed, grandpa. And the good news—at least for ya'll—is that the middle man has pretty much been cut out. Now, mainly via Twitter, you can stay up to date on what your favorite athletes are doing 24 hours a day, seven days a week and 365 days a year. 
Wanna know what Brian Rolle had for breakfast? Intrigued by which film Jeremy Maclin is about to order through XFINITY ON Demand? You're in luck.
The only time these guys aren't technically allowed to tweet is when you're watching them on TV on Sunday afternoons anyway. What a digital world.
But because I'm sort of paid to be a middle man, I'd like to keep you abreast on some of the social media highlights of the Philadelphia Eagles' offseason.
Today I'd like to point you to the sometimes crude but often hilarious Twitter feed belonging to Eagles offensive tackle Todd Herremans, which is entitled The Toddfather.
On March 13, he signed a three-year, $21-million contract extension with the Eagles, but Herremans would rather have you believe he was pregnant.
He then travelled to Italy and took a picture with his "homeboy," who I think is supposed to be a knockoff Jesus Christ.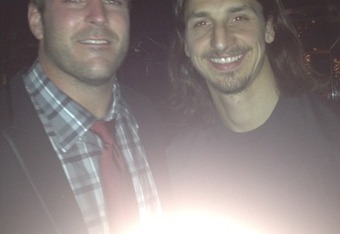 UPDATE: Bleacher Report's Alen Dumonjic thinks the man in the picture might be Swedish soccer player Zlatan Ibrahimović. In my defense, how was I supposed to know? Soccer is banned in Canada and the United States.
From there, it was pretty much a standard spring for Herremans. You know, continuing the quest to find an indestructible dog bed, swearing revenge against birds who poop on cars and inviting people to entertain him at the D.C. airport (but failing to specify which D.C. airport). 
Oh, and of course he took a chance to ask teammate Brent Celek about his wig in this in-no-way-ridiculous photo: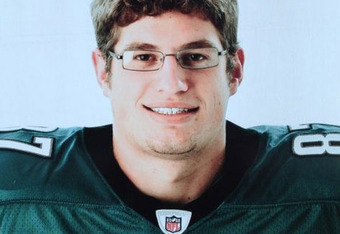 It's OK. Celek took a shot back.
I've met some hilarious athletes over the years, but Herremans definitely makes my top 10 list.
Compelled? Join us next time, when we follow Jason Babin's pursuit to punch more holes in his man card.