WWE History: Looking at the Legend That Is Bruno Sammartino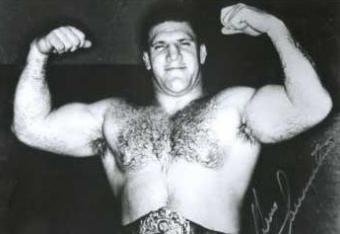 Height: 5'10"
Weight: 265 lbs.
From: Abruzzi, Italy
Years in WWE: 1960-1981; 1984-1988
Finishing Moves: Bear Hug, Italian Backbreaker
It's time for a history lesson ladies and gentlemen.
First up is a legend of a man: Bruno Sammartino.
Sammartino was born in Pizzoferrato, Abruzzo, Italy in 1935. He would live there through World War II, where his family would be forced to hide from the Germans in the Valla Rocca mountains. When Sammartino finally came to America with his mother and siblings, they settled in Pittsburgh, Pennsylvania where his father had been living. When he first came to America, Bruno was sickly due to the years of hiding from the Germans. He would devote himself to weight training in order to physically build himself up.
Bruno made his wrestling debut in the Pittsburgh wrestling scene in 1959, and would dominate there for a year before making his debut at Madison Square Garden.
In 1960, Sammartino debuted against Bull Curry, and became an overnight sensation. Sammartino would not only wrestle in the states, but would go up to Toronto as well and have success there as well.
Sammartino vs. Koloff in a cage match
His biggest contribution to wrestling came when he began working full time for Vince McMahon senior. Sammertino would be groomed to become McMahon's top star, and would help McMahon break away from the NWA (National Wrestling Alliance) and create his own promotion, the WWWF (World Wide Wrestling Federation).
By the time Sammartino was 27, he would be the World Heavyweight Champion of McMahon's WWWF. He would reign as the champion for more than seven and a half years, becoming the longest reigning champion in WWE history.
Bruno Sammartino was so popular that when he did lose the title to Ivan Koloff in 1971, the massive crowd at Madison Square Garden went silent. The referee was so afraid of a riot that he didn't present Koloff with the title while he was still in the ring.
Bruno would regain the title three years later.
He was the main attraction of the WWWF for 20 years. He would sell out Madison Square Garden time and time again.
In 1976, he would have his neck broken in a match, and continue through the whole event. He was a big, tough wrestler who made the WWE something special. He was extremely popular, especially being an Italian immigrant who grew up with very little money. He was larger than life but people could still relate to him.
He would retire in 1981 but would come back to be an announcer in 1984, and even come back in 1985 and compete part-time for two years.
Sammartino, however, did not like the way the WWE was going when they began pushing stars like Hulk Hogan back in the late 1980's. He has held a grudge against the company to this day, and even refused to be inducted into the WWE hall of fame.
Regardless, Sammartino is a wrestling legend and helped make the company what it is today.
More information about Bruno Sammartino can be found at his webpage, as well as in the book WWE Legends.
This article is
What is the duplicate article?
Why is this article offensive?
Where is this article plagiarized from?
Why is this article poorly edited?