What Longshot Anthony Davis Must Do to Make USA Olympic Basketball Roster
June 5, 2012

Chris Graythen/Getty Images
It may seem like Anthony Davis doesn't have the best chances of landing a spot on the 2012 Olympics' Team USA, but that doesn't mean it won't happen.
KentuckySports.com's Jerry Tipton is reporting that managing director Jerry Colangelo describes Davis' selection as a "long shot," but he isn't closing the door entirely.
Davis has already made an airtight case to be chosen as the first overall pick in June 28's NBA draft, and he may be able to prove he belongs on the USA's 12-man Olympic roster (to be selected on July 8).
The pool of players from which that roster will draw isn't exactly chopped liver, but Davis does add a unique skill set to the bunch.
It also helps that there aren't many available big men to man the middle for Team USA. That's less of a disadvantage in international terms given the style of play and limited supply of dominant centers—but it's still a potential problem for the roster.
Davis might even be a better fit for the team than some of his more veteran counterparts.
His energy and relentless motor will provide a steady presence on the glass, but you don't lose anything with him in the open floor. Thanks to Davis' ability to run with guards and forwards, he'd be a perfect one-size-fits-all defender against the wide range of interior players Team USA is bound to face.
He would bring the kind of versatility that can excel on the world stage, where not every team looks like an NBA team.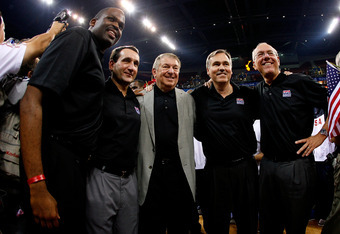 Harry How/Getty Images
The addition wouldn't be entirely without precedent either. Even 1992's Dream Team included Duke's Christian Laettner despite his lack of NBA experience. He didn't play a prominent role on the team, but Davis has the chance to be different.
Still, it's not as if Davis is the only available option. He still has something to prove, namely that his defensive ability will mean more to the team's chances than the kind of offensive punch someone like Blake Griffin, Kevin Love or Chris Bosh brings to the table.
Davis' resume doesn't compare to his more experienced peers, but his impact on the game just might—especially for a team that already has its share of scorers. That's where Colangelo sees a potential fit for Davis (via KentuckySports.com's Jerry Tipton):
"We don't have any shortage of scorers," Colangelo said in an Olympic-sized understatement. "Anthony has a chance to make his mark sooner rather than later just by rebounding, defending, getting up and down the court, being a team player. He doesn't have to score."
The 6'10" wiry-strong mega-athlete is also the ultimate utility guy on defense, capable of handling a variety of matchups and causing all-around havoc in the paint and passing lanes alike.
If he can prove those defensive contributions will make more of a difference than adding another guy who can shoot from mid-range, he's got a real shot. If not, Davis' opportunity to compete with great players for the big time gig is a nice introduction to the NBA in its own right—and maybe a taste of things to come for Davis down the road.