FYI WIRZ: NASCAR's Dale Earnhardt Jr. Advances While Kyle Busch Drops
June 5, 2012

After every point event, Sprint Cup drivers and teams move up as others slide. That's normal in motorsports—but it is worthy of a race-to-race focus.
Dale Earnhardt Jr. and Matt Kenseth have been relentlessly consistent this season. Kasey Kahne and Aric Almirola have overcome early poor results with Kayne's recent win and Almirola's pole. Kyle Busch has been getting top finishes recently but engine failure stopped that during the last race in Dover.
Mechanical woes have plagued Tony Stewart and Carl Edwards often. They struggle. Juan Montoya and Jamie McMurray have not shared the success that their Ganassi Racing mates in IndyCar racing have and dropped once again.
All Sprint Cup drivers take their point totals into the next race, the Pocono 400 presented by NASCAR June 10 at Pocono Raceway. Fans not in the stands at the 2.5-mile tri-oval track with 14-degree banking can view the action at 12 p.m. ET on TNT.
Before the green flag waves at Pocono fans might want to look over the "rock and drop" list selected for review from the top 24 this week. Drivers and teams generally move up or down one or two spots every race with the new point system.
The top NSCS "rock and drop" list this week:
2. Matt Kenseth (--)
3. Dale Earnhardt Jr. (+1)
4. Denny Hamlin (-1)
8. Tony Stewart (+1)
9. Kyle Busch 406 (-1)
12. Carl Edwards (-2)
14. Kasey Kahne (+1)
17. Aric Almirola (+2)
19. Marcos Ambrose (+1)
20. Juan Montoya (-2)
21. Jeff Gordon (+1)
22. Jamie McMurray (-1)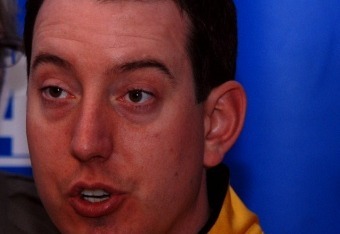 Five select drivers shared their thoughts after race 13 going into race 14.
Unlike his driving characteristics Matt Kenseth does not have an aggressive public personality and he often offers few comments. But Kenseth is also known for great subtle humor and solid analysis. This champion has been hovering around the top all season and he is not the type to hype.
Matt Kenseth (No. 17 Ford)
"My team did a good job of getting good pit stops and making some adjustments to keep us in the game there," Kenseth said. "I am happy to come home third with a car that didn't drive the way we wanted it to."
Much has been made of Dale Earnhardt's win drought, but no Sprint Cup driver has more top-10 finishes in 2012 than him—10. Win or not, if the No. 88 team keeps up its present performance he will be a prime contender for the Sprint Cup title.
Dale Earnhardt Jr. (No. 88 Chevrolet)
"Man that No. 24 was fast, I know they are disappointed they did such a great job, that car was amazing, "Earnhardt said. "I'm real happy for Hendrick Motorsports, Rick and everybody, all the employees. We've got the fastest cars in the business right now. They ought to be real proud. We are getting close. We are finishing good when we are not winning. I can't complain too much about how we are doing. We've got some tricky tracks coming up for us. The summer months aren't really my thing, the tracks at least, but hopefully we can have some more good runs."
Kyle Busch is proven winner, but he and team simply have not been able to take regular Sprint Cup season wins beyond to the playoffs. The result is zero championships for this worthy winner.
Kyle Busch (No. 18 Toyota)
"Unfortunately we had a valve spring break and dropped the valve, which hit the pistons," Busch said. "It's real unfortunate. You know, we had good car. I hate it that we give a post-race interview this way rather than finishing. I just hate it for these guys; they've worked so hard. We had some really good runs going as of late, finishing in the top five."
Kasey Kayne had to wait a year to get his Hendrick Motorsports ride and the first few months in the No. 5 were dismal because of crashes and mechanical failures. Kayne and team have pressed on and they got a win to boost their efforts. They are on the move.
Kasey Kahne (No. 5 Chevrolet)
"It was cool to see Jimmie Johnson win again and another win for Hendrick Motorsports," Kayne said. "I think that's about a month and it's cool to be a part of all that.
"We keep moving up. Every week we move up at least a spot. So that's a good thing. We're working hard for that. We're just trying to be consistent; but I just want to get the car right."
Jeff Gordon has had a troubled start this year. He and team want desperately to turn it around. This champion will not quit.
Jeff Gordon (No. 24 Chevrolet)
"The fastest car doesn't always win the race," Gordon said. "And we're sitting here in 13th or whatever; it's silly.
"We've had things out of our control this year. And I'm not really sure what happened. But obviously something happened.
"It's always more frustrating when you've got a car that can win; and you show it by going up there and taking the lead. We don't care about finishing top 15 or top 10 right now. That does nothing for us. We need wins."
Only one driver and team will nab the checkered flag and go on to the next challenge, but every week some teams boost or deflate their standing.
This rock or drop analysis will return for fan inspection.
Race details available at www.poconoraceway.com
FYI WIRZ is the select presentation of motorsports topics by Dwight Drum at Racetake.com. Unless otherwise noted, all quotes were obtained from personal interviews or official release materials provided by sanctions, teams or track representatives.