WWE: Will a Monster Push for Ryback Fill the Randy Orton Void?
June 5, 2012

A report broke Monday night from SuperLuchas.net and reported by Lordsofpain.net that WWE chairman Vince McMahon has informed creative to continue to make Ryback look as dominant as possible. Apparently, McMahon feels that Ryback could be a new version of Bill Goldberg.
Only one problem: Goldberg debuted by defeating talent that WCW fans actually got to see on a weekly basis. They were mid- to lower-level type of guys, but Goldberg was defeating names week in and week out.
While Ryback started off defeating guys from NXT, WWE has thrown us a curve ball and are now booking no-name jobber talent to face Ryback. The same two-on-one formula has been going on for the past few weeks.
As seen last night on RAW, Ryback debuted on RAW by putting on another powerhouse performance by throwing two jobbers around the ring. When will this formula end? By putting him on RAW, WWE was gauging how the crowd would react to the dominating superstar, but was it effective?
Another report broke on SuperLuchas.net and reported by LordsofPain.net on Monday night that Randy Orton had a "hostile" meeting with McMahon, Triple H and Kevin Dunn regarding his recent suspension. There is a lot of speculation coming out of this meeting about the future of Orton in WWE.
The fact remains that Randy Orton will be away from SmackDown for 60 days. While WWE will use top stars like CM Punk and John Cena on the "blue brand," it seems that Ryback could be the guy that is inserted into top programs.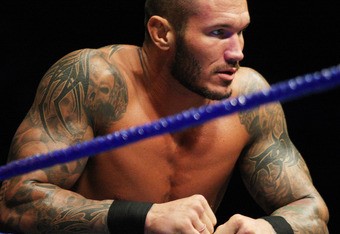 Gallo Images/Getty Images
In order for this to work, WWE needs to add a few elements to his character. Many unanswered questions need some kind of answer. Who is Ryback? What is Ryback? Why is Ryback here?
Only time will tell whether these questions will ever have an answer. WWE likes to keep the fans in the dark about certain aspects of certain superstars. The intrigue can keep a guy like Ryback fresh and unpredictable in the minds of the fans.
Personally, my idea for Ryback would be something completely different. I would continue to book him as an overpowering, robot type of superstar and then have the returning Wade Barrett be the one behind his destruction.
Barrett was his leader in Nexus and it could be an interesting direction for the character to go. Ryback would essentially turn heel and help Barrett's push. After a few months of build, I would turn Ryback on Barrett and then give him the "Goldberg push" that WWE is looking to give him now.
It is hard to tell whether Ryback could be the man to ultimately fill the void that Orton has left. If built properly, he could take the WWE by storm in a very short time period. He should be built towards a goal of taking down a dominant monster like The Big Show. 
While having him destroy jobbers every week is cute for the time being, will it be the formula to bring Ryback to the top of WWE?
Did you agree with what I had to say about Ryback filling the void for Orton? Whether you agree or disagree, make sure you comment below and let your voice be heard.
Also, please visit ProWrestlingPowerhouse.com and get involved in our community. Join us at our Facebook group where a lot of great wrestling interaction takes place on a daily basis. We are growing a community that prides itself on allowing everyone to express their voice and opinion.

Contact me at ProWrestlingPowerhouse@gmail.com.
PLEASE FOLLOW ME ON TWITTER @PWPowerhouse.
LIKE US ON FACEBOOK.