Boston Red Sox: Why Bobby Valentine Is the Early Season Manager of the Year
June 5, 2012

Ed Zurga/Getty Images
With the 2012 MLB Draft in full swing, it is important not to forget who the Red Sox have as skipper of the ship for the big club.
And the Red Sox have a good one. Perhaps the best.
Bobby Valentine is your early season manager of the year. You cannot say that about many managers whose teams have spent the majority of the year in last place. But it is true. With internal conflict combined with an array of injuries, it is amazing the Red Sox stand at 28-26 and find themselves only three games out of first place in the AL East.
Valentine took the helm of a team that was on the wake of a historic September collapse.
That was bad enough.
Then the injuries started.
They have been without Carl Crawford, Daiskuke Matzuzaka and Andrew Bailey all season.  Kevin Youkilis and Jacoby Ellsbury have spent the majority of the season on the DL. They also recently lost Cody Ross and Dustin Pedroia to injury.
Click here for a complete list of injuries. 
Many teams would have fallen apart with that amount of player time on the DL.
They could have fallen apart when they lost Ellsbury to a broken collarbone in the infancy of this season. Last year's MVP candidate was a spark they needed, and when that spark was extinguished Ryan Sweeney and Ross admirably filled the roll.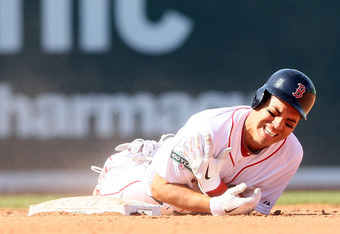 Elsa/Getty Images
When Kevin Youkilis went down with a lower back injury Valentine showed faith in rookie Will Middlebrooks. His faith was rewarded more than anyone could have expected. Middlebrooks has hit .314, with six home runs and 22 RBI. He has effectively made Youkilis tradable. 
Valentine's handling of this situation should not go unnoticed. Because of injury a veteran lost his job to a rookie.
This is no small event. Youkilis is not your laid back J.D. Drew brand of veteran. He is feisty, gritty, and perhaps the kind of player who would make a stink about not starting.
But Valentine has handled the situation with the dexterity one would expect of an early season Manager of The Year candidate.
He placed Adrian Gonzalez, his superstar Gold Glove-winning first basemen, in right field. This effectively allowed Middlebrooks and Youkilis to stay in the lineup at the same time. It is not the idea of doing it that's impressive, it is the willingness to think outside the box and actually execute the idea that's so impressive.
There has not been a peep out of Youkilis.
Whether it has been Valentine's influence or a natural awakening of the player's themselves, the lack of excuses has been refreshing.
Valentine has kept the ship afloat during the early season storm and now has it at full steam ahead. They are 6-4 over their past 10 games. (mlb.com)  
He has also done all of this under the intense pressure of managing in Boston and following a beloved manager.
Players and fans alike loved Terry Francona. But it was time for him go. A certain complacency had a firm grip on Francona's clubhouse and a change had to be made.
That change was Valentine.
At first, it seemed like the Valentine/Red Sox match was not one made in heaven.
Players did not immediately take to the new guy. Francona was the ultimate player's manager. Valentine is not. He had an early season conflict with Youkilis when he questioned the veteran's commitment: "I don't think he's as physically or emotionally into the game as he has been in the past for some reason." (ESPN)
The players, most notably Pedroia, circled the wagons around Youkilis. Pedroia came out in defense of Youkilis:
"I know that Youk plays as hard as anybody I've ever seen in my life. I have his back, and his teammates have his back. We know how hard he plays. I don't really understand what Bobby's trying to do. But that's really not the way we go about our stuff here. I'm sure he'll figure that out soon." (Yahoo! Sports) 
Pedroia really is the de facto captain of this team. To mentally lose him early on would have been a disaster. But Valentine deftly worked his way back into the good graces of Pedroia and didn't let the small fire turn into an inferno of internal conflict.
He kept the ship going when Josh Beckett was embroiled in a PR nightmare because of an ill-timed golf outing.  
Perhaps Valentine will never have the same type of relationships with his players that Francona had. But the Red Sox are winning. Valentine has a lot to do with that.