NHL Trade Rumors: 3 Reasons the Boston Bruins Could Use Rick Nash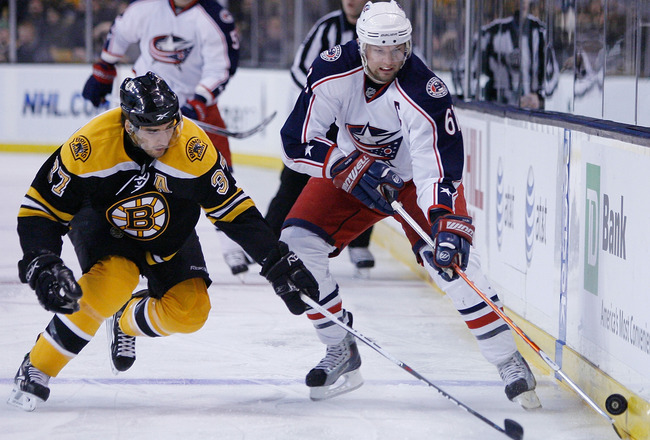 Elsa/Getty Images
When the rumors of the Boston Bruins eyeing a trade for Rick Nash originated in November, the entire proposition was absurd. It made no sense from a salary cap or chemistry standpoint and the reported compensation for Columbus, namely young goaltender Tuukka Rask, would have made it a poorly-conceived deal for both parties.
More than six months have passed and plenty has changed in the interim. All the while, the rumors have caught a second wind.
Most recently, high-ranking Hockey News columnist Ken Campbell has brought up an interesting point as to the latest Tim Thomas chapter and how it might influence a Nash deal. Campbell explains that, just as teams need to be conscious about not maxing out their cap space, there is also a minimum limit as to how much dough a roster can take up.
Accordingly, Nash's Blue Jackets might take on the vacationing Thomas' contract simply for the sake of fulfilling that $54.3 million limit.
And even if Thomas is not packaged, the Bruins could still find a way to create cap room and depth chart room by either trading or standing pat on unsigned free agents like Chris Kelly and Benoit Pouliot. And they can offer the Jackets such pieces as rookie blueliner Torey Krug and maybe a few draft picks for this year and/or 2013.
Whether or not they pursue Nash, and how they go about it, may also depend on the long-term prognosis of Nathan Horton, out of commission since he was re-concussed in a Jan. 22 game.
Regardless, there are three specific reasons why Nash could only help Boston's product on the ice starting in 2012-13.
True Top Six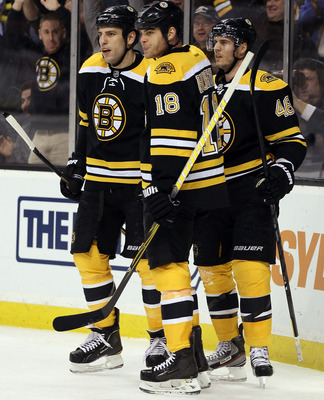 Elsa/Getty Images
Tyler Seguin should one day be an elite scorer, supplying at least 40 goals and tinkering on triple-digit points on a yearly basis. But he is not there yet and may not be for at least one or two more seasons.
And even as the youngest skater continues to burgeon, it could not hurt for Boston to add a second certified threat of a winger. With Nash working on one line and Seguin on another, the Bruins top six could actually feature a prolific producer on each unit for a change.
As evidenced by his two most recent playoffs, Milan Lucic might be on the 30-goal borderline in the regular season, but the Bruins cannot continue to bank on him giving them top-six minutes. They can and should still use his physicality, but he should strictly be a third-liner from here on out.
The best-case scenario with Nash in the equation next year would have the fourth line of Gregory Campbell, Daniel Paille and Shawn Thornton intact while Lucic rotates with the likes of Jordan Caron, Rich Peverley and Brian Rolston on the third line.
That would leave room for Nash to join Seguin, Patrice Bergeron, Horton, David Krejci and Brad Marchand among the top six.
Copying Kovalchuk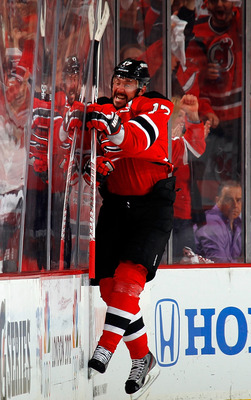 Bruce Bennett/Getty Images
As was the case with Ilya Kovalchuk, a long-time Atlanta Thrasher before his 2010 transfer to New Jersey, Nash has played all of four Stanley Cup playoff games with the team that drafted him. Columbus was swept out of the first round by Detroit in 2009 and that has been it.
But through at least the first three rounds of the ongoing 2012 playoffs, Kovalchuk is proving that a dearth of prior postseason experience need not preclude a veteran sizzler from contributing to a Cup run.
If anything, going from a perennial bottom-feeder to a certifiable contender ought to bring more out of Nash, who should have been following (and deriving inspiration from) Kovalchuk's story these last six weeks.
Pumping Up the Power Play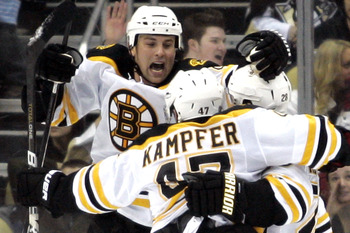 Justin K. Aller/Getty Images
The loss of Marc Savard, who we can assume will not restore to his former self, has indubitably been the single-greatest contributing factor in a mediocre man-up brigade. But if the Bruins place him on long-term injured reserve, they will enhance their ability to work Nash into the cap and let him earn his salary to their benefit the same way Savard once did.
While working with a perennially-shallow strike force, Nash has tallied no fewer than six goals and eight assists in a single season on the power play. The Bruins, meanwhile, have converted 16.2 and 17.2 percent of their chances in the two seasons played mostly or entirely without Savard.
Imagine how Nash's individual stats and Boston's team data would benefit from a symbiotic alliance?
And again, Kovalchuk and the Devils are proof of the benefits a team can reap by importing a prolific producer, whether it is at even-strength or on special teams. Five of Kovalchuk's seven playoff goals and eight of his 18 points have been on the power play, often making a critical difference in New Jersey's victories en route to the Eastern Conference crown.
Keep Reading

Boston Bruins: Like this team?