LSU Football: How Les Miles Plans to Rebound After Disastrous Ending Last Year
June 5, 2012

Chris Graythen/Getty Images
I thought they were going to go down as one of the most dominant college football teams of all time.
I remember watching LSU's defense fly around the field in that opening game of the 2011 season and disrupting an Oregon offense that was considered by many to be the most lethal offense in all of college football. 
This was a team that had all the ingredients of a national championship contender. A suffocating defense that held nine of it's 14 opponents to 10 or less points. A four-headed monster backfield that combined to rush for more than 2,300 yards and 30 rushing touchdowns. A special teams unit that was highlighted by arguably the best punter and punt returner in all of college football.
I remember watching this team run through the SEC schedule like college football has never seen before. The Tigers outscored their first five conference opponents by a combined score of 178-41, which included the likes of Florida, Tennessee and Auburn, the previous year's national championship winner.
I remember the Tigers going into Tuscaloosa that following week and taking down unbeaten Alabama in a 9-6 overtime thriller. That dominant defense was at it once again.
"Oh, I get it," I said to myself after that game.
This team was that good and this looked like history in the making.
The dominance continued after that as Les Miles' team steamrolled through the rest of the SEC schedule, closing out the regular season with a 42-10 stomping of Georgia in the conference championship game. That punched the LSU's ticket to the BCS Championship Game and earned them a much anticipated rematch with SEC foe Alabama.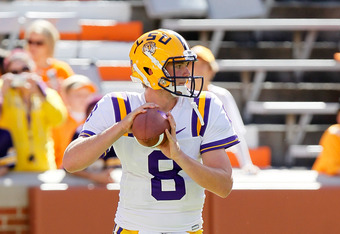 Kevin C. Cox/Getty Images
Then, it all went south.
The Tigers' national championship dreams were shattered as the Crimson Tide steamrolled LSU in a 21-0 blowout.
That dominant rushing attack that had been so effective throughout the regular season, disappeared at the most inopportune time. That dominant defense did it's best to hold off Trent Richardson and the Alabama offense, but after being on the field for so long, they had to bend at some point.
It was a disastrous ending for a team that truly made people believe they were witnessing something special, and that doesn't happen too often in college sports.
The perfect team was not so perfect anymore and a dream that came so close to being a reality, soon turned into a distant memory.
So now, nearly five months later, Les Miles and his staff are at it again, preparing for a new year with new hope ahead.
Gone are Jordan Jefferson and Jarrett Lee, the two quarterbacks that many fans blame for LSU's downfall and inability to deliver in big games over the past four seasons. In comes quarterback Zach Mettenberger, who despite his lack of experience, carries heavy expectations on his shoulder.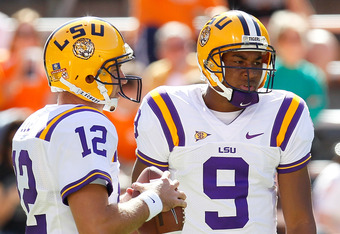 Kevin C. Cox/Getty Images
Mettenberger is a highly touted quarterback with a big-time arm, which Miles plans to utilize in the upcoming 2012 season. LSU's head coach has come out and said that he plans to be more aggressive in the passing game this year, which is something that he was often criticized for not doing last season, especially in the national championship game.
Mettenberger will have an abundance of talented receivers to throw to, as well as the same dominant backfield behind him, as all four running backs are set to return in 2012. This should bode well for this LSU offense and help the young quarterback throughout his adjustment period.
The defense will look much the same, with six starters back, four of which have already been tagged as potential first-round selections in the 2013 NFL draft. Tyrann Mathieu and Eric Reid will guide what should be an exceptional secondary, while Sam Montgomery and Barkevious Mingo will anchor a defensive line that is arguably the top unit in all of college football.
But the problem for LSU in last year's national championship disaster wasn't the play of the defense. It wasn't the play of the running backs, or the wide receivers or any skill position players. The problem in that game was the play of Jordan Jefferson and the offensive play calling by Les Miles and his coaching staff.
The plan to fix those two things looks to be in place this season with Mettenberger now under center and a new offensive vision for coach Miles, which involves airing it out and being more aggressive on offense.
LSU is set to open the 2012 college football season on Sept. 1 with a home matchup against North Texas. It will be Miles' first chance to show off his new starting quarterback and give fans an idea of how this new offense will look.
A new beginning to a new season, but of course, with those same high expectations.
Chances are that after the first week, LSU fans could be thinking the same exact same thing as last season—"this is our year."
Maybe it is, maybe it isn't.
But at this point, only time will tell.