Have Carlos Gonzalez and the Colorado Rockies Turned the Corner?
June 5, 2012

Doug Pensinger/Getty Images
It's never comforting to admit your season is on the line. Muttering such a phrase in May generates a sense of hopelessness.
But with its all-star shortstop on the disabled list and the fanbase demanding the coaching staff and management to be put on the chopping block, the Rockies surprised everybody (and likely themselves) by reeling off a 6-1 homestand, outscoring opponents 58-34 in the process.
Their dominance at Coors Field spilled over into Phoenix on Monday night. Christian Friedrich hurled seven scoreless innings and 9 different players recorded hits en route to a 4-0 shutout victory.
The Rockies have returned from the abyss and are now one of the hottest teams in baseball.
Carlos Gonzalez has led the recent charge, cranking out four homers, nine RBIs, and a .500 average over the past week. His presence was a sore subject for the Dodgers, who lost two of three to the host Rockies over the weekend.
CarGo punished LA's pitchers and reminded them of their own injured superstar, Matt Kemp. The pivotal homestand alone has catapulted Gonzalez into the early NL MVP race. He sits among the top 3 hitters in all major offensive categories.
But obviously baseball can't be won with a single player. A handful of unlikely sources contributed to the offensive outburst.
Dexter Fowler brushed off his oft-maligned play at the plate and pounded 10 hits in the Houston series. He appeared to be in danger of losing his starting job only a couple weeks ago, but has since reclaimed his territory with a vengeance.
In addition, he's paying big dividends at the top of the order. Fowler carries a 9-game hitting streak into Tuesday night's contest against the Diamondbacks. More notably, he has also scored in each of those 9 games and is hitting .467 since May 15, tops among all NL players.
Jordan Pacheco has a hitting streak himself, boasting a seven-game tally after Monday's game. Todd Helton has reached game number 10. Wilin Rosario's emergence as the starting catcher can be attributed to his athleticism and power.
In fact, Rosario has more home runs than any catcher per plate appearances. Michael Cuddyer continues to be his reliable, steady self and contributed eight runs and eight RBIs, respectively, during the Coors Field stint.
The Rockies are truly firing on all cylinders.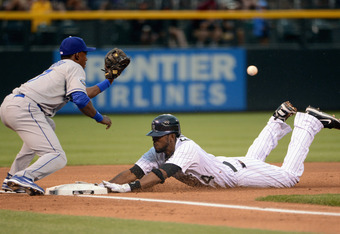 Doug Pensinger/Getty Images
So the tease at 20th and Blake continues. Just when the city is ready to prematurely turn the page on the boys of summer, the Rockies bats pound our Broncos alarm clocks into oblivion. There's still a reason to watch, so don't give up yet.
If you want to get your hopes up, just don't look at the standings. Despite the recent hot streak, Colorado still sits 4th in the division, six games under .500 and 9.5 out of first. The pitching staff is enduring reconstruction once again, with Juan Nicasio landing on the DL and Jamie Moyer being shown the door.
However, the remaining arms are slowly but surely showing signs of improvement, allowing five runs or less in five of the past six games. The exception was a six-run game against the Dodgers, in which Nicasio's injury limited him to less than two innings of work and forced the bullpen to work overtime.
Colorado appears to be on the upswing. Plus, Troy Tulowitzki's return will only improve the lethal batting order.
Then again, these are the Rockies. We are used to seeing promising seasons disappear faster than pennies on Dick Monfort's property. On the bright side, this young group suddenly appears to be armed with unabated confidence. The impending pressure of a doomed season has vanished, for the time being.
Jim Tracy's squad still has a long way to climb, but at least Colorado is finally performing in June games as if it were in the heat of Rocktober.
We'll get a true taste of the Rockies' meddle in a couple weeks, where a gauntlet of a road trip lies in wait. After the current three game set in Arizona, Colorado returns home for six games. Then, Todd Helton and Co. will make their way out to Detroit, Philadelphia, and Texas.
If the Rox manage to ride their momentum through the homestand and can win 4 of 9 against the murderer's row of the league's elite, Colorado may in fact be for real. Until then, it is completely fine to reserve judgment.
At least we can all hope the Rox will still be relevant in July.