WWE RAW: 5 Reasons Why Sin Cara Will Never Be a Main-Eventer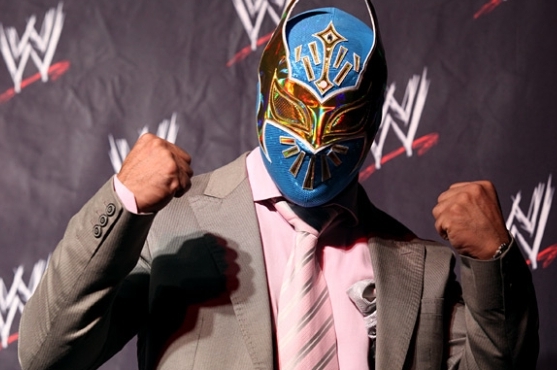 thesuplex.com
Last night saw the return of Sin Cara to Monday Night Raw.
After returning on Friday Night Smackdown to defeat Heath Slater, the Mexican superstar was launched straight back onto the main show to battle Hunico.
While this was a solid match, without any overly noticeable errors, the moment Sin Cara came out it with his new entrance run and new, slightly mixed up music, there seemed to be overruling feeling of something being missing.
Sin Cara had become known for his mistakes, but after being out since last year's Survivor Series, the high-flyer looks set to be launched straight back into the upper card.
But why? Does he really fit?
Here's five reasons why this shouldn't be the case.
Begin Slideshow

»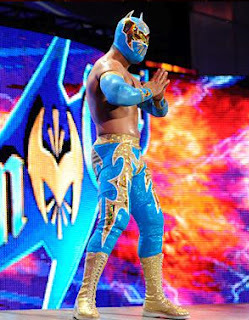 sharpshotterpress.blogspot
POINT LEFT. POINT RIGHT. POINT FRANTICALLY.
This is about the total amount of mic work we have come to expect from Sin Cara.
While there have been moments of brief English, it is hard to find yourself relating to a wrestler when the only way they get themselves over with the audience is by waving their hands.
The superstar is being built as a more acrobatic version of Rey Mysterio, but with Rey's emotion in his words setting up some of the biggest feuds of his career (such as his battles with Batista and Eddie Guerrero), it is difficult to see Sin Cara following the same path.
Immediately, this may seem petty, but I have a very good reason for it.
The whole lighting thing is meant to add some sort of mystery, but it seems simply to insult the other competitors.
In this example, Daniel Bryan, who has risen to the top of the company since this time, has clearly been demeaned, as no matter what Bryan does, this match is all about Sin Cara because of the blue tint to the ring.
It makes whomever Sin Cara is fighting look like a jobber, and it ruins any idea of unpredictability. This hinders the standard of matches and will keep him firmly in the midcard.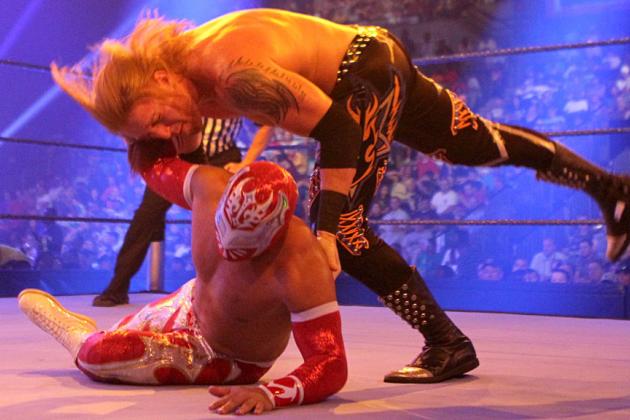 wwe.com
While it is undoubtedly exciting to watch him, there are key issues with his in-ring style.
Firstly, the big jumps and high-flying ability look good, but would it be so believable if he was to take down The Big Show with a flying elbow? Or Tensai? Or anyone over a certain weight?
With that, it is only realistic that Sin Cara could be successful in lower-card wrestling. This could potentially be helped by bringing back the Crusierweight division.
Another thing is Sin Cara's finisher. Normally, spinning a guy round twice and throwing them to the mat wouldn't even get a two count. He needs to consistently use the cross armbar to finish his opponents to increase the believability.
I can accept beating Hunico, but I can't imagine it defeating some solid upper-card heels.
To put Sin Cara over, you need to give him a good rivalry. So far the only rivalry we have been treated to is the Mask versus Mask feud with the black Sin Cara (Hunico), and a brief feud with Chavo Gurrero, but nothing else of note has really occurred.
A feud with a heel Christian for the Intercontinental title would make sense, but apart from that it's difficult to think of opponents.
With no suitable rivals, how can WWE build him?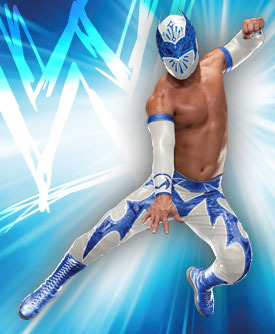 wwe.com
While this clearly appeals to children, and therefore appeals to the WWE money men, it is difficult to look past the fact that Sin Cara looks like a Power Ranger that didn't complete "Morphing Time."
To build the character, WWE should give him a mask that doesn't muffle his speech and take away the long armbands he wears.
Although I appreciate that countless wrestlers have made strange looks, masks and no speech work for them (the obvious example being Kane), to push Sin Cara, his look will need a rethink.
Sin Cara is an interesting case. With a huge fanbase that has continued to swell despite injuries and suspensions, it seems like he will reach the top, but the issues previously stated must be addressed.
To build him, putting him into a feud with a midcard title holder would make sense.
However, to build him quickly, and to continue to produce a series of great matches, a feud with Hunico would make sense.
With both wrestlers speaking Spanish, it would allow botches to be limited as Sin Cara builds his confidence again.
It also has a good dynamic with Mexican origins, and with the previous feud behind them, it would be a good chance to show off the talents of both men.
Thanks for reading. Apologies to anyone who commented on any of my previous articles and I didn't reply—I was on holiday. As always, I welcome comments below and you talk to me/follow me on Twitter @markpirie.