NFC South Morning Jog: Tampa Bay Buccaneers Have Best Shot to Go Worst-to-First
June 5, 2012

Al Messerschmidt/Getty Images
Each morning, I like to start the day off with a workout—usually a morning jog. I can clear my head, plan my day and think about what's going on around the NFC South.
Of the four last-place finishers in the NFC, Daniel Jeremiah of NFL.com gives the Buccaneers the best chance of moving from worst to first in their division.
The Buccaneers will announce a new member of their Ring of Honor on Wednesday, according to the Tampa Bay Times. There are no indications as to who it might be yet.
Tampa Bay signed first-round running back Doug Martin on Monday to a four-year deal with a team option for a fifth year, per the Tampa Bay Times.
The Buccaneers made some defensive line moves on Monday, signing defensive ends Wallace Gilberry and Jayme Mitchell and cutting defensive end Hilee Taylor and defensive tackle Myles Wade, according to the team's website.
In a gander into the future, Julio Jones was listed at No. 3 on ESPN's list of the top 15 wide receivers in 2015. ($$)
Pete Prisco of CBSSports.com believes that Matt Ryan will prove all of his naysayers wrong soon and get rid of the nickname "Mr. Regular Season."
Jonathan Stewart was listed on ESPN's look at the top 10 running backs in 2015. This is another consideration for the Panthers as Stewart approaches free agency. ($$)
According to the Charlotte Observer, head coach Ron Rivera announced that an MRI revealed no serious damage to right tackle Jeff Otah's left knee, a knee that has caused Otah trouble in the past.
Mike Triplett of nola.com gives Saints fans four things to check out at minicamp. New Orleans will have five practices over the next three days.
Drew Brees announced that he actually could sing and dance last week and now is exploring more options in case quarterbacking isn't an option in 2012. In all honesty, Brees was just driving a cab for charity on Monday (via Twitter).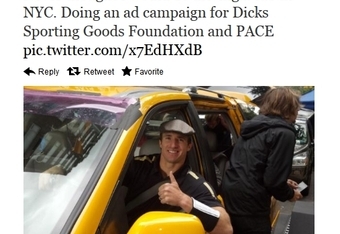 Curtis Lofton was reportedly the one asking the questions when it came to the wooing process between the Saints and the former Falcons linebacker. Lofton wanted to know about possible bans to players and coaches and whether or not Drew Brees was coming back. All this happened before Lofton signed with New Orleans, according to NFL.com.
NFC South
A look at the biggest post-draft needs of each team in the NFC South, via FootballOutsiders.com.