Starlin Castro: Dale Sveum's Public Tirade Toward Shortstop out of Line
June 5, 2012

Christian Petersen/Getty Images
Dale Sveum's comments toward Starlin Castro's mental blunders points to a Chicago Cubs franchise in complete disarray.
"It's the last straw," Sveum publicly admonished his shortstop, according to USA Today's Bob Nightengale, after the Cubs' 3-2 loss against the San Francisco Giants Monday. "He better start getting his head in the game. Period.''
About this, Sveum is absolutely right.
It is the last straw.
It is the last straw for an organization that is beyond abysmal.
At 18-36, the Cubs are already 12.5 games behind the NL Central-leading St. Louis Cardinals. Only the San Diego Padres have a worse record than the Cubs.
Offensively, the Cubs are near the bottom of the league in nearly every category. The team has a .247 team batting average. With 191 runs scored, they are 27th out of 30 big-league teams in run production. The Cubs' OPS is .685. Only Seattle, San Diego, Pittsburgh and Oakland have been worse.
Chicago's pitching has been equally abhorrent. The team is 25th in team ERA and has walked 201 hitters. Only Toronto and San Diego have handed out more free passes. Interestingly, opponents are batting just .242 against the Cubs, which is good for 11th in the league. Yet the Cubs have given up 242 runs, which is eighth worst in baseball.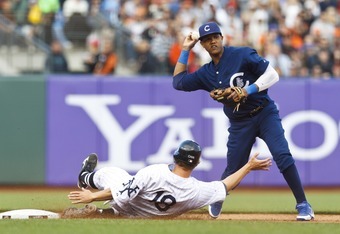 Jason O. Watson/Getty Images
Defensively, the Cubs have committed 38 errors. This is 22nd in the league. As is the team's .991 fielding percentage.
Sveum has every right to be frustrated. He manages a team that is uninspired when taking the field each and every day.  
But publicly admonishing your best ballplayer is not exactly a terrific way to inspire high performance.
I am all for accountability. Combined with integrity, accountability is the bedrock of any successful team.
But publicly attacking a young player—versus professionally handling accountability behind closed doors—is something that is beyond repulsive. And it points to a manager trying to shield himself from taking responsibility for his team's shortcomings.
While public chastisement makes for great ratings, it is a great way to lose a good ballplayer.
The bottom line is Castro is a 22-year-old phenom with absolutely no mentorship whatsoever. Alfonso Soriano was supposed to take this young man under his wing, but this apparently did not work at all. Worse, Castro plays on a team that has no immediate hope for turning things around. At this point, it is safe to say the Cubs are well on their way to a 100-loss season.
"These things have got to stop happening,'' Sveum continued, "or we're just going to stop playing [Castro]."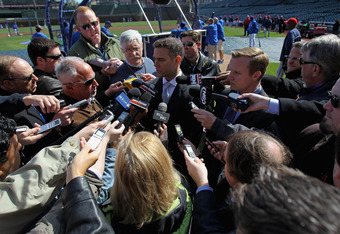 Jonathan Daniel/Getty Images
To this comment, I say great.
Stop playing Castro. Plant this talent on the bench to make the situation in Chicago even worse. Let the ballplayer's morale tank and value plummet so the Cubs cannot get anything in return for a trade.
Awesome!
What a great way to inspire your team.
Here is another way to deal with the situation. Perhaps Theo Epstein and company do some serious self-reflection about their own dealings before publicly dropping boulders on their ballplayers.
Related Articles: