Top 6 Reasons Chelsea Will Repeat Their Champions League Success Next Season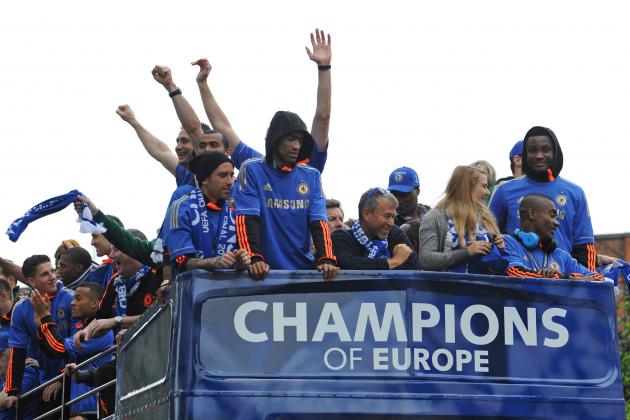 Steve Bardens/Getty Images

Chelsea have become the first London club in history to win the Champions League trophy. The triumph has led the club to prepare for a repeat of their success next season. Chelsea's billionaire owner Roman Abramovich had one dream, and that was to win the European title. Now the Russian owner is determined to win again with The Sun, quoting Eden Hazard:
I spoke to Roman Abramovich. We had a brief exchange and we were on the same wavelength. Chelsea are already a big club but have the ambition to become even bigger. That comes through signing great players to accompany the great players they already have — and they want to sign more big players.
This article will take a look at the top six reasons why the odds are in the favour of Chelsea FC in next season's Champions League.
Begin Slideshow

»
Chelsea has been linked with two of the most sought-after players in Europe in this transfer window. Chelsea confirmed the signing of Hazard from Lille on Monday in a deal reportedly worth around $49 million. UK's The Guardian suggests Chelsea may be near to signing the highly rated Brazilian winger Hulk as well.
Eden Hazard and Hulk will bring a fresh style of play to the aging Chelsea squad. Hazard could take on a playmaker role, while Hulk could position himself on the wing, bringing in force and speed to the team.
Consequently, Fernando Torres can be positioned in front to receive their assists.
Hulk and Hazard together scored a stunning total of 43 goals this season. Combined with Chelsea's other sharpshooters, Stamford Bridge should have no problem hitting the net next season.
Didier Drogba, the 34-year-old striker, has left Chelsea after eight years of loyal service and winning 12 trophies.
Although he had played an integral part in Chelsea's Champions League win this season, the Cote d'Ivoire captain's contract was not renewed and is now a free agent.
The Independent.co.uk suggests that Salomon Kalou and Jose Bosingwa will be joining Drogba on his way out of Stamford Bridge. Chelsea are also looking to sell previously loaned-out midfielder Yossi Benayoun, possibly selling him to Arsenal.
Roberto Di Matteo, the former Chelsea player and interim manager brought Chelsea back to its glory days in a wonderful turnaround for the team after a devastating start to the season. Di Matteo reignited hope in the squad and led the team to its strength.
The impact of Di Matteo was obvious when The Guardian reported that players have pleaded to retain the Italian as a permanent manager.
After becoming the first London team to win the Champions League the team should become more confident in winning the title again next season. Whether or not Di Matteo will be there to guide the team along next season is another factor still undecided by the club.
Chelsea have won the Champions League this season simply by playing defensive.
Although this style of play has been dubbed as "ugly football," it has ultimately won the London club the most prized trophy in Europe.
Up against two of the greatest teams in Europe, the club's defenders and midfielders banned together to create a defensive wall that kept out top goal scorers Arjen Robben, Mario Gomez, Andres Iniesta and Lionel Messi. This led the team to beat the odds to victory against Barcelona and Bayern Munich.
The Chelsea back line consists of Branislav Ivanovic, Ashley Cole, David Luiz, John Terry and Gary Cahill—a lineup worth betting on.
El Nino will play a vital role next season.
Fernando Torres now has pass master Eden Hazard to back him up with assists in the attacking third and create more goal-scoring opportunities.
In September 2011, the Spaniard had complained that his Chelsea teams had often been too old or slow for his liking, but if Chelsea manages to sign Hulk this summer, then the former Liverpool striker can depend on Hulk to bring in the speedy crosses he demands from the wing.
And above all, Torres has been selected by Spanish national team coach Vicente Del Bosque for the highly competitive spot in his nation's European Championship squad, which may prove to be beneficial to the striker's form.
What are your thoughts on the six reasons listed in this article?
Do you believe Chelsea will be able to repeat their success?
Or will we have to wait a few years to see Europe be painted blue again?