Aston Villa: 5 Bold Predictions for the Paul Lambert Era at Villa Park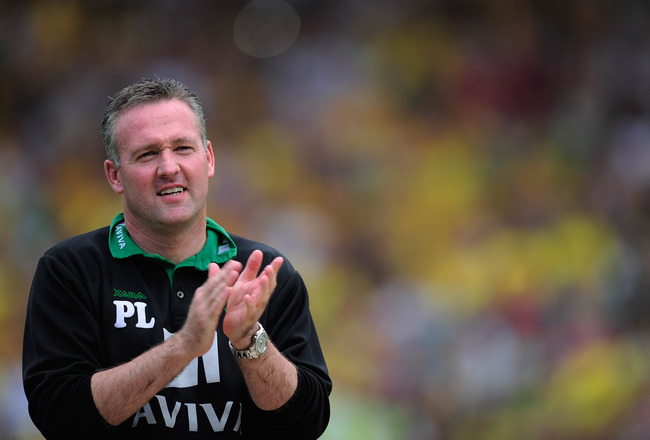 Jamie McDonald/Getty Images
Aston Villa's search for a manager came to an end this weekend with the news that the club has appointed former Norwich manager Paul Lambert on Saturday.
Chief executive Paul Faulkner had previously stated that the club wanted to find someone who would be with the club "for a long period of time to build their team." This should bode well for the 42-year-old, who will be able to steadily build a team of his own making.
After solid spells at Wycombe and Colchester, Lambert really came into his own at Norwich. He guided the Canaries from League One to an impressive 12th place finish in the Premier League.
What can Villa fans expect for the Scot though?
It is no easy task that he has walked into at Villa Park. The club is coming off the back of a 16th place finish last year in the league and serious work will have to be done to turn their fortunes around.
Here are five things that I believe will change at the club following Lambert's arrival.
How do you think he will affect the Villains? Post your comments below.
Villa Will Make More Use of Their Wingers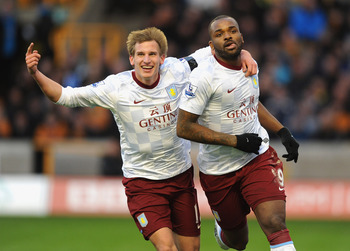 Michael Regan/Getty Images
Norwich played very direct football last season, concentrating on getting the ball out wide and sending in crosses to the strikers.
Villa have very capable wingers at the club in Marc Albrighton and Charles N'Zogbia and under Lambert, we should see much more of them.
Last season, Lambert did not look to dominate the possession of games and this will not change at Villa. Instead, the team will go back to the fast-breaking football we saw under Martin O'Neill. Where O'Neill used Ashley Young Lambert will used Charles N'Zogbia.
This will be great news for the Frenchman who endured a frustrating year at Villa Park.
He often struggled to get involved in the game and in many games saw very little of the ball. Under Lambert, N'Zogbia will see more of the ball, fulfilling a similar role to Elliot Bennett at Carrow Road, possibly switching into an inside position at times.
It should also be very good news for Marc Albrighton.
The right-winger has seemed poised to break out for Villa for the past few seasons but has not quite made the jump yet. He was only given 15 starts by McLeish last year but that should change under Lambert and 2012/13 could be a big season for him.
Stephen Ireland Will Have a Much Larger Role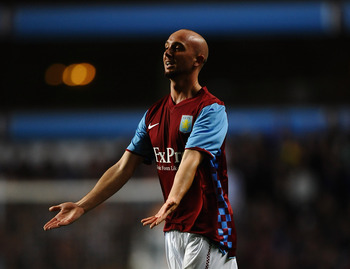 Laurence Griffiths/Getty Images
As well as utilizing the flanks—a feature of Norwich last season—having a midfielder playing just behind the front two. This role was primarily filled by Ireland's Wes Hoolahan while winger Elliot Bennett moved into the position from time to time.
At Villa the player most likely to fill this role would be Stephen Ireland. Barring Lambert bringing in a different man to play there, the former Man City player would thrive in being pushed further up the pitch.
While he may have been voted the Supporters' Player of the Year last season, Ireland often did not provide the creative spark that Villa needed in midfield. By pushing him further up the pitch and limiting his defensive responsibilities, Lambert can revitalise Ireland's role at the club.
Ireland's best season so far came when he was playing for Manchester City in the 08/09 campaign. He scored nine goals and contributed nine assists. That season, he was often playing in an advanced role with Nigel de Jong providing the balance behind him. If Ireland plays in a similar position next season, it could be a great year for him.
Villa Will Concede Fewer Goals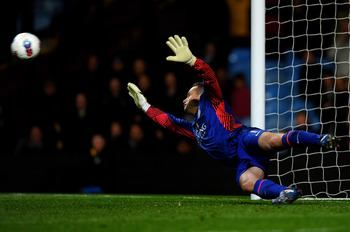 Laurence Griffiths/Getty Images
While Alex McLeish was brought in due to the impression that he forged good defences and well disciplined teams, this was not the case.
Instead Villa played negatively, forcing men behind the ball which led them to lacking direction when they gained possession and losing it far too cheaply.
Under Lambert, this will begin to change. The Scot obtained his coaching badges at the German FA, which shows in his teams style of play. Norwich's back four played with a lot of discipline which was helped by the presence of David Fox sitting just in front of them.
Lambert's team didn't dominate possession but when they got a hold of the ball they broke quickly, using the wings to convert defence to attack quickly and effectively. Under McLeish, the wingers had often tracked too far back, leaving the forwards isolated and rendering a lot of attacks impotent.
While this obviously helped Norwich in terms of attack, it also helped their defence immeasurably. Seeing the ball move up the pitch quickly eased the pressure and allowed the back four to regain their shape for the next attack.
Too often last season Villa's defence would clear the ball only to see it return almost immediately. The club has a solid back line and an outstanding goalkeeper. Next season, this should mean that the club will concede fewer goals, especially at home.
Lambert Will Buy a Target Man to Play Next to Darren Bent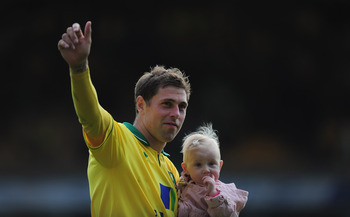 Jamie McDonald/Getty Images
The Mirror has reported that Lambert will be given a hefty transfer budget of £20 million to spend on new players. This figure seems a tad excessive given the tightening of the purse strings and the work that has been done to reduce the wage bill in recent years.
Whatever the figure may be, it seems likely that Lambert will invest in a target man to place alongside either Darren Bent or Gabby Agbonlahor.
At Norwich, Lambert had the pace of Canadian Simeon Jackson combined with the bruising play of Grant Holt. While at Colchester he combined the 6' 4" Clive Platt with a number of smaller, quicker players such as Jermaine Easter and Villa's own Sam Williams.
With no player at Villa currently fitting the bill, Lambert will most likely be looking to bring a bigger striker in to play next to Bent.
Lambert Will Achieve a Safe Mid-Table Finish in His First Season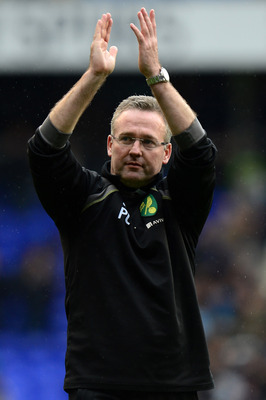 Shaun Botterill/Getty Images
Just because there is a new man in charge, things are not going to change overnight for Villa. However, the future is certainly looking a lot brighter following the appointment of Lambert.
The club already has a lot of the players needed to fit into the style of play that the Scot likes to play, and with a bit of money to spend, he should be able to fill the gaps that he needs to.
This means that after a season of looking nervously over their shoulders, next year should be a lot more relaxing for the Villa fans. The team should finish safely in the mid-table and challenge for a spot in the top half.
With a fit Darren Bent and a new attacking approach the team will also score far more goals than the paltry 37 they managed under McLeish.
After two years with four different men at the helm, hopefully this is the start of a long and prosperous tenure.
Keep Reading