Liverpool Transfer News: Reds Will Struggle to Finish Top 4 Without Dirk Kuyt
June 6, 2012

Dean Mouhtaropoulos/Getty Images
Dirk Kuyt's recent transfer to Fenerbache is going to hurt Liverpool throughout the season. 
Simple as that—they will struggle to secure a Champions League position next season without him.
After a dismal eighth place in this year's English Premier League, the Reds are in desperate need of strong signings in the summer transfer window to strengthen their squad and boost their chances of top-four success next season.
Failing to keep Kuyt wasn't the start that Liverpool needed, although in their defense, it wasn't like the club had much of a say in the matter. Kuyt invoked a clause in his contract that forced Liverpool to stand aside should he receive a lucrative offer from abroad.
New manager Brendan Rodgers stated that all players on the Liverpool squad would be given fresh starts—including Kuyt, who finished the season frustrated at the club for leaving him on the bench for their most important fixtures. As a result, the 31-year-old decided to take an offer that would see him move away from Anfield.
And it will hurt Liverpool's Champions League ambitions in the process.
After transferring from Feyenoord in 2006, Kuyt has notched up 67 goals for the Reds throughout all major tournaments. Most recently, Kuyt scored in Liverpool's thrilling Carling Cup victory to give the Reds their first piece of silverware in several seasons.
He has been a faithful servant of the club and one of their top strikers in recent years, yet in the season just finished in particular, he was left on the bench for several of the Reds' most important matches.
It would be his inclusion as a substitute that ultimately saw Kuyt choose to leave Anfield, commenting that "they give me the confidence that I lost" through his exclusion from the starting lineup.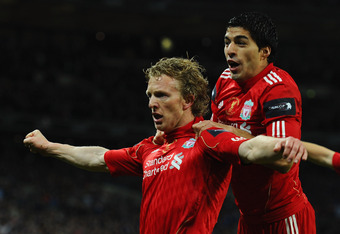 Mike Hewitt/Getty Images
Consider also that when he was included in the Liverpool starting side, he was often used as a winger—a position that, frankly speaking, he isn't equipped to play at. Granted he should still be effective regardless where he was played on the pitch, but Kuyt simply isn't a winger. He is weak in crossing and isn't effective down the flanks.
He isn't a winger and shouldn't have been played as a winger.
Yet just six times this year was Kuyt played in the centre of the pitch. 
Just six appearances out of the 22 times he took the field for Liverpool this year was he played in the position that he should have been played in all along, according to WhoScored.com.
This doesn't exempt the Dutch-international from the critics, who rightly will point out that he simply wasn't good enough—up front or one the wing—and was dropped from the starting side as a result.
And you'll hear no arguments from me either: Kuyt simply didn't perform this season.
The point I'm trying to make though is that he offers more in attack than he has been given credit for in the past few months. He still is a genuine threat in attack and could have had a great impact for Liverpool next year in the Premier League if he remained at Anfield.
Brendan Rodgers might be looking to bring in new attacking talent in the summer transfer window—especially from his former club—but the Reds are looking rather thin up front with the departure of Kuyt.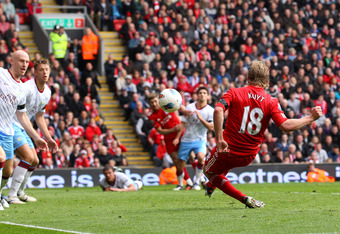 Alex Livesey/Getty Images
Rodgers will alter the style of football that Liverpool will play next season, as pointed out brilliantly by Bleacher Report's own Karl Matchett. There will be an increased importance on consolidation in defense and midfield, rather than trying to sneak goals on the breakaway. There will be more building and, hopefully, fewer errors.
All sound like positive changes, and again, you'll find no arguments here. Rodgers achieved more at Swansea this season than anyone expected him to, and he did it without the depth and talent that is available to him at Liverpool.
Yet without Kuyt, they are lacking the attacking presence needed to finish in the top four and clinch a Champions League qualification position for next season.
Manchester United, Manchester City, Arsenal, Chelsea, Newcastle and Tottenham all possess greater attacking abilities than Liverpool do. The Reds' defense isn't going to keep them in every match and Luis Suarez and Andy Carroll aren't good enough to match the striker duos that all other teams in top four contention possess.
Liverpool will not get the goals required to finish top four in the Premier League next season.
With Kuyt still on hand, the task would still have been a tough one. 
Without him, it just became seemingly impossible.
Don't get me wrong, Suarez and Carroll especially will have stellar seasons under Rodgers, and with an ever-strengthening midfield and defense, the Reds are still a contender for the top four. I'm not trying to state that they can't win big matches and score even bigger goals.
It just won't happen very often.
Losing Kuyt is bigger than losing a striker who might have been good once-upon-a-time—it represents the need for a depth in attack and highlights the gaping need in the Reds' go-forward. Signing a couple of players from Swansea isn't going to change that; keeping Kuyt isn't even going to change that.
Liverpool simply do not have the attack required to finish top four—they will not be good enough to earn a Champions League berth next year.
Losing Dirk Kuyt might have seemed like a blow to Liverpool's chances this season at a top-four spot, and on some level it is. But in reality, his departure really isn't a big deal at all.
They weren't going to finish top four in the first place.
Will Liverpool finish top four in the Premier League next season?
Comment below or hit me up on Twitter: Follow @dantalintyre