5 Reasons Keith Price Is the Best QB in the Pac-12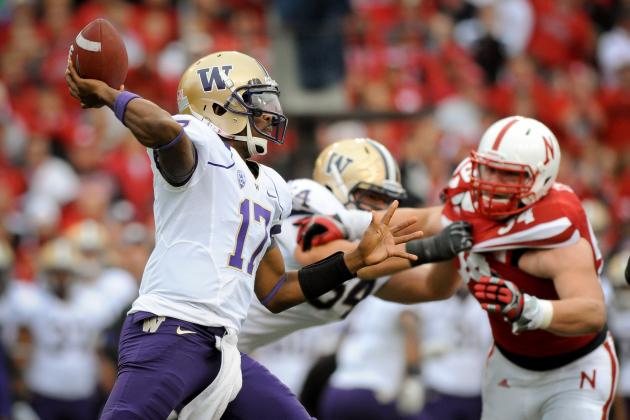 Eric Francis/Getty Images

A lot of you probably looked at that headline and did a double take.
As of right now, it may appear that Matt Barkley is the best quarterback in the Pac-12. Last season, he was Second Team All-Conference and finished sixth in Heisman Trophy voting.
Still, don't sleep on Keith Price.
He has the potential to supersede Barkley and the best quarterback in the pass-happy Pac-12 conference.
Here are five reasons why.
Begin Slideshow

»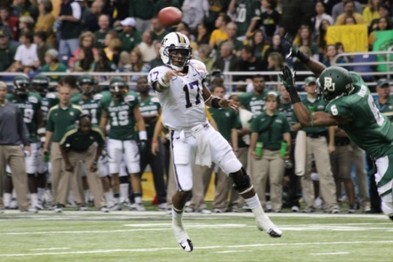 Photo: Jolene Hood Ashcraft/Sportspress Northwest
Last seasons's Alamo Bowl was easily one of the most exciting bowl games of the year.
Although Baylor won in a 67-56 shoot out, Keith Price played better than anyone else on the field.
He even outplayed Heisman Trophy winner Robert Griffin III.
Price finished with 438 yards passing, 39 yards rushing and seven total touchdowns. While Price still has a ways to go be on the level Griffin III was on last year, the Alamo Bowl showed that it was possible.
Price showed poise in the pocket, the ability to throw on the run and the ability to run the ball in when needed.
It was undoubtedly Price's best game of the season and was perhaps a little taste of what is to come in 2012.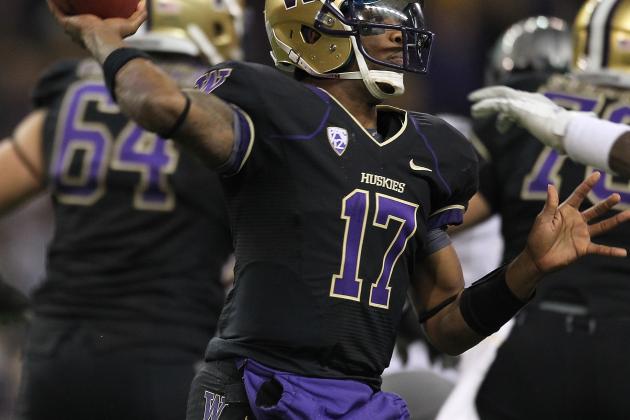 Otto Greule Jr/Getty Images

Last year, Price put up 3063 yards passing, 33 TDs, 11 INTs and a 66.9 completion percentage. He was second in the conference in both yards per pass attempt and QB rating (the only player who beat him in both categories was Andrew Luck).
The reason I list all these statistics is to point out that Price was only a sophomore last year, and it was only his first year being the full-time starter.
The kid killed it in his first year and now he's coming back for more with more experience under his belt.
There is no reason not to believe that Price won't be the best passer in the conference next season.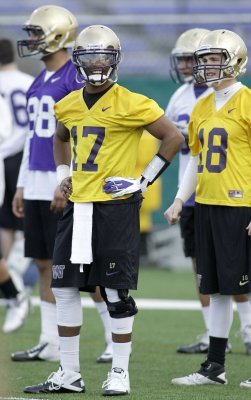 Photo: Ted S. Warren / Associated Press
On his radio show earlier this year, Husky radio analyst Damon Huard said that Keith Price was "throwing the ball better than I have ever seen him."
Huard even went on to compare Price to Husky legend and Pro Football Hall of Famer Warren.
As lofty as a comparison as that is, it ties in perfectly with the last slide.
Price is young, and he is only going to get better with another full offseason under his belt.
Last year during spring ball, Price beat out Nick Montana for the starting gig and now he can continue to hone his craft and become the best quarterback in the Pac-12.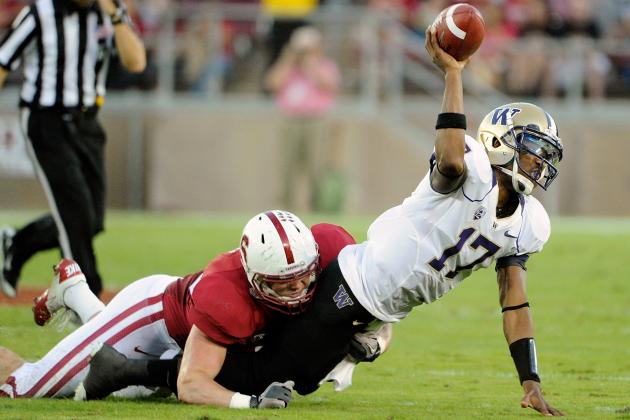 Thearon W. Henderson/Getty Images

Keith Price was anything but healthy all of last season.
In Washington's season opener against Eastern Washington, Price sprained his right knee and then sprained his left knee in the following game against Nebraska.
According to SB Nation Seattle, Price limped noticeably in the Huskies games against both Cal and Utah.
Continuing, Price had to sit out most of the second half against USC and didn't start against Oregon State because of a sprained left knee.
Price took 26 sacks last season, and his constant knee problems severely limited his mobility.
It wasn't until the Alamo Bowl, when playing after four weeks of rest, that Price was able to show what he was capable of when healthy.
He rushed for 39 yards and three TDs.
If Price can remain healthy next season, he will no doubt be a legitimate dual-threat capable of completing a 60 yard bomb for scrambling eight yards for the first down.
That versatility makes one of the most dangerous quarterbacks in the Pac-12.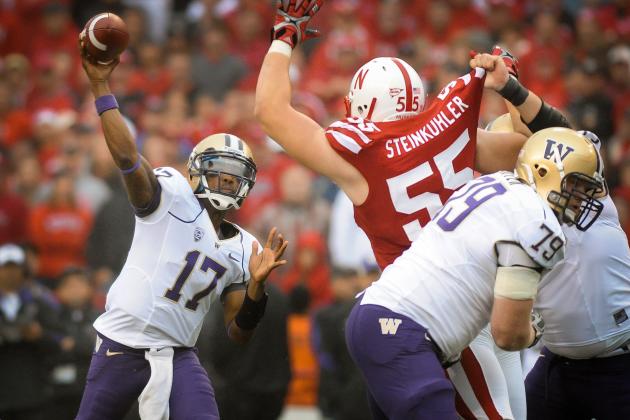 Eric Francis/Getty Images

Keith Price is quite accurate.
Last season he was the fourth most accurate passer in the Pac-12 with a 66.9 completion percentage.
The only returning quarterback more accurate than Price was Matt Barkley, but Price did have more games with a 70+ percent completion rate than Barkley (Price had six, Barkley had four).
His ability to hit put the ball right where he wants it will be a huge factor in both his success next season and down the road at the professional level.
NFL Scouts have realized that accuracy is most important than arm strength. It doesn't matter how far you can throw the ball if you can't hit the target. Just compare the careers of Chad Pennington and JaMarcus Russell.