SF Giants: Could Roger Kieschnick and Nick Noonan Provide Help from Fresno?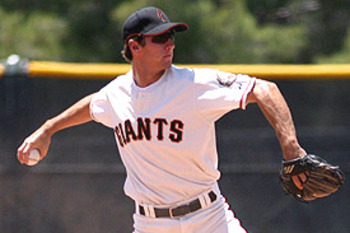 The Giants will spend the next few days drafting guys that I've never heard of. Those guys will flail away in the minor leagues for a few years until they either disappear forever or become the September call-up I've never heard of. Due to injury and incompetence this season, the line between Fresno and San Francisco has been blurred, especially in the infield.
Joaquin Arias, Charlie Culberson, Conor Gillaspie and Eric Hacker have all had a cup of tea with the big team. Other guys, like Brandon Crawford, Manny Burris, Brett Pill and Hector Sanchez, are Giants farmhands who've been forced into significant roles due to lack of depth at their respective positions. Is there anyone left? Or has the farm system been sufficiently raided?
When glancing down the Fresno roster, a few things pop out. First, Todd Linden? Like, the Todd Linden? Was not expecting that. Secondly, there are a few guys having stellar first halves. It's likely that at some point they will be forced into service at the major league level. Unless, of course, you think that Theriot guy is the future. I just don't see it.
Roger Kieschnick and Nick Noonan. Names that might ring a bell for Giants scouting nerds everywhere. These top picks, who have weaved their way through the system, are approaching their "best by" date, and may be able to contribute this year.
Roger Kieschnick: Age 25, Outfielder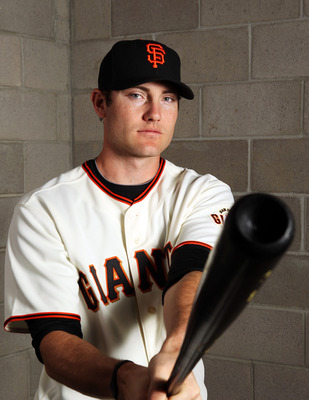 Jamie Squire/Getty Images
Kieschnick was drafted in the third round of the 2008 draft, the same draft that produced current regulars Buster Posey and Brandon Crawford, and to a lesser extent Conor Gillaspie. Unlike his comrades, however, Kieschnick has been unable to avoid the injury bug. He suffered from constant lower back problems over the last two seasons, and recently was sent back to the DL after injuring his shoulder tracking down a fly ball.
Before the injury, however, Kieschnick was finally showing major league potential. Through 51 games, he was hitting .319/.390/.623 with 14 HR and 12 doubles. By far the most polished power threat in the system, Kieschnick could provide a skill that the major league club is severely lacking. On the downside, he's averaged about a strikeout every four at bats throughout his career, a weakness that could keep him from everyday playing time down the road.
To get a good gauge of Kieschnick's potential, look no farther than Giants eternal fourth outfielder Nate Schierholtz, a left-handed bat with solid pop and average defense. While a Nate Schierholtz comparison won't blow anyone's socks off, an extra outfield bat off the bench could prove valuable if any of the three current starters were to go down. And though Kieschnick has no experience at first base, the position isn't exactly locked down. Bruce Bochy would likely start Tim Flannery at first if he showed he could hit.
The current outfield is packed with the emergence of Gregor Blanco, but look for Kieschnick to make a debut sometime this season in the event of an injury; September at the latest.
Nick Noonan: Age 23, Infielder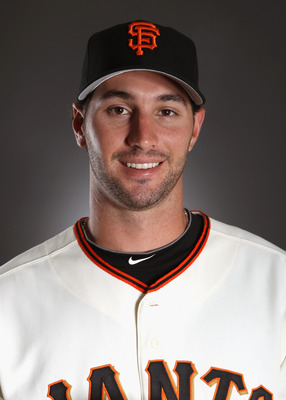 Ezra Shaw/Getty Images
Opportunities abound if you are a middle infielder in the Giants' system. I'm hoping for open tryouts so I can give it a shot myself. Nick Noonan, a career .259 hitter before 2012, picked the right time to get hot. With Freddy Sanchez still suffering setbacks, Manny Burris likely winding down his Giants career and Ryan Theriot a less than stellar fill-in, second base remains wide open.
I'm willing to keep the jury out on Brandon Crawford at shortstop, but his spot is less than secure. Heck, even first base is an open competition. Anyone and everyone welcome to apply.
In his first full year at Fresno, Noonan seems to finally be getting it. He's hitting .305 with 28 RBI in 50 games. Once compared by Baseball America to Phillies superstar Chase Utley, Noonan is finally crawling back onto the prospect map. With the low threshold for success at second base this season, the Giants may be willing to give Noonan a look before dealing more prospects for a midseason acquisition.
Originally thought to be a power/speed type, Noonan has shown a curious lack of both over the last three years. His defense remains solid however, and with more confidence, he could become an offensive improvement over the current Theriot/Burris combination.
Noonan seems a more likely option than Kieschnick at this point, if only because of the lack of competition. In either case, you never know who might make an impact at the big league level. Look for these two guys to get the next chance.
Keep Reading

San Francisco Giants: Like this team?