Big Ten Football: Power Ranking the Starting QBs Going into the 2012 Season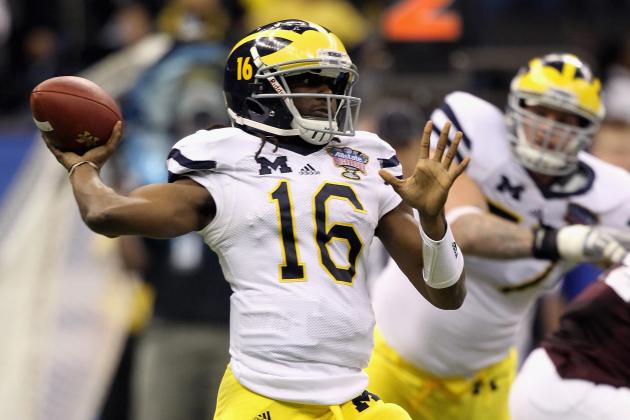 Matthew Stockman/Getty Images

When it comes to college football, the Big Ten conference is rich in tradition and prestige as four of the Big Ten teams (Nebraska, Penn State, Ohio State and Michigan) are ranked in the top 10 in all of college football when it comes to total wins in program history. That's one third of the teams in the entire conference!
With the addition of the Nebraska Cornhuskers a year ago, the conference only grew stronger, adding yet another traditional powerhouse program
Although the conference has lost a bit of respect while boasting a losing 34-43 bowl record over the last 10 years, the programs are optimistic about the future and are hoping to return to national prominence this decade.
In order to gain some respect, the Big Ten needs to show up in bowl games and it all starts with those who play the leadership roles. Right now let's focus on the quarterback position seeing as how they are the supposed true leaders of a football team and they carry most of the responsibility.
Here's a power ranking of the starting quarterbacks in the Big Ten in the 2012 season from the worst to the best.
Begin Slideshow

»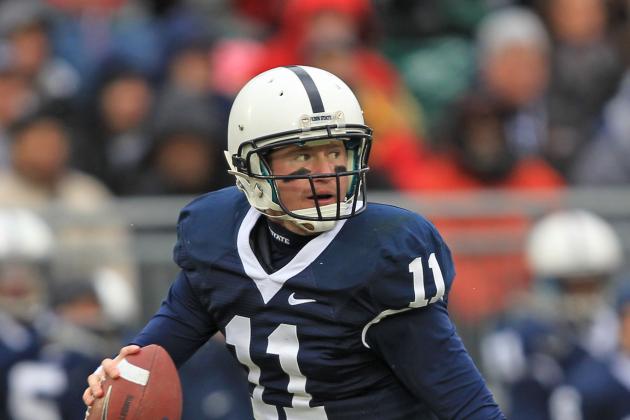 Hunter Martin/Getty Images

Matt McGloin did a half decent job in his first year as the starter for the Penn State Nittany Lions as the attention of fans nationwide went from the football field to the Jerry Sandusky sexual assault case. However, McGloin still led his team to a nine-win season in 2011.
Going into his senior season, McGloin looks to bring some respect back to the university.
2011 Stats: 125/321 (54.1%) 1,571 yards, 8 TDs, 6 INTs, and a 116.3 QB rating
Areas That Need Improvement: Completion percentage/consistency
Not a lot went right for the Indiana Hoosiers football team in 2011 as it had the worst record in the conference (1-11) and was outscored by a total of 225 points on the season (18.6 points per game).
Not everything went wrong with the Hoosiers, however, as they found a spark in true freshman dual-threat quarterback Tre Roberson. Roberson will come into his own this coming season, progressively improving along with his team.
2011 Stats
Passing: 81/142 (57.0%) 937 yards, 3 TDs, 6 INTs, and a 111.0 QB rating
Rushing: 151 carries, 426 yards (3.9 YPC) and 2 TDs
Areas That Need Improvement: Touchdown to interception ratio
MarQueis Gray has the Minnesota Golden Gophers faithful excited about their offense. After all, they don't have a QB rush for nearly 1,000 yards very often. In order for Minnesota to have a winning record this coming season, however, the team will have to improve on a lot more than just the play of the quarterback.
2011 Stats
Passing: 108/213 (50.7%) 1,495 yards, 8 TDs, 8 INTs, and a 114.5 QB rating
Rushing: 199 carries, 966 yards (4.9 YPC) 6 TDs
Areas That Need Improvement: Accuracy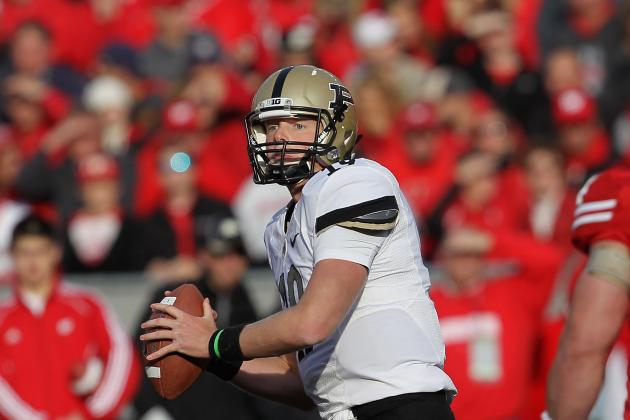 Jonathan Daniel/Getty Images

Being a first-year starter, Caleb TerBush led the Boilermakers to a 7-6 record and a Little Caesars Bowl victory in 2011.
Coming from a very competitive high school league in Illinois, TerBush was a three-sport athlete who wasn't a heavily regarded football recruit. Nevertheless, his skills as a QB are quite evident judging by his QB rating.
Heading into his senior season, TerBush will look to do more for his team as they will return many of their 2011 starters.
2011 Stats: 171/277 (61.7%) 1,905 yards, 13 TDs, 6 INTs, and a 130.7 QB rating
Areas That Need Improvement: Patience in the pocket
After having one of the most productive seasons in Badgers football history through the air with Russell Wilson under center, Wisconsin will have to downgrade to a more traditional QB in Joel Stave. However, this may not be too much of a problem for the Wisconsin as it is a run-first football team.
From the way things have unfolded, Stave looks to be the right man for the job and he has shown some promise in the offseason.
Areas That Need Improvement: Experience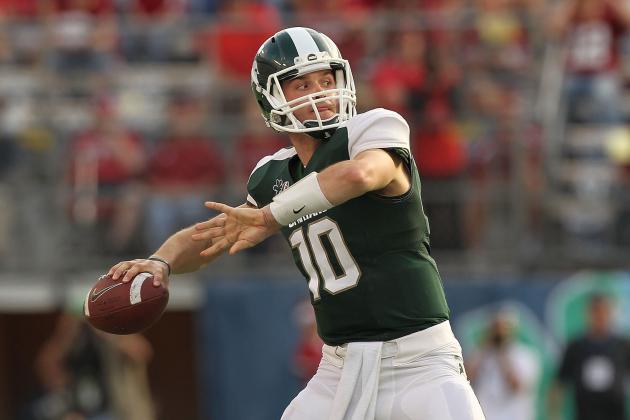 Mike Ehrmann/Getty Images
Andrew Maxwell
First-year starter Andrew Maxwell will look to fill the shoes of the accurate Kirk Cousins, who had an excellent win-loss record as the Spartans' starting quarterback.
Depending on how high Michigan State is ranked to start the season will reveal exactly how much weight will be put on his shoulders. Luckily for Maxwell, the Spartans' good defense will lift some of the weight for him.
2011 Stats: 18/26 (69.2%) 171 yards, 1 TD, 0 INTs, and a 137.2 QB rating
Areas That Need Improvement: Experience
James Vandenberg first came onto the scene under an immense amount of pressure as he had to replace an injured Ricky Stanzi against Ohio State in a game that decided who won the Big Ten championship in 2009.
In being the full-time starter in the 2011-12 season, Vandenberg didn't miss a beat as he had one of the best touchdown to interception ratios in the conference.
2011 Stats: 237/404 (58.7%) 3,022 yards, 25 TDs, 7 INTs, and a 138.4 QB rating
Areas That Need Improvement: Escape ability/mobility
After earning the All-Big 12 Offensive Freshman of the Year award in 2010, expectations were high for young Taylor Martinez. However, Martinez's stats seemed to take a downfall after Nebraska's transition to the Big Ten conference.
Though Martinez can be mistake-prone, there's no denying that the dual-threat quarterback has the ability to keep defenses on their toes.
2011 Stats
Passing: 162/288 (56.3%) 2,089 yards, 13 TDs, 8 INTs, 126.2 QB rating
Rushing: 284 carries, 874 yards (4.6 YPC), and 9 TDs
After having an impressive freshman campaign, Scheelhaase became the true leader of the Illinois offense last year as a sophomore, being one of the most accurate passers in the conference.
Though Scheelhaase will be without his two main targets at wide receiver (Fred Sykes and A.J. Jenkins) this coming season, he will look to become a more complete quarterback in 2012.
2011 Stats
Passing: 184/291 (63.2%) 2,110 yards, 13 TDs, 8 INTs, and a 133.4 QB rating
Rushing: 191 carries, 624 yards (3.2 YPC) and 6 TDs
Though it may be hard to replace the most accurate quarterback in the Big Ten Conference (Dan Persa), Kain Colter may have the skill set to fill his shoes nicely.
Not only was Colter extremely accurate passing the football, he was very mobile as well and he led the Wildcats in rushing last season.
2011 Stats
Passing: 55/82 (67.1%), 673 yards, 6 TDs, 1 INT, and a 157.7 QB rating
Rushing: 135 carries, 654 yards (4.8 YPC) and 9 TDs
Areas That Need Improvement: Experience
Let's face it, Braxton Miller was Big Ten Freshman of the Year for a reason. Even though his Buckeyes lost seven games last season, he kept them in every game he started in, never allowing his team to lose by more than a touchdown.
Though some would argue that the highlight of his season was his game-winning touchdown pass against the Wisconsin Badgers, Miller played the best game of his career in Ann Arbor against arch rival Michigan Wolverines.
The dual-threat signal-caller is a legitimate 2012 Heisman trophy candidate, and he will be operating an offense that is designed to exploit his uncanny athletic abilities.
2011 Stats
Passing: 85/157 (54.1%), 1,159 yards, 13 TDs, 4 INTs, and a 138.4 QB rating
Rushing: 159 carries, 715 yards (4.5 YPC) 7 TDs
There have been many talented quarterbacks to play for the Michigan Wolverines. Denard Robinson is among the best of them and he still has an entire season to forever cement his name in the Michigan football record books.
Robinson set the single-season Division I FBS record for rushing yards by a quarterback in 2010 en route to becoming the only player in college football history to pass and rush for 1,500 yards in the same season, and leading the conference in rushing.
By the end of his junior season last year, Robinson had eight of the top 10 single-game total offense totals in the rich history of the winningest program in all of college football.
2011 Stats
Passing: 142/258 (55.0%) 2,173 yards, 20 TDs, 15 INTs, and a 139.7 QB rating
Rushing: 221 carries, 1176 yards (5.3 YPC) 16 TDs