Philadelphia Phillies: Phillies Lineup on August 1st
June 5, 2012

Len Redkoles/Getty Images
After 56 games, the Phillies are a .500 team that have spent the majority of the season in the cellar of the National League East.  One of the reasons the Phillies have underachieved this season is the injuries they suffered even before the season began. Some Phillies have thrived with the opportunities for playing time, mainly Juan Pierre and Freddy Galvis.  Others have not stepped up at all....see John Mayberry.
Word is that Ryan Howard and Chase Utley are not close to returning, however, their return to the lineup is at least closer than where it has been. Howard is probably a month away from the big leagues as he tries to strengthen a calf that has lost muscle, and Utley has just started to play extended Spring Training games in Florida.
The competition in the National League East is pretty tight.  However, there isn't really a powerhouse team that's going to leave the rest of the division in the dust.  Trades made between now and the trade deadline could determine who gets the edge in this division and if someone can break the Phillies five-season-long NL East Championship streak? It doesn't matter what trades are made, though, teams are not going to be able to add players of Howard's and Utley's caliber. 
So how does Charlie Manuel pencil in a lineup when he gets all of his horses back?  There are rumors that Utley won't necessarily come back as a second basemen.  But if he's not at second, where will he play?  There are three logical choices.
1) Third base-  If Manuel moves Utley to third, this bumps Polanco out of the lineup, along with his stellar glove and a bat that has continuously gotten better as the season has gone on. 
2) First base-  If Howard wasn't coming back, Utley would be a nice fit at first. However, there is absolutely nowhere else where Howard can play, so the big man stays at first.
3) Left field-  Hmmmm, interesting.  Utley hasn't played outfield in the major leagues.  A couple of second basemen have made that transition the past few seasons and have done okay.  Martin Prado of the Braves is a solid left fielder, while Alfonso Soriano of the Cubs will never come close to winning a Gold Glove, but he's good enough to get by.  Like Pat Burrell and Raul Ibanez, Utley could play left and would probably even be an upgrade defensively over those two.  And obviously, they won quite a few games with those subpar defenders in left.
If Utley moves to left, that leaves impressive rookie Galvis at second where his Gold Glove defense and improving stick can continue to develop.  So come August 1st, when the Phillies have played their best ball in recent history, this is how Charlie Manuel should write the lineup:
1. Jimmy Rollins- SS  
2. Chase Utley- LF
3. Hunter Pence- RF
4. Ryan Howard- 1B
5. Carlos Ruiz- C
6. Shane Victorino- CF
7. Placido Polanco- 3B
8. Freddy Galvis- 2B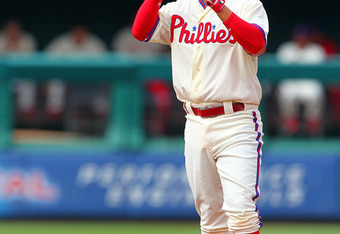 Rich Schultz/Getty Images
Rollins needs to get on base more for any of this to work. At this stage in his career, Utley is more suited for the two-hole, and it breaks up him and Howard, who both hit left.  If Ruiz continues his torrid pace, he and Pence could switch between the third and fifth spots, but Pence's speed makes it better to hit him in front of Howard.  Victorino hit sixth quite a bit when Jayson Werth hit second and Burrell was fifth during the 2008 season so he's fine there.
The odd man out in all this is Pierre.  He's been a fine addition to the 2012 Phillies, but when Utley and Howard return, it would be best to have him off the bench late in games to pinch run or pinch hit.
The 2012 season is not a lost cause yet, even with injuries to Howard and Utley, while Roy Halladay, Cliff Lee, and Vance Worley have all been shelved at some point.  But take a look at the last two World Champs: '11 St Louis Cardinals and '10 San Francisco Giants.  Both of those teams were hovering around .500 after the All Star break and got hot at the right time to go all the way.  For the Phillies to do the same, the above lineup is the way to go.