Spain V Italy: Euro 2012 Group C Preview, Team News, Projected Lineups
Maurizio Lagana/Getty Images

On June 10, Italy and Spain will contest what is likely one of the most anticipated group-stage openers in the history of the European Championships.
The last two World Cup champions will face off against each other with high stakes. With two other tricky group opponents in Croatia and Ireland, defeat in this match could severely hamper the loser's chances of making it out of the group and into the knockout stages.
These are familiar foes who have been going in opposite directions over the last six years. After Italy's World Cup triumph of 2006 the team declined, as their top players began to age and bad squad selection from former manager Marcello Lippi in his attempt to defend the title he won in Germany delayed the emergence of the country's next generation of players.
Spain, meanwhile, went from Europe's perennial underachievers to the best soccer team in the world, bar none. They have won the last two major international tournaments, but their generation might be coming to an end. Age and injury have sapped the Spaniards of some of their best players, and their core players from Barcelona and Real Madrid have played more games on average than any other in the world, creating a potentially fatal fatigue problem.
So what should we be watching for in this clash of the titans? Let's find out.
Begin Slideshow

»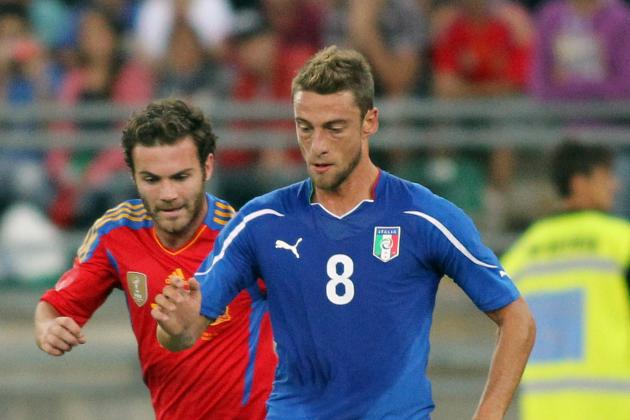 Maurizio Lagana/Getty Images

Italy

Spain

1910
Founded
1920
Azzurri
Nickname
La furia roja
12
FIFA World Ranking
1
1/16
Best/Worst Ranking
1/25

4 (1934, 1938,

1982, 2006)

World Championships
1 (2010)
1 (1968)
European Championships
2 (1964, 2008)
Cesare Prandelli
Coach
Vicente Del Bosque
Gianluigi Buffon
Captain
Iker Casillas
10
Head-to-head wins (11 draws)
8
Group Stage
Last World Cup
Winner
Quarterfinal
Last European Championship
Winner
WWLLL
Last 5 Matches
WWWWW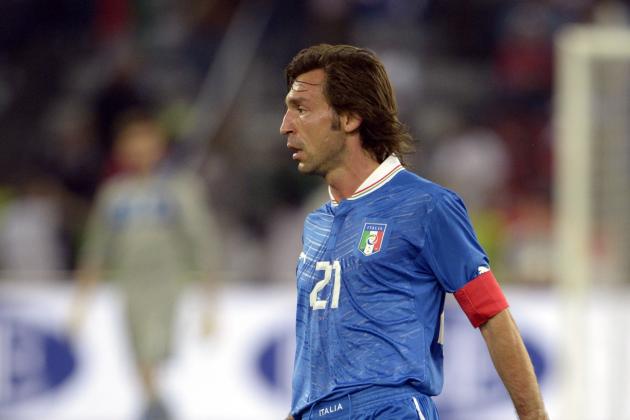 Claudio Villa/Getty Images

Andrea Pirlo: The man they call l'architetto has Italy's attack at his feet. When Pirlo is on the field, Italy's offense is as dynamic as any in the world. When he's out, as he was for the first two and a half games of the 2010 World Cup, the Azzurri look completely lost. He'll duel with Spanish midfielders like Xavi and Andres Iniesta for control of the midfield and be relied on for his pinpoint delivery on set pieces.
Gianluigi Buffon: After a brief dip in form following an injury that forced him out of the World Cup after just 45 minutes, Buffon is back to his old, dominant self. He almost single-handedly carried Italy to World Cup glory six years ago in Germany, turning in one of the greatest goalkeeping performances in the history of the tournament by allowing just two goals (an own goal and a penalty kick) and holding a 453 minute scoreless streak. He is indispensable for Italy—after he was relieved in Friday's friendly against Russia the Italian defense completely broke down and allowed three goals.
Mario Balotelli: The enigma that is Super Mario is by far the most natively gifted forward that Italy has. But after a season in which he was sent off twice and suspended once more in the Premier League. Despite missing so many games, he still scored 17 times in all competitions, but he is a feast-or-famine player.
His comments about off-field issues in the last few weeks have raised eyebrows. He has said that he would walk off the field if he were to suffer racial abuse, and threatened to kill if he suffered any off-field abuse in the vein of an incident several years ago, when clubgoers in Rome threw bananas at him. He is critical to the team in the attacking third, but the big question is whether he'll be able to keep his head long enough to make an impact.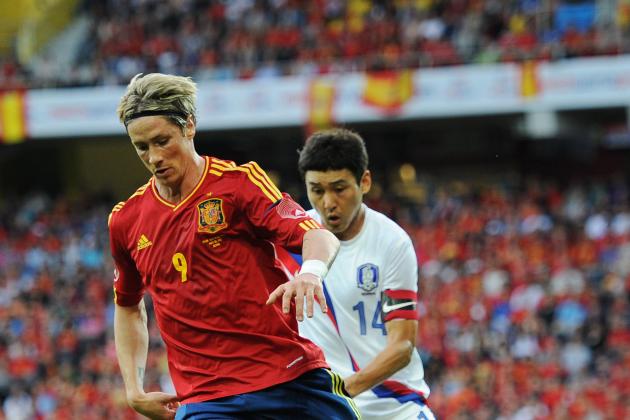 Jasper Juinen/Getty Images

Fernando Torres: After 18 horrifying months that involved a 50 million pound move from Liverpool to Chelsea and long, long goalless stretches, Torres showed signs of life towards the end of the season, scoring the stoppage-time goal that sealed Chelsea's victory in the Champions League semifinals against Barcelona and scoring a hat trick against QPR five days later.
With the leading scorer in Spanish history, David Villa, out of this tournament due to a broke leg suffered in the Club World Cup in December, Torres will be counted on to lead a Spanish front line that consists of no one else with more than 20 caps.
Xavi: Xavi is Spain's answer to Pirlo—the midfield maestro who pulls the strings in Vicente Del Bosque's tiki-taka attack. His metronomic passing and control of the midfield have earned him the nickname "The Puppet Master." He will be key to breaking down a disciplined Italian defense that has succeeded where other teams have failed the last few years in keeping the Spaniards out of their goal.
Gerard Pique and Sergio Ramos: A double-dip, these two are the embodiment of the rumors of a chasm between the Barcelona and Real Madrid contingents that make up the core of the team.
Xavi recently criticized the Madrid players for being poor sports, and the same report carries a confirmation from Del Bosque that Barca's Pique and Real's Ramos were having issues. The pair had previously had an issue when Ramos made an off-color joke regarding the regional languages in Spain, particularly Catalan (the region where Barcelona is located), during a press conference.
With mainstay Carles Puyol missing this tournament due to injury, the two will be counted on to hold down the center of Spain's defense, and must get along with each other in order to make sure Iker Casillas doesn't have much to do. If something blows up between these two, the festering divisions between Barca and Real could sink the side.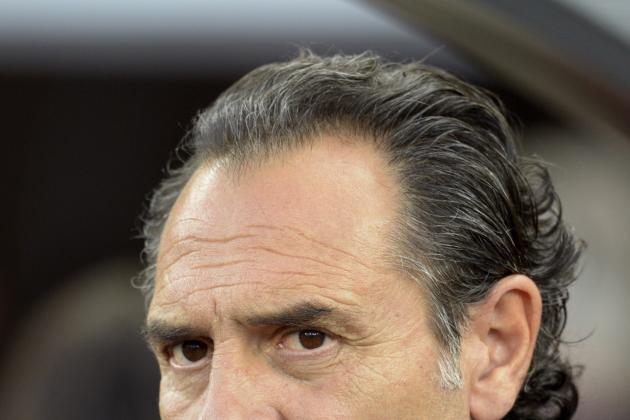 Claudio Villa/Getty Images

Cesare Prandelli made his name managing at Fiorentina, a team that he took from perennial relegation strugglers to the Champions League round of 16 over his five years in charge.
Already designated the successor of Marcello Lippi before the 2010 World Cup began, Prandelli immediately took steps to avoid the trap that his predecessor fell into by replacing many of the older players that Lippi had brought with him to South Africa and emphasizing younger players like Giuseppe Rossi, Claudio Marchisio, and Sebastian Giovinco.
He followed this youth movement almost to a fault—he refused to call up Antonio Di Natale throughout qualifying, despite the fact that he was putting up impressive numbers in winning the capocannoniere title two years running.
Along with the players, Prandelli also changed the philosophy of the team, transitioning it from a solidly defensive side that lived on bottling up the opposing attack and then countering to a possession-based squad that routinely keeps 60% or more of possession in addition to their stifling defense.
However, Prandelli's recent reaction to the bombshell accusations of the calcioscommesse scandal have not been encouraging. Whereas Lippi insulated his team from the press and created an us-against-the-world mentality when calciopoli broke before the 2006 World Cup, Prandelli made a knee-jerk reaction to drop starting left-back Domenico Criscito from the squad, allowed players to make one or two ill-advised remarks to the media, and adopted an attitude that is almost "well, we deserve this."
Two of Italy's greatest successes—the 1982 and 2006 World Cup titles—came after similar match-fixing scandals, Prandelli's reaction to the current news has failed to produce the defiant attitude that those teams possessed. Should they be unable to overcome their off-field issues, his response to the allegations will be a major reason why, and the Italian brass should seriously consider replacing him.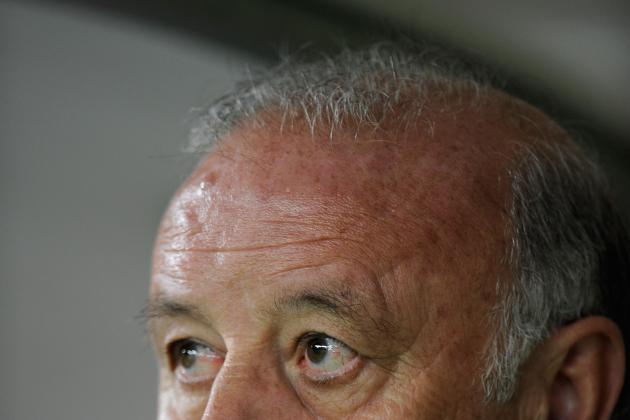 Denis Doyle/Getty Images

Vicente Del Bosque made his name as the man who took Real Madrid through one of its most successful periods in modern history. He won two Champions League titles and two La Liga titles, as well as both the UEFA and Spanish Supercups and the Intercontinental Cup (now known as the Club World Cup). His were the teams known as the Galacticos, and he won 104 out of 186 possible games in his time as Real Madrid manager.
He took over as Spain manager when Luis Aragones stepped down following the Spaniard's triumph in Euro 2008 after previously turning down both the Spanish and Mexican managerial positions. He subsequently set the record for most successive wins by a manager managing his first national team, winning his first ten matches before a shock 2-0 loss to the United States in the semifinals of the 2009 Confederations Cup.
Del Bosque guided la furia roja to a perfect ten out of ten in qualifying for the 2010 World Cup, but the tournament didn't start as planned. The Spaniards were upset in their first match by Switzerland, but bounced back to win their next two games to win Group H. They then ran through the knockout rounds—winning all four games by a 1-0 line.
Del Bosque has proven that he can adapt without his big players—Spain is unbeaten since David Villa was sidelined with a leg injury and worked around an extended run of bad form by Fernando Torres—but Italy seems to have been a monkey wrench in his tiki-taka machine. One of the few losses he's had as Spain's manager came against the Italians.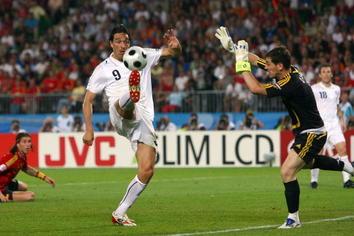 Clive Rose/Getty Images

Friendly, August 10, 2011—Italy 2 Spain 1
Last year's August friendly pitted the Italians and Spaniards against one another at the Stadio San Nicola in Bari. The Italians surprisingly controlled the opening portion of the game, and took the lead through a wonderful chip by Riccardo Montolivo 11 minutes in.
The Spaniards clawed their way back when German referee Felix Brych awarded a penalty when he (somewhat harshly) judged that Giorgio Chiellini had brought Fernando Llorente down in the box. The subsequent spot-kick was converted by Xabi Alonso in the 37th minute.
The Italians continued to press forward, with Antonio Cassano coming close to restoring Italy's lead twice before the half. The Spaniards were able to play their game and press the Italians in the second half, piling on the pressure and forcing several saves from Gianluigi Buffon before substitute Alberto Aquilani's long-range effort deflected off Raul Albiol and into the net in the 84th, giving the Italians an impressive upset win.
Euro 2008 Quarterfinal, June 22, 2008—Italy 0 Spain 0 (Spain wins shootout 4-2)
The Azzurri and la furia roja played out an uninspiring extra-time draw during their quarterfinal matchup in this tournament four years ago. The closest the Italians came to breaching Iker Casillas' goal was shortly after the hour mark, when substitute Mauro Camoranesi fired a shot following a goal-line scramble that Casillas somehow saved with his legs.
Marcos Senna was the closest for Spain, when Buffon was forced to parry away a long-range free kick 11 minutes from time. Shortly afterwards, Buffon fumbled a routine shot from Senna and was lucky to see it bounce off the post.
Extra time saw some nervy moments, with David Silva beating Buffon but missing the target, while Casillas had to tip a header from Antonio Di Natale over the bar and Luca Toni headed just over the bar.
In the shootout, David Villa and Fabio Grosso—the hero of World Cup 2006—both scored on the opening kicks before Casillas denied midfielder Daniele De Rossi. With the score 3-2, Buffon denied Dani Guiza, but Di Natale couldn't get his kick past Casillas, and Cesc Fabregas slotted Spain's fifth and final kick home to win and go through to the semifinals.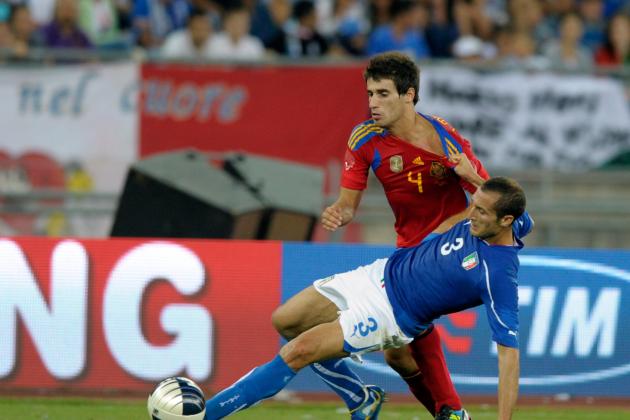 Claudio Villa/Getty Images

Spanish Forwards v. Italian Defense
Italy seems to have a talent for doing something few other teams have been able to do over the last four years: keep Spain from scoring.
Over the 210 minutes of the last two matches the teams have played, the Spaniards have failed to score in open play, mustering only a penalty by Xabi Alonso in their 2-1 loss against Italy in Bari last year.
The Spaniards can't rely on reaching the penalty spot in this match, and have struggled against some of the more organized defensive sides they have played against. With the exception of Torres, the Spanish forwards don't have an abundance of experience in big tournaments, so they will need to really prove themselves against one of the best defensive sides in the world.
Expect the Italians to take a cue from Chelsea's victory against Barcelona in the Champions League and absorb the pressure of the Spaniards and striking quickly on the counter. Likewise, look for the Spaniards to try and make their chances through the middle of the field so as to counteract the Italians' slight height advantage, making wing play less likely to be effective.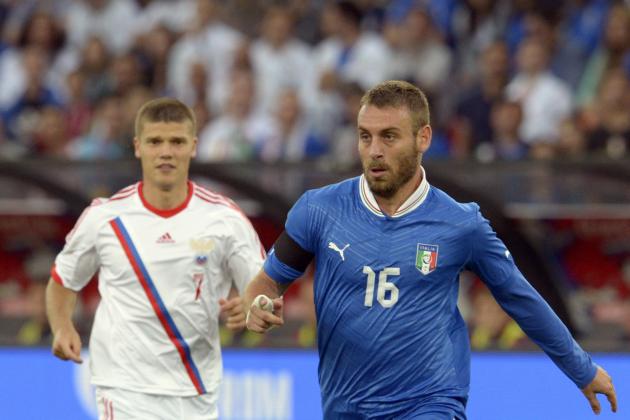 Claudio Villa/Getty Images

Daniele De Rossi v. Spain's Midfielders
Roma's Daniele De Rossi is one of the best in the world at his position, and he is a key to Italy's chances in this match. The giallorossi star will be relied on by the Italians to use his physical play to impose on the Spanish midfielders and disrupt their passing rhythm and keep them from building a massive edge in possession. Expect to see him go in strong a few times—and don't be surprised to see him get booked for his trouble.
He is also a key as Andrea Pirlo's bodyguard—allowing him the space to be able to fully execute his precision passing game.
Spain's stellar midfield—which includes Xavi, Xabi Alonso, Cesc Fabregas, David Silva, Andres Iniesta, Sergio Busquets, and Juan Mata—will have to avoid the physical play of De Rossi and teammate Thiago Motta and keep their metronomic passing game going in order to create the chances that they'll need to break down a disciplined Italian defense.
Gianluigi Buffon v. Iker Casillas
It is a rare sight at either the international or club level to see two teams captained by their goalkeeper, but we'll see Gigi Buffon and Iker Casillas leading their clubs out of the tunnel on Sunday. These men are the two best goalkeepers in the world (I personally give Buffon a slight edge over the Spaniard, a stance that is universally howled down by commenters whenever I take it), and the one who performs better will likely lead his team to victory.
Despite my personal belief that Buffon is slightly better one-on-one in a battle of keepers, the fact that Buffon will be joined in the starting XI by Juventus teammates Giorgio Chiellini and Leonardo Bonucci makes me think that the Italians will have the edge in this matchup. The chemistry between the Azzurri keeper and his center-backs is invaluable, and may well be the difference in this match.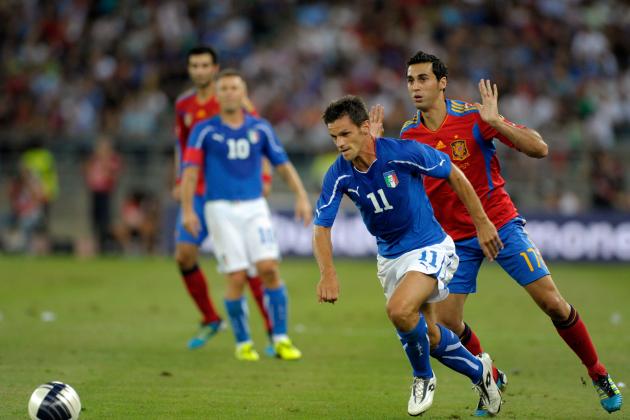 Claudio Villa/Getty Images

Italy
| | | | | |
| --- | --- | --- | --- | --- |
| | | Buffon | | |
| Maggio | Chiellini | | Bonucci | Balzaretti |
| | Pirlo | | De Rossi | |
| Marchisio | | | | Motta |
| | Balotelli | | Cassano | |
Spain
| | | | | |
| --- | --- | --- | --- | --- |
| | | Casillas | | |
| Arbeloa | Pique | | Ramos | Alba |
| | Xavi | | Iniesta | |
| Xabi Alonso | | Silva | | Fabregas |
| | | Torres | | |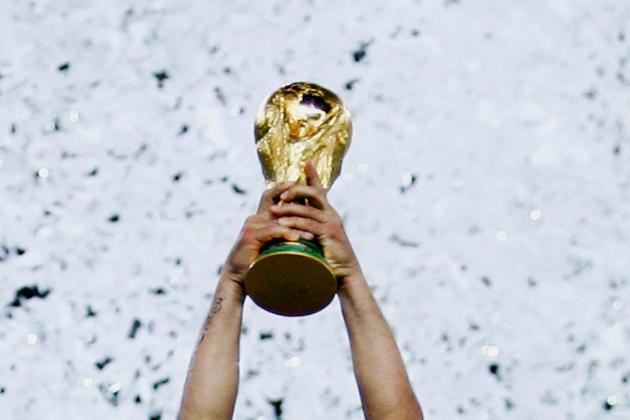 Shaun Botterill/Getty Images

I've given a lot of thought to predicting this match. The safe play is a one-goal Spanish win or a draw. But tournaments like this aren't about playing it safe, whether you're playing in it or predicting what will happen.
I believe that the Italians will remain Spain's kryptonite and preserve their streak of not allowing the Spaniards to score from open play. La furia roja will get one from a set piece, but the Italians will hold stout defensively and their inexperienced and uneven forwards will finally make the chances created by Pirlo count.
My humble prediction: 2-1 to Italy, with Antonio Di Natale coming on as a supersub and scoring the deciding goal within ten minutes of time.